Isola Bella, Isola Madre and Isola dei Pescatori: they are Borromeo Islands.
Three precious jewels rich in charm and history now among the most know touristy destination of Italian Lakes.
Someone said that gossip of possible wedding between George Clooney and Italian showgirl Elisabetta Canalis here increased the appeal of these places making them "exclusive".
We do not have to forget about another fairy tale wedding that took place on Borromeo Islands: John Elkann – ceo of Fiat – and princess Donna Lavinia Borromeo.
If Isola Madre and Isola Bella are known for their great palaces and gardens and could be the perfect frame for your wedding pictures, Pescatori Island could be the best location for a perfect reception on the lake shores. This thanks to its wonderful position and rich gastronomic tradition.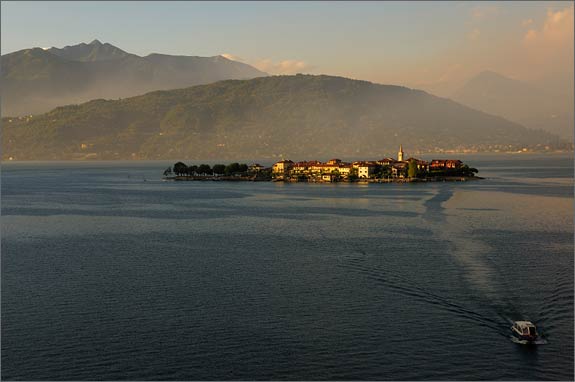 Pescatori Island is the only one that is not part of Borromeo Family properties.
It is a liggle village with no more than 50 inhabitants. Fishing was the main occupation in the past some members of local families are still fishers.
You can see this heritage all over here starting from the little port where you will see many fishing boats.
It is such a peaceful place so you will meet many cats and frogs especially in July. Little nice frogs jump all over the narrow roads of the islands.
In this idyllic place there is a quite corner: a little garden with a terrace on the lake. You will read a big white sign with the name Belvedere on it.
Hotel Ristorante Belvedere is located on North East part of Pescatori Island far from busy port.
It has been managed from the same family for 4 generations. In 1921 restaurant hosted Charles De Gaulle who had lunch there during his honeymoon.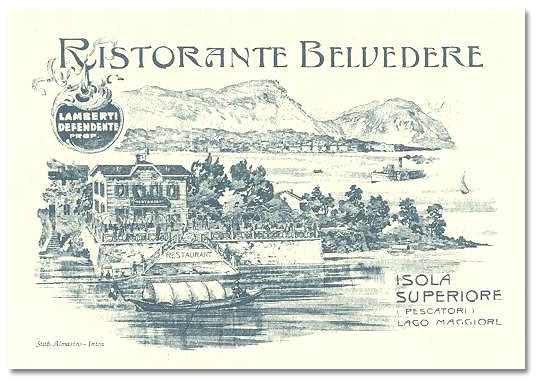 Today Belvedere Restaurant can host up to 200 guests inside the charming rooms and on its two gardens on the lake. Your reception to Hotel Ristorante Belvedere can be arranged on the open air by the lake shores, in the wide garden under the porch of booming flowers or inside the charming and bright veranda. You could also choose the lovely dining room once called La Grotta (the cave) because walls were all in stones.
The venue has been just refurbished but still preserves the charm of the ancient appeal. From all corners, including the dining room you could see Isola Madre and its great botanic park.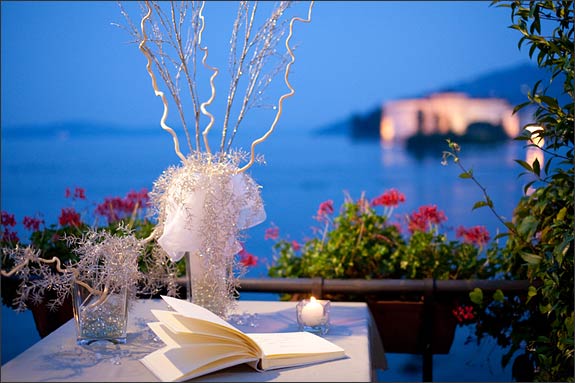 Belvedere Restaurant mainly serves fish dishes hand made prepared combining precious ingredients of Lake Maggiore and close valleys. Cheese lovers will taste Toma of Ossola valley and natural Gorgonzola. While wine lovers could choose among great Piemonte wines such as Barolo, Dolcetto, Barbaresco or pick great local wines of Novara valley.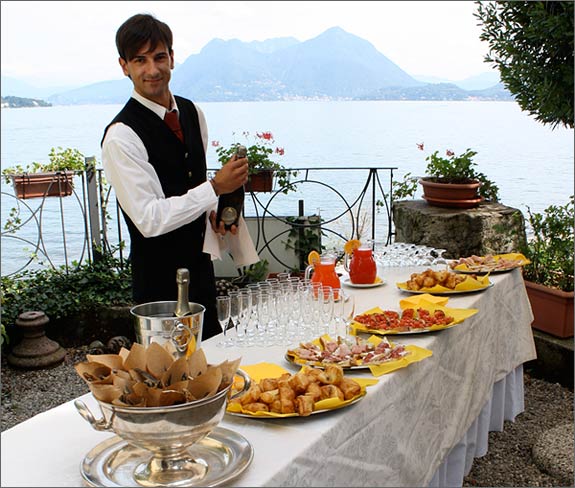 During the day Pescatori Island could be reached with ferry lines of Navigation of Lake Maggiore or with a motorboat of taxi boat services.
For your dinner reception the restaurant will offer a free boat shuttle from Isola dei Pescatori to Stresa and vice versa.
This way you and your guests could be free to decide how and when leaving the Isle.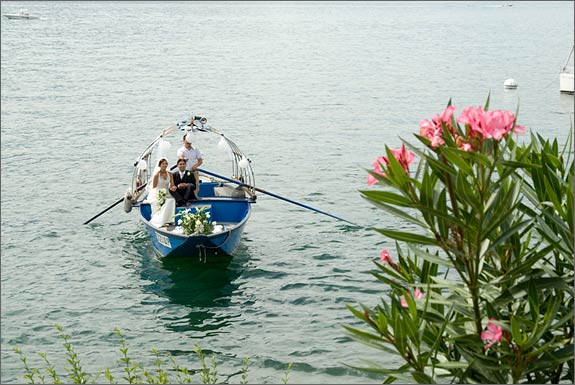 Bride and groom will have the possibility to have for them a traditional boat: a great opportunity to remember magic moments!
Valentina Lombardi is the Italian Lakes Wedding coordinator for Lake Orta and Lake Maggiore area. She follows Italian and foreign bridegrooms who wish to celebrate their wedding in Piemonte and Italian Lakes area.
Valentina is Italian; she has worked in event organization business for years before becoming a wedding planner.

For more information about weddings on Pescatori Island – Lake Maggiore, please contact us.
All images © Italian Lakes Wedding and:
Photo 1: Italian Lakes Wedding
Photo 2: Giorgio Gnemmi – Studio ArteFoto, Omegna
Photo 3, 4 and 5: Hotel Ristorante Belvedere, Isola dei Pescatori – lake Maggiore
Photo 6: Enrico Mocci – ArteFotoArona, Arona – lake Maggiore
Photo 7, Piero Gatti – Foto Smile, Baveno – lake Maggiore