e are back on
Lake Maggiore
to tell you the story about the story of a wonderful couple:
Joel and Rim
.
They come from
Switzerland
and they are both French speakers. As many couples coming from Switzerland they choose Lake Maggiore for their special day as it is so close to Switzerland border and it is very handy for all guests to come over.
In this case they arranged a big bus for everybody and they all stayed in the same hotel they chose for ceremony and reception for all the week end.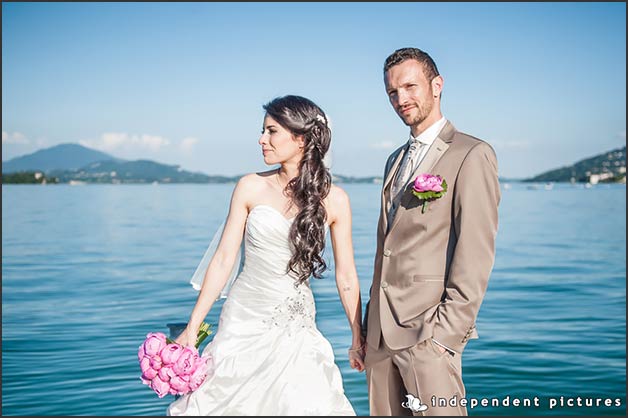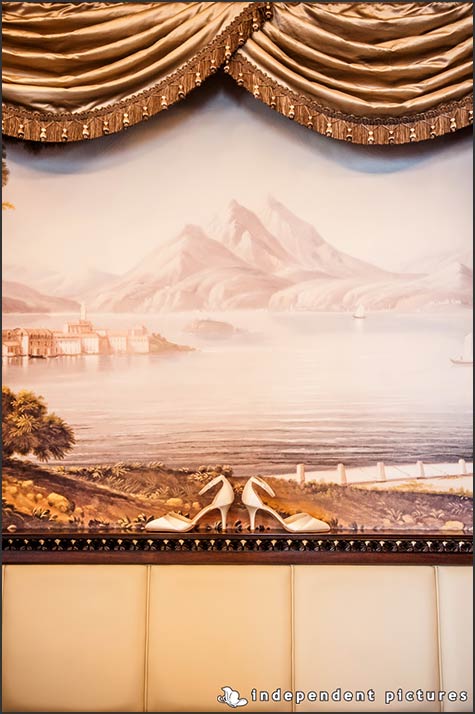 A special Outdoor ceremony by the shores
As mentioned on the day of the wedding all group got ready in the hotel on the shores with a magic view over Lake Maggiore. Everybody was just stunned!
Rim's family comes from Tunisia and she wanted to add some little touches to her Italian wedding to remember it.
Rim got ready in one of the best suites of the hotel having her hair done and getting in her wonderful dress. She was absolutely stunning a wonderful bride indeed.
A little touch of Tunisia her little henné on her right hand, a little exotic touch.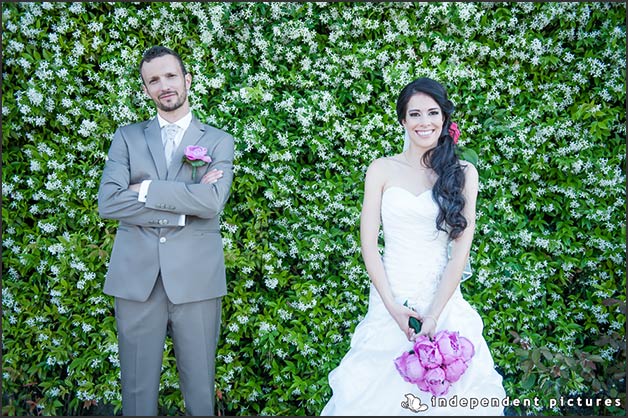 Once ready she got downstairs with her dad and uncle, as in Tunisia tradition. Everybody was waiting for her in the garden of the hotel for a very special outdoor ceremony in the garden of the hotel.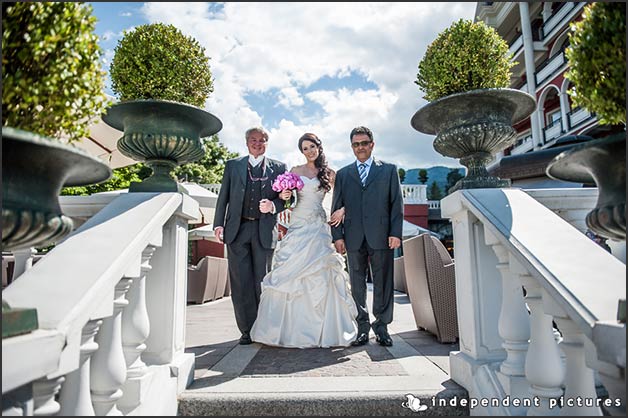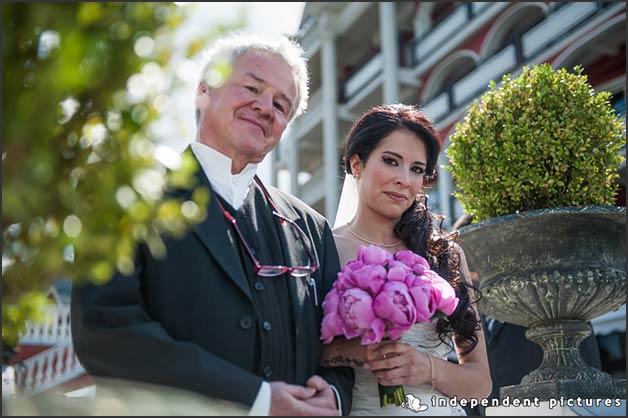 For her bouquet and all other decorations Rim really wanted peonies. It was a hand challenge for La Piccola Selva Team to find them. Joel and Rim got married on late June and peonies are seasonal flowers in May and early June so finding good ones was really difficult. But they made it just for Rim!
A very good job!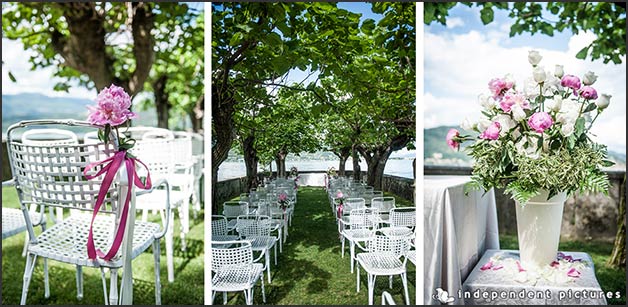 For their outdoor ceremony Joel and Rim chose a special area of Hotel Splendid in Baveno.
A natural alley towards the lake. It could be just a perfect set for an outdoor ceremony.
The frame is perfect. Trees along the aisle leading to the altar and a wonderful terrace as perfect backdrop for a blessing overlooking the lake.
A perfect garden style ceremony with peonies on the chairs to decorate the aisle and petals on the grass to give a special touch of colour.
Flower girls, page boys and ring bearer did the rest to make the ceremony involving for everyone!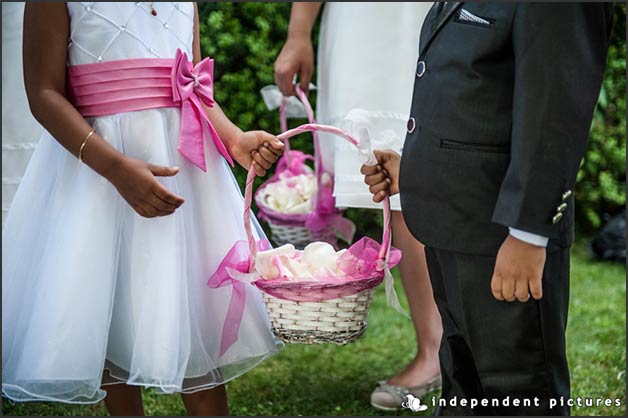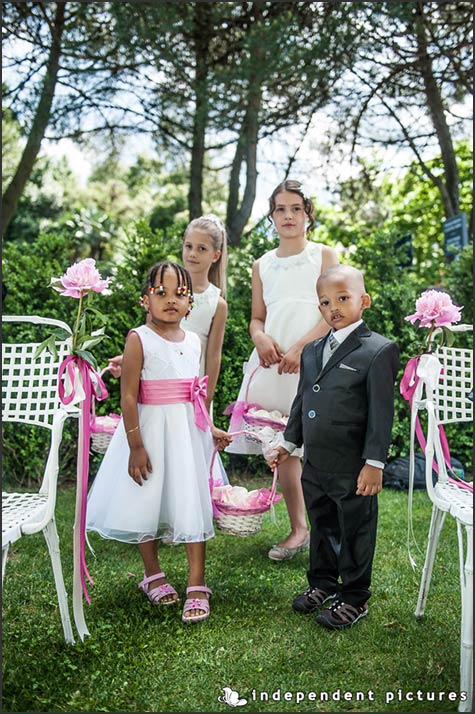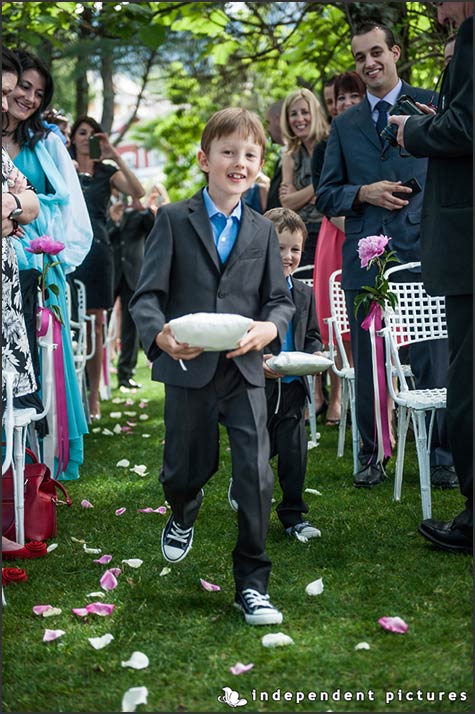 Rim and Joel exchanged their vows in this special atmosphere. Ceremony was conducted by a protestant pastor… in Italian! This because both of them could understand a little of Italian and because – I will always remember Joel saying that – Italian is one of the most romantic language in the world (after French "his mother language" he added! )
So fun!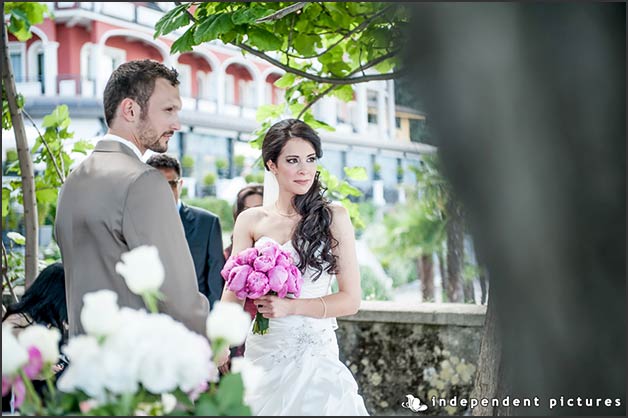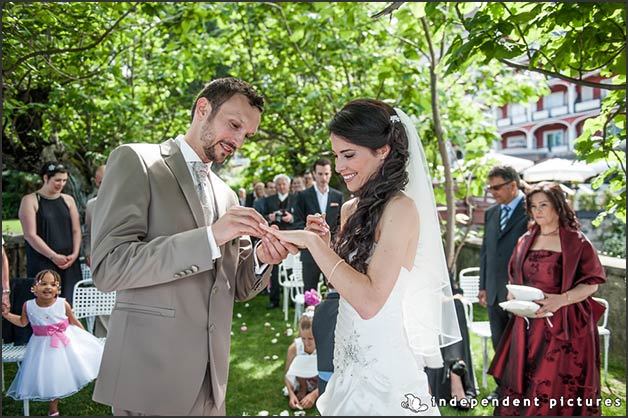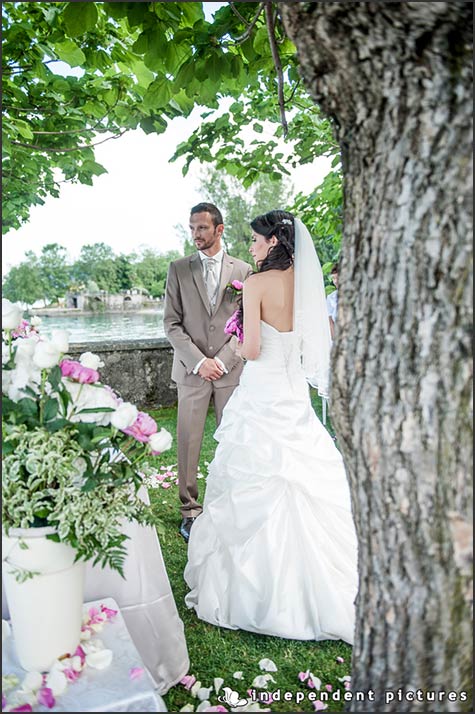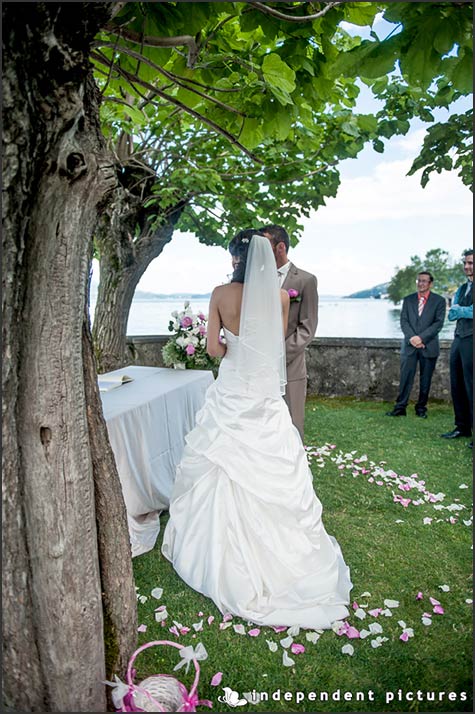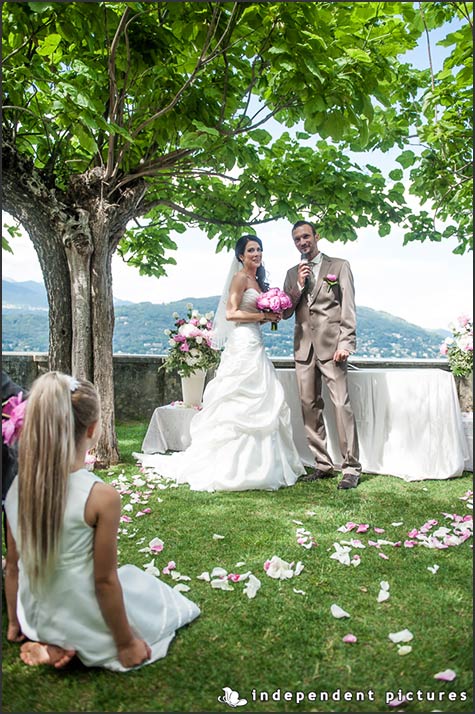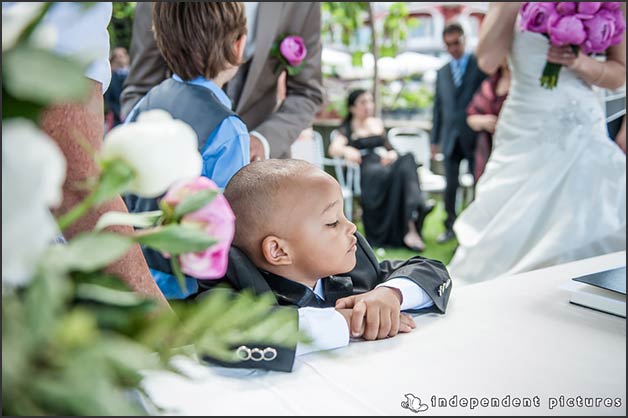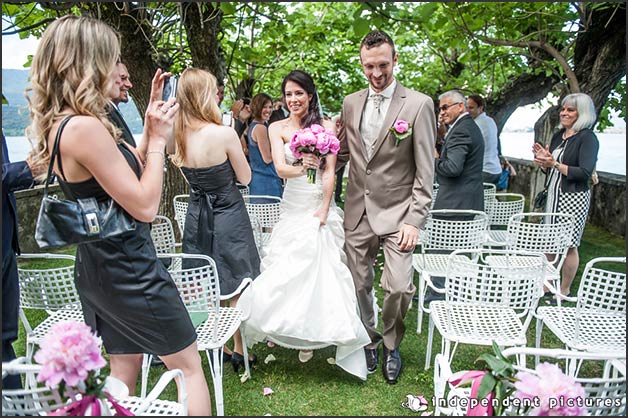 Aperitif and photos by the shores of Lake Maggiore
Right after the ceremony Joel Rim and their wonderful group had their lovely aperitif in the garden of the hotel just on the shores of Lake Maggiore.
They opted for a very long aperitif that could lead them up to the sunset. This gave them the chance to get some time for themselves to take wonderful photos.
You can see some of them here thanks to great job of Independent Pictures.
The atmosphere was enhanced by lovely music and also a tenor singer who sang a couple of songs for the couple, again in italian! A special gift by Rim's family.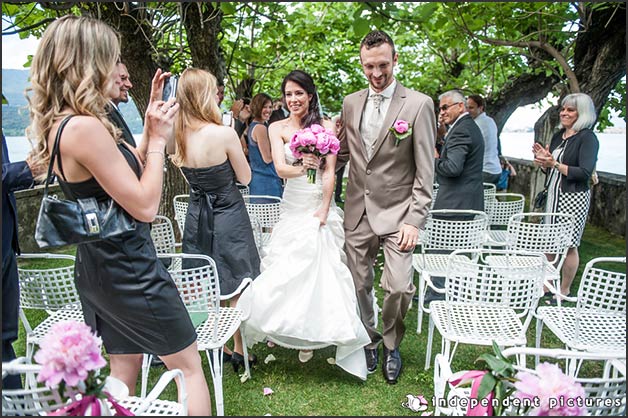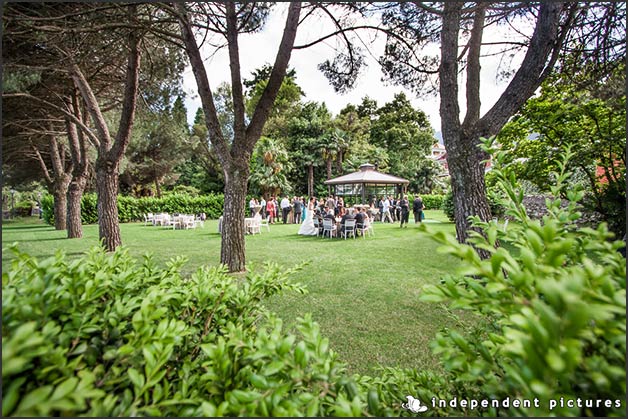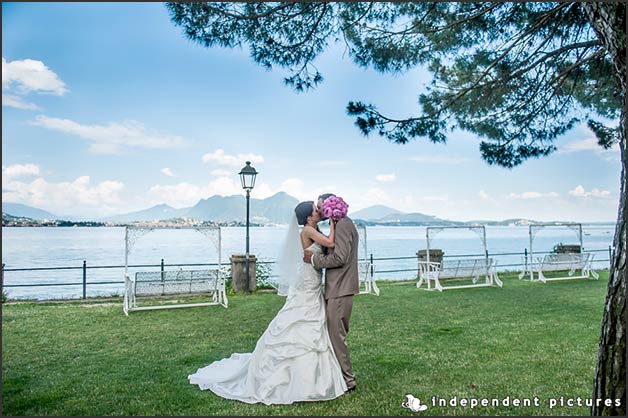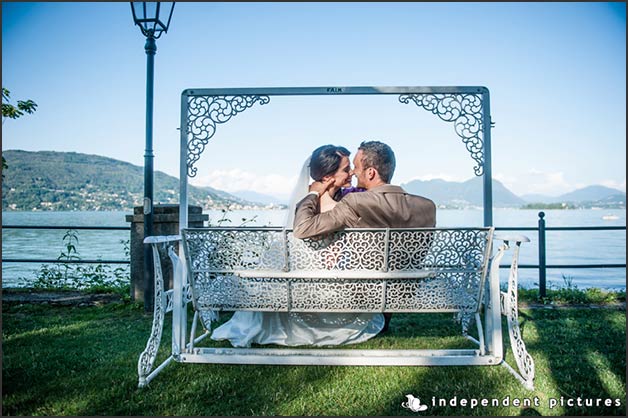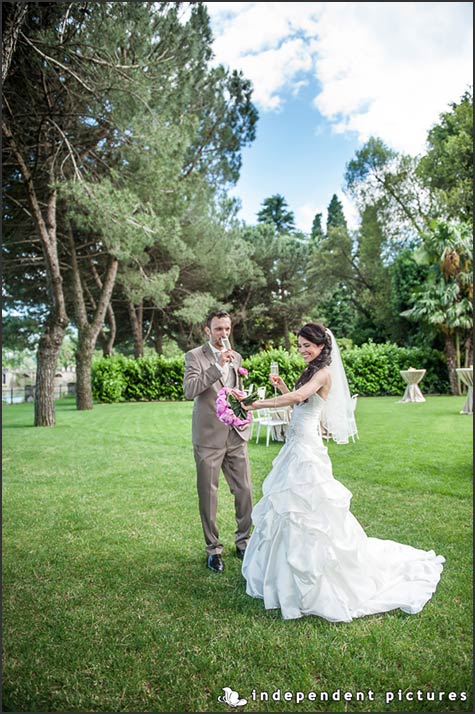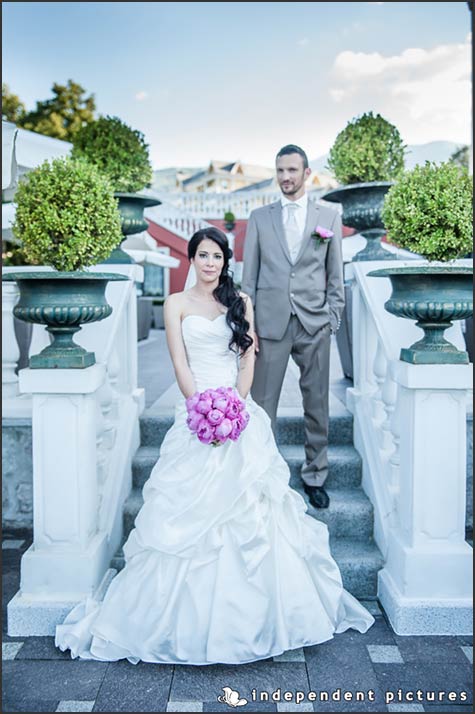 An elegant reception and party in the charming restaurant
For their wedding reception Joel and Rim and all the guests moved inside the elegant restaurant of the hotel. And once more pink peonies were waiting for them,
Very simple yet elegant arrangement for them. The room of the restaurant spoke for itself.
They had a lovely and gourmand dinner that everybody enjoyed.
There were also special moments of fun and moving videos and presentations dedicated to the couple, games planned by their friends and dances!
One of the best moment was the cutting of the cake… a wonderful white tiered cake that Rim just loved!
The table of the cake was decorated also with special sweets coming from Tunisia.
Just delicious!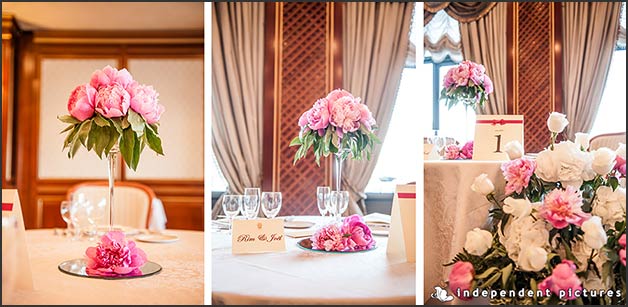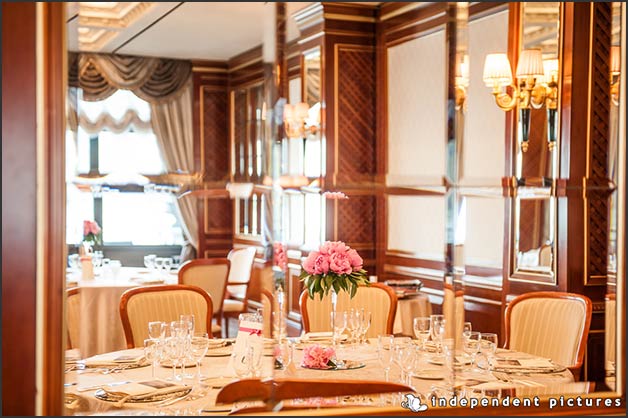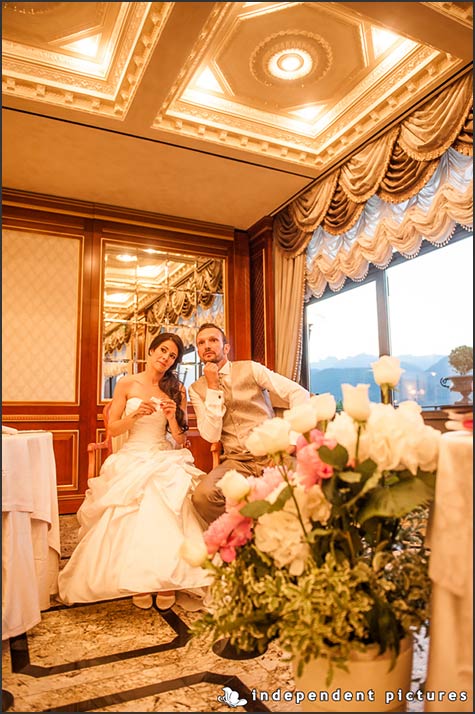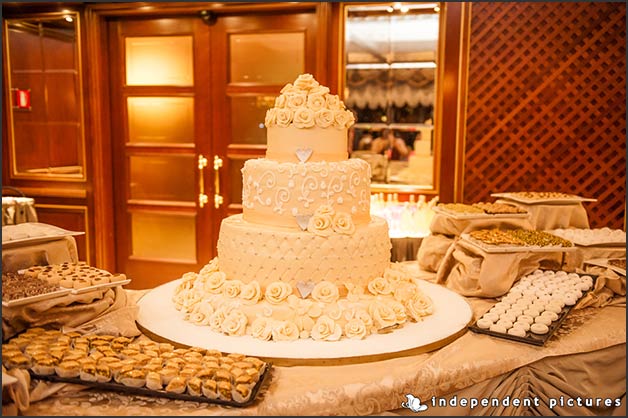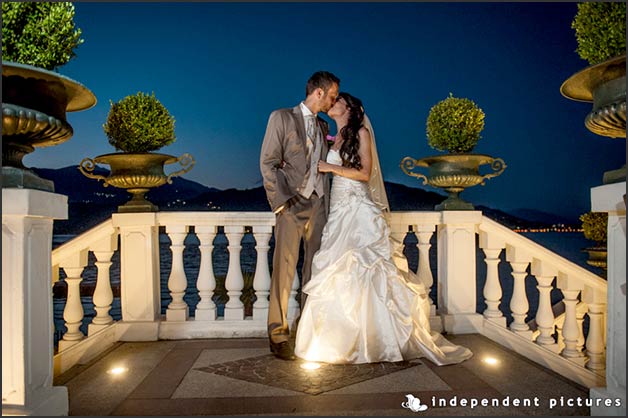 A simple but very elegant and tasteful wedding. Joel and Rim were absolutely sweet.
We will remember them for long time!
Thank you guys for choosing us and choosing Lake Maggiore for your special day!!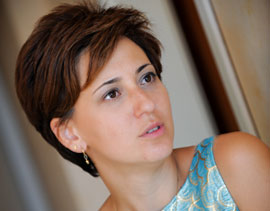 My name is
Valentina
and I work as wedding coordinator on
Lake Orta
and
Lake Maggiore
.
Before being a wedding planner and coordinator I worked for an American company planning events. I turned into wedding planning for SposiamoVi group, more than 5 years ago. Since Italian Lakes Wedding was founded I work with them to make bride and groom's dreams come true on this wonderful Lakes of North West Italy and Piemonte region.
l love creating with my couples the perfect event for them following their wishes and needs, helping to find the best solution for their ideas and budget.
I like meeting people talking with them and know more about their cultures and traditions. I do like sharing Italian customs with them and working in team with couples to let them experience a real and dreamy Italian wedding!
I will be pleased to guide couples along lovely traditional and pedestrian roads of Orta village discovering the beauty of this romantic Lake between villas, traditional restaurants wonderful churches and enchanting St. Julius Island.
I will be happy to let couples discover bigger and charming Lake Maggiore with its Borromeo Islands, wonderful hotels and villas overlooking the waters.
I'm sure you would be amazed by the beauty of these special corners of Italy so I'm simply wait for you for a lovely experience to create and live together.
For any information about wedding on Lake Maggiore CONTACT ME