Lake Maggiore is one of the most famous touristy destination in Northern Italy. It hosts rich and scenographic villas. On Piemonte's side of the Lake, starting from lake shore up to the hills before Mt Mottarone you will have the occasion to admire wonderful parks and amazing villas with their porches, balconies, terraces, galleries, staircases, towers and belvederes. Some of those are now open and transformed in luxury venues for weddings, meetings, congresses, fashion and company events… It is not by chance!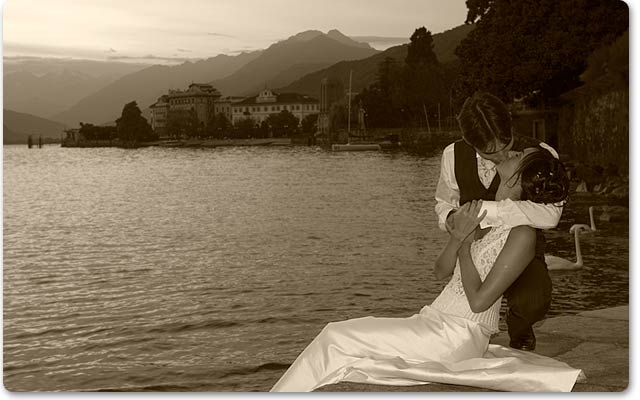 View of Pallanza lake shore from Villa Rusconi Clerici – Photo by Piero Gatti
After Lake Como, where George Clooney and Michael Schumacher bought their homes, and Lake Orta which is nowadays one of the main Italian destinations for weddings, now Lake Maggiore is taking for itself all medias interest.
Womens's Wear Daily, one of the most important US fashion magazine, mention Lake Maggiore among one of the most sophisticated travel destinations, while Los Angeles Times considers it as one of the most scenographic Italian Lakes. Maybe because of its mountains reflecting on the waters and its villas surrounded by wonderful gardens.
New Motorway of Trafori allows to reach from Turin or Milan, the best locations on the lake and Lake's micro-climate maybe can explain better this new choice for tourism. This is the reason because Lake Maggiore become also one of the favorite destinations of many Italians for their weekends.
From Claudio Abbato to Iannis Kounellis, from Alessandro Benetton and Deborah Compagnoni to Magan Gale, Valeria Mazza, Borromeo Family and Curiel… many people of international show business are now on the Lake!
We are facing a kind of renaissance of Lake Maggiore with its restored private residences now transformed in guest houses, villas that become art centers or galleries or ancient palaces now converted in luxury residences with fairy tale gardens.
Our journey to discover the most beautiful villas on Lake Maggiore for your wedding will be divided in three parts. We will start with Southern area of Lake Maggiore between Arona and Stresa. After that we will go up a little to visit villas around Verbania Pallanza and then we will go up to the North close to Swiss border to discover a couple of interesting venues in Ghiffa and Oggebbio.
So stay tuned for the next days!
My name is Valentina and I work as wedding coordinator on Lake Orta and Lake Maggiore.
Before being a wedding planner and coordinator I worked for an American company planning events. I turned into wedding planning for SposiamoVi group, more than 5 years ago. Since Italian Lakes Wedding was founded I work with them to make bride and groom's dreams come true on this wonderful Lakes of North West Italy and Piemonte region.

l love creating with my couples the perfect event for them following their wishes and needs, helping to find the best solution for their ideas and budget.
I like meeting people talking with them and know more about their cultures and traditions. I do like sharing Italian customs with them and working in team with couples to let them experience a real and dreamy Italian wedding!

I will be pleased to guide couples along lovely traditional and pedestrian roads of Orta village discovering the beauty of this romantic Lake between villas, traditional restaurants wonderful churches and enchanting St. Julius Island.
I will be happy to let couples discover bigger and charming Lake Maggiore with its Borromeo Islands, wonderful hotels and villas overlooking the waters.

I'm sure you would be amazed by the beauty of these special corners of Italy so I'm simply wait for you for a lovely experience to create and live together.

For any information about wedding on Lake Maggiore please CONTACT ME.