s some of you may know Lake Orta has some beaches where you can spend some relaxed and fun time with your families and friends. There are a couple of
Beach Clubs
that could be ideal for day before and day after events but even for a wonderful wedding reception. Stay tuned as soon we will come back to tell you about all beach possibilities on Lake Orta.
For today we would love to tell you
Hayley and Wayne's wedding story
a wonderful and elegant
wedding on a beach club on Lake Orta
.
We do this in occasion of the great re-opening of
Orta beach Club
with a new name –
LUCI SUL LAGO
– new managed and a great restyle.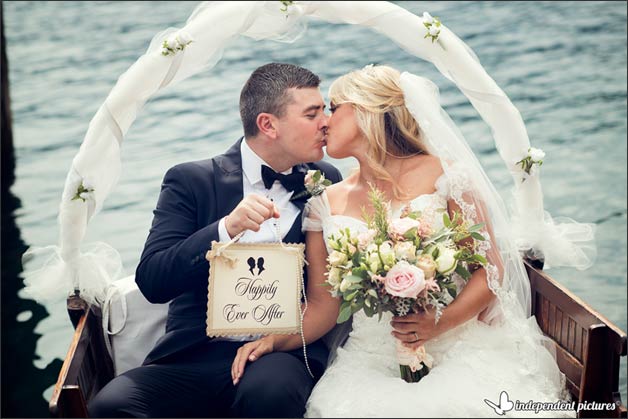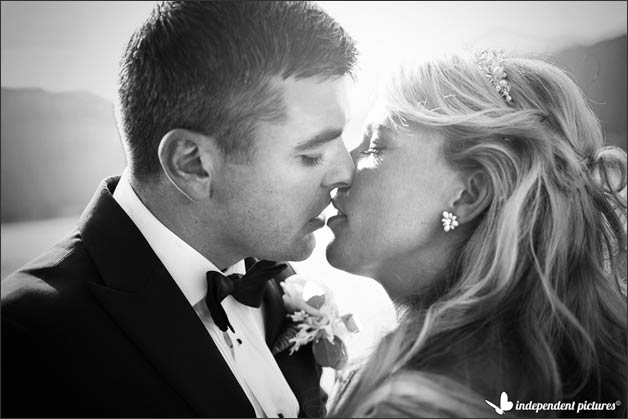 Getting ready in Orta Village at Hotel San Rocco
Hayley decided to get ready in one of the best suite of Hotel San Rocco with a magic view over gardens of Villa Gippini – still part of the hotel – the lake and of course St. Julius Island. She got ready in style with her bridesmaids and family.
Atmosphere was really fun since the beginning, we knew that the wedding was going to be a blast!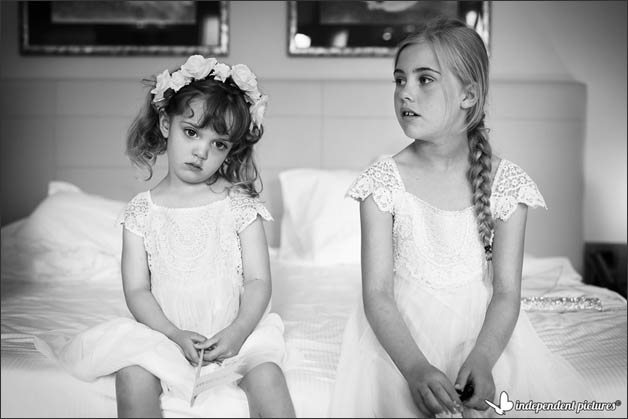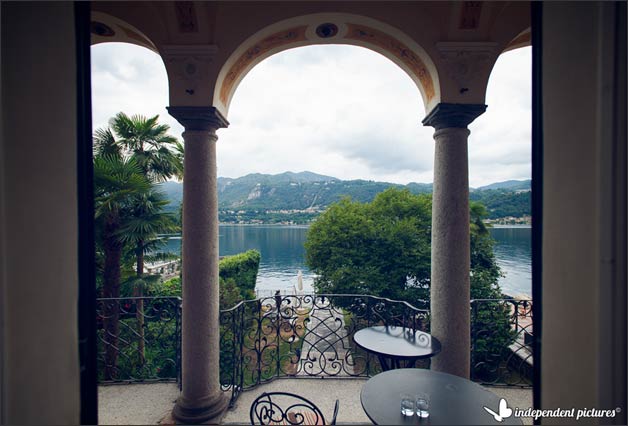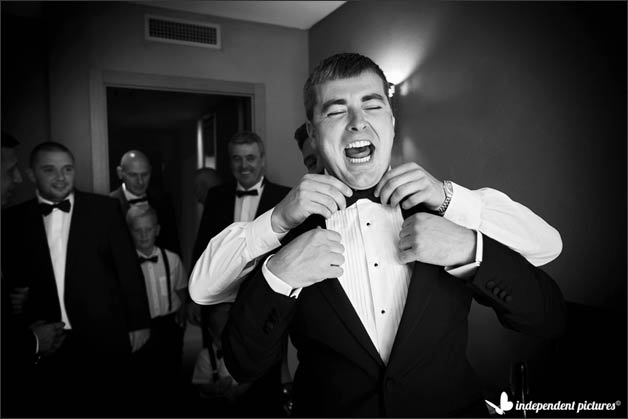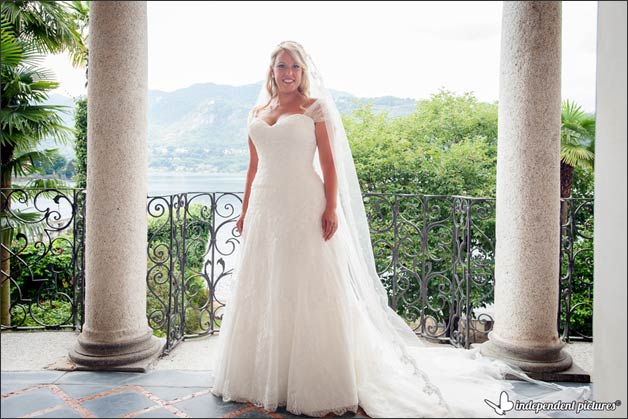 A Roman Catholic Ceremony in Orta Village
Once she was ready she walked down on San Rocco terrace and then she reached Maria Assunta Church with her dad and followed by her bridesmaids, page boy and flower girls.
She was wonderful in her wedding elegant wedding dress and loose hairdo. She chose a romantic bouquet with pastel color English roses a lot of greenery and also some rosemary as symbol go good luck!
Once the bridal party arrived at the church the flower girl opened the processional with a lovely and sweet golden panel with the words here comes the bride. Actually she walked down the aisle on that precise music!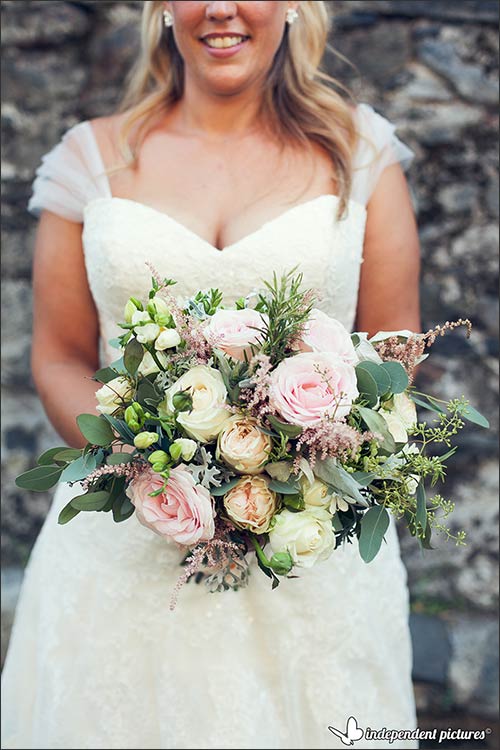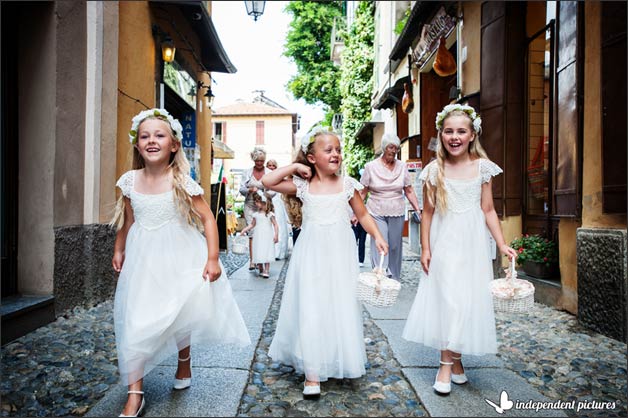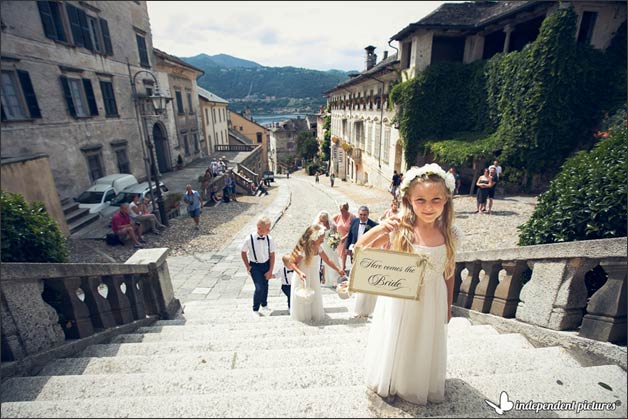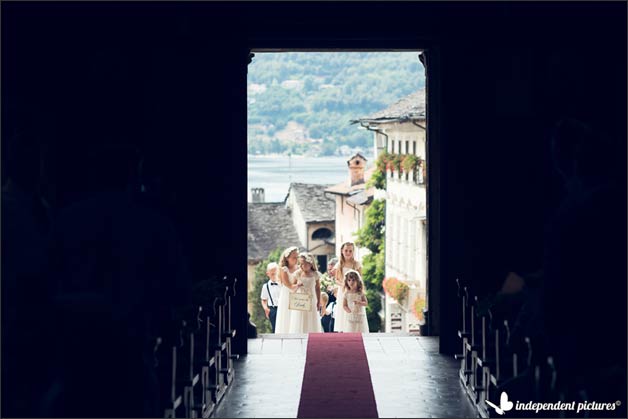 Church was fully decorated with candles, lanterns, greenery and white hydrangeas. A very romantic atmosphere for an enchanting church that all guests loved. Ceremony was moving and at the end of it the whole group reached Orta main square for a fun toast and some group photos.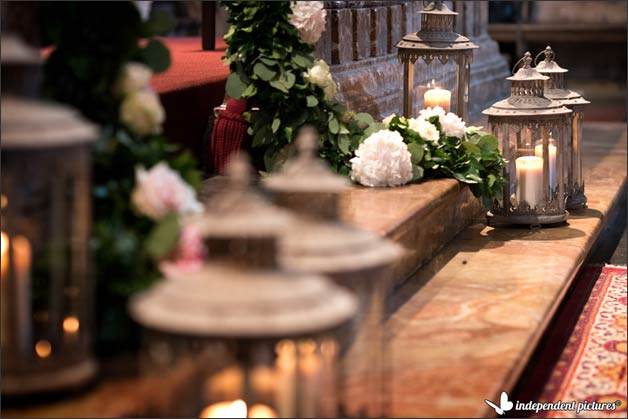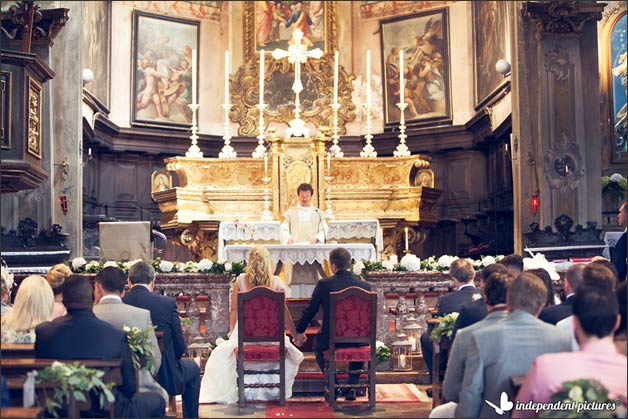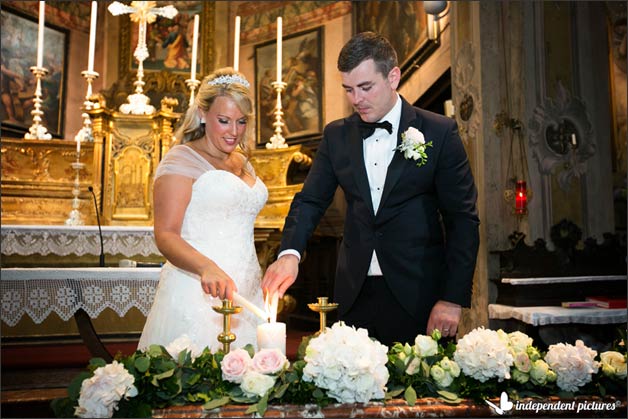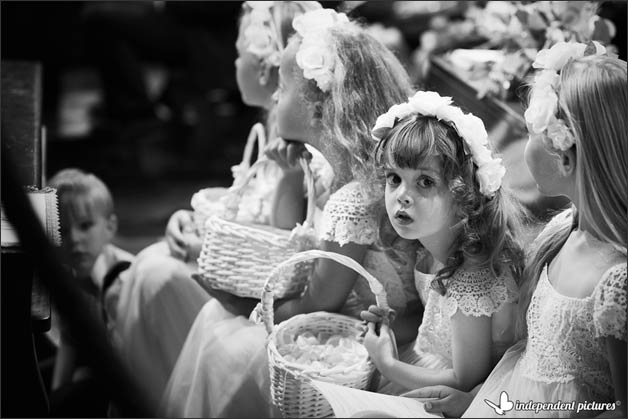 Romantic photos on St. Julius Island
Having a Roman Catholic ceremony Hayley could not reach the ceremony on a boat as all our brides do when they tie the knot at Villa Bossi, Orta town hall. But we had a nice idea! Hayley and Wayne both got on a rowing boat to reach St. Julius Island! They had a romantic boat trip together to reach the so called Island of silence for a romantic photo session on the Island.
Here you can see some of the great shots of Independent Pictures Team – official photographers of the day.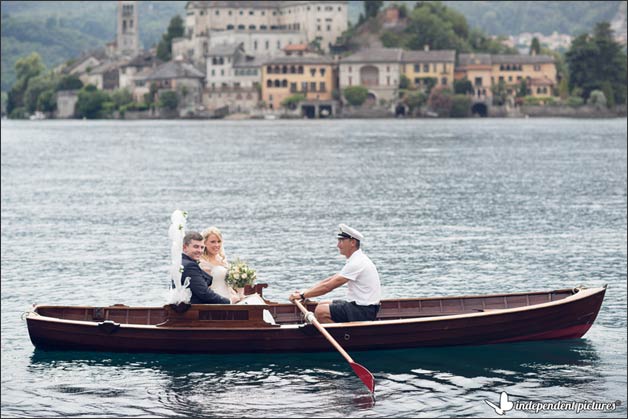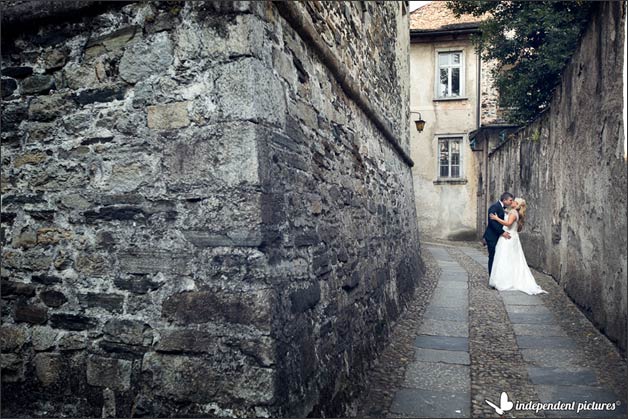 Time to celebrate at Orta Beach Club – Luci Sul Lago
While Hayley and Wayne were having their wedding photos on St. Julius Island, guests enjoyed a fun boat tour with Prosecco toast on board to reach Orta Beach Club – Luci Sul Lago. A rich aperitif was waiting for them and after a while Hayley and Wayne reached them by motor board this time!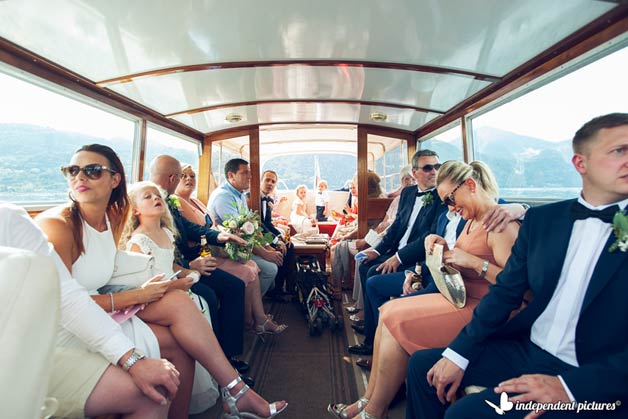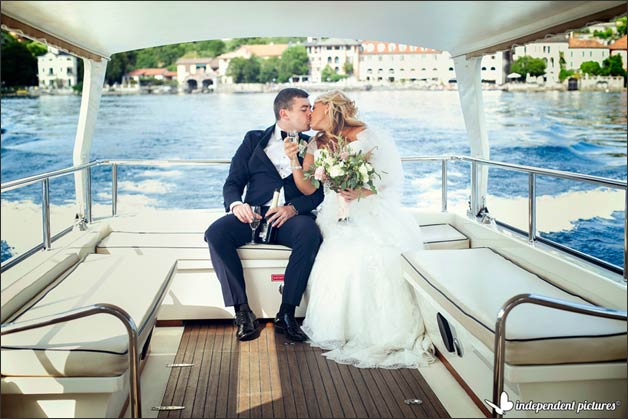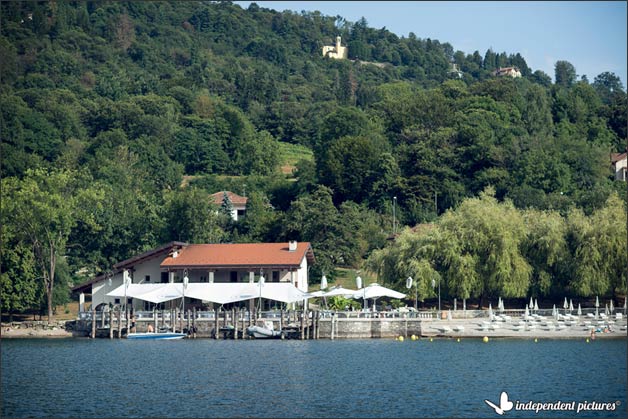 Wayne and Dj selected a fun cocktail music for this moment. Everybody enjoyed a romantic sunset on the lake.
Orta Beach Club terrace was elegantly decorated. Round tables with long white table clothes, iron chairs, and enchanting centrepieces. As the matter of fact Hayley wanted loose and natural composition made of the same flowers of her wedding bouquet in elegant golden vases. She wanted to add a touch of gold in every decoration she planned for the wedding, including her wedding stationary.
Table plan was made with golden frames, table cards with lovely golden and ivory cards hanged on the centrepieces, menu cards were personalised for all guests to be also a name card. All made on ivory golden paper with gold details. We cannot forget another elegant touch she planned: on every item of her stationary she added a personalised silhouette logo of bride and groom. All details were incredibly elegant.
Romantic pastel colour flowers with golden and ivory details. She really made Orta Beach Club – Luci Sul Lago shine.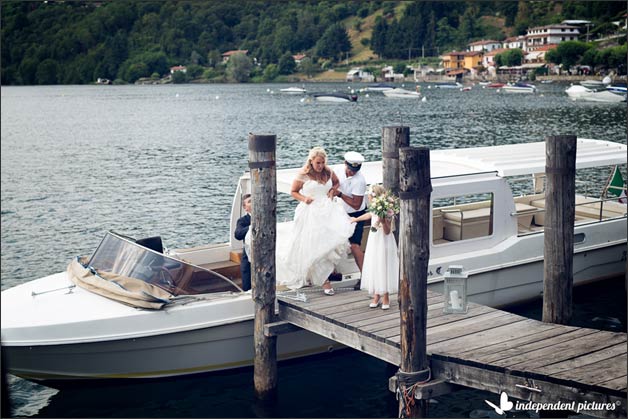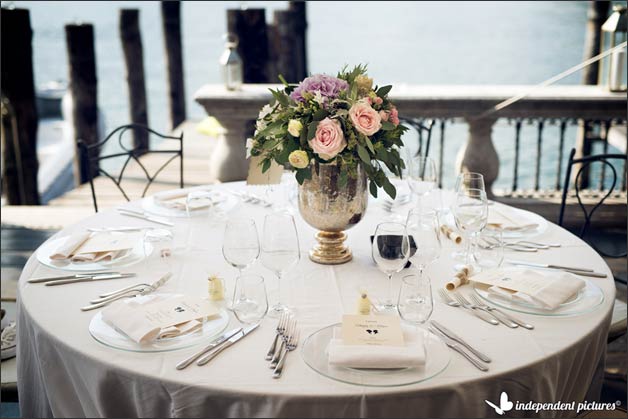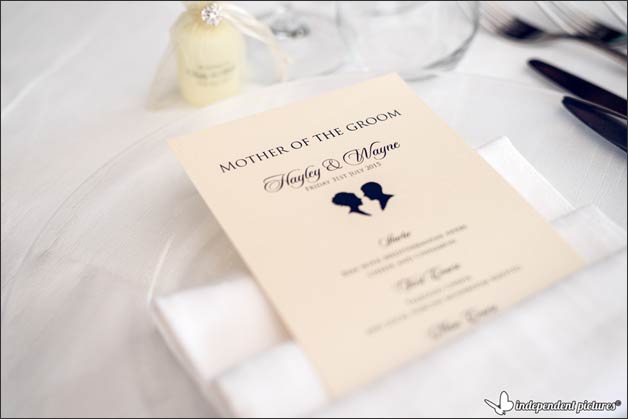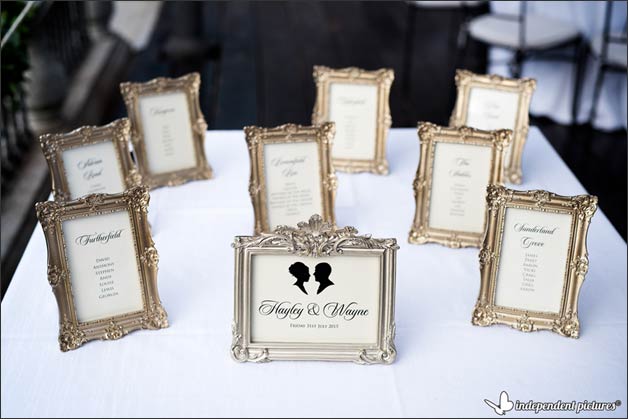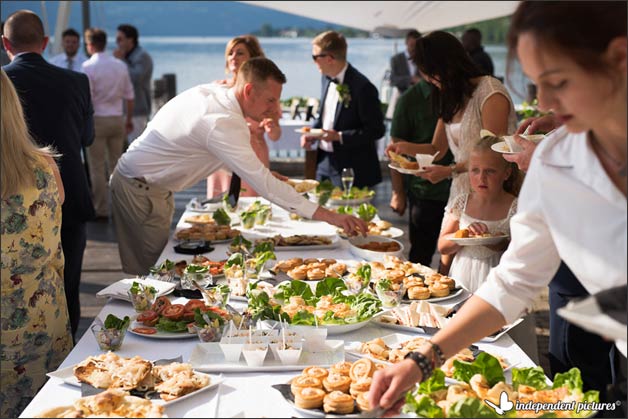 But there's more! To give a special romantic atmosphere to Orta Beach Club – Luci Sul Lago we planned to light it up with wonderful fairy lights hanged above the terrace adding some huge bulb letters saying LOVE. We loved it!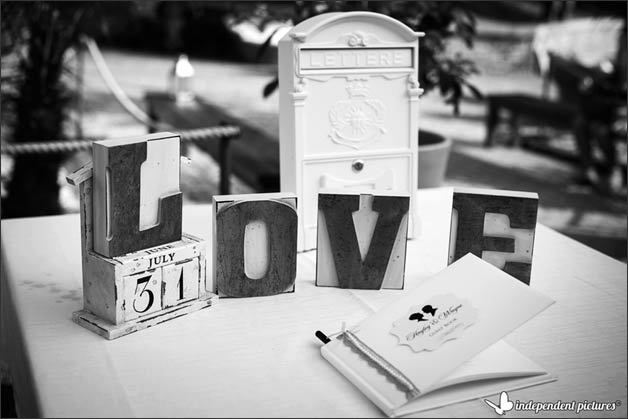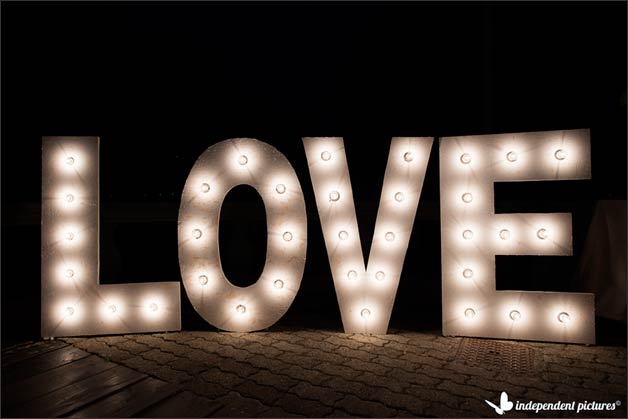 Dinner was served right after the aperitif. And after it all guests had a lot of fun with all bridal party speeches! It was a great moment for all.
It is time for the cake now. Hayley wanted a small white cake with some flowers on it and lot of greenery decorations. The final result was great as you can see in the photos.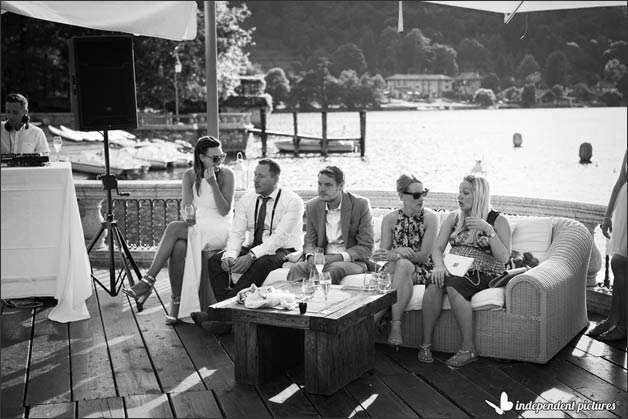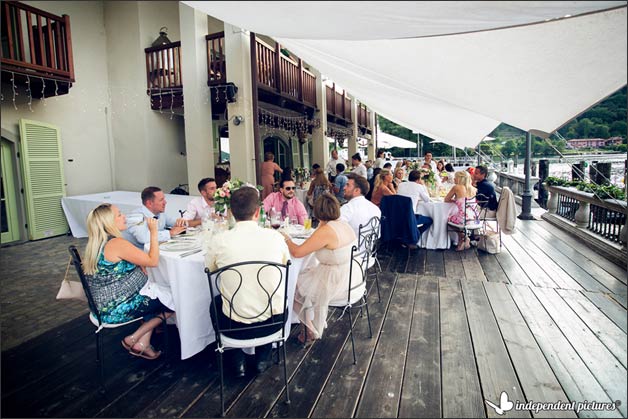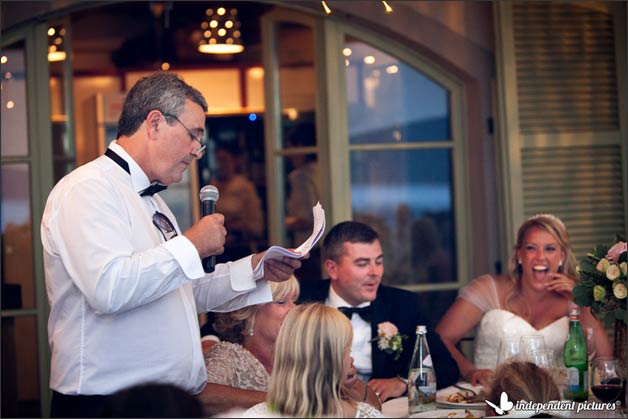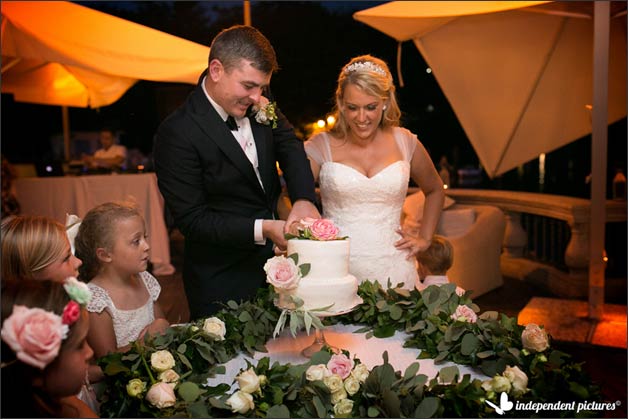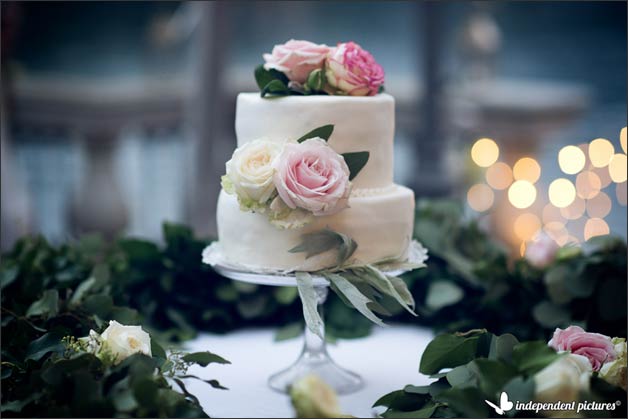 Dances could start and they went on up to midnight with a lot of fun and drinks. The party was really a blast, Hayley was more than happy and I remember her goodbye hugs I will always keep them in my heart!