Villa D'Este… it's impossible to utter the name without a wistful sigh.
Apart from being stupendous and undeniably the epitome of Italian sophistication, this villa is world famous. It has literally witnessed history, being well known as one of Mussolini's preferred locations in which to receive important guests.
So it was with great excitement and anticipation that I met Janet and Ian, who were staying at the Villa before and after their ceremony. To be there in the evening was an experience reminiscent of a Hollywood film from the 1950's. A jazz pianist and singer serenaded snappily dressed clientele sipping cocktails in the beautiful grounds while gazing dreamily out towards a lake illuminated by fireworks. A newly married couple waltzed romantically around a large interior ballroom beneath the gaze of a thousand crystal eyes of an antique chandelier… It was the stuff that dreams are made of and the ceremony was still to come!
The day of the blessing boasted perfect weather conditions with glorious sunshine and heat relieved by a fresh breeze. The blessing took place in the latter part of the afternoon, always a good time for photographs. The floral arrangement was simply stunning with lemons and sunflowers as the dominant theme. The most amazing mosaics I had ever seen decorated the entrance to expertly manicured gardens, much loved by Sir Winston Churchill during his many holidays spent at the villa during his career as English PM. He spent many hours on the veranda engaged in his passion for painting. He would have loved the scene that day.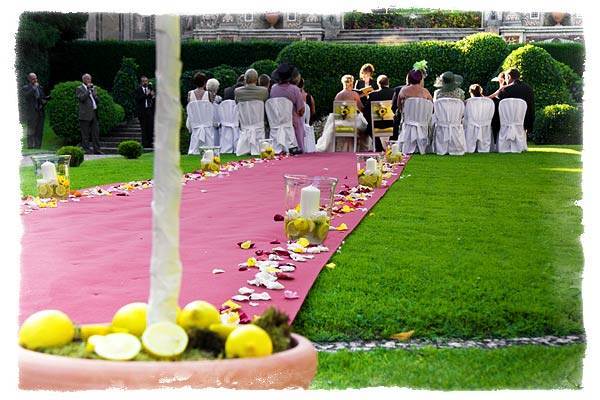 As the guests arrived to take their seats I wondered about the many historic public figures and famous celebrities that had also been spellbound by this enchanting and majestic villa. It was a very surreal moment… 'The Flower Duet' from Lakme initiated the proceedings, which was a fitting accompaniment to such a creative floral arrangement. Janet began to make her way towards me accompanied by her father. Her hairstyle was captivating and creative, reflecting the bride's personality and was the subject of much discussion amongst the guests. The groom was without doubt one of the most relaxed I have ever seen! However he was clearly moved and I found myself also overcome with emotion during the mutual swearing of their vows. The bride had told me that they had chosen the villa because they had fallen in love with one another here during an early trip taken together, thus proving that Villa D'Este casts a powerful spell…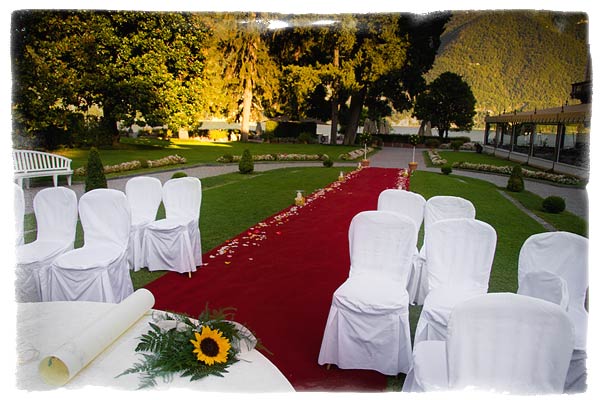 Both Janet and Ian had confessed previously to being emotional types and so a little humour was welcomed during the introduction, enabling the couple to relax.  The first reading was the popular 'Blessing For A Marriage' and the second 'Marriage Advice', performed by one of the guests.
The wedding party were wonderfully warm and appreciative of the ceremony. The happy couple's generosity knew no bounds and I was invited to attend the wedding dinner and festivities later in the evening. This was a lovely surprise and an experience I will forever cherish. I was so proud to have been a part of such a special day especially since Janet and Ian are one of the sweetest couples I have ever composed a blessing script for. I was even treated to a round of applause at the wedding table! Their humour, warmth and enthusiasm made the job not only straightforward but a pleasure too.
I couldn't recommend Villa D'Este enough as a wedding or blessing location. This was certainly the blessing highlight of 2008 for me personally and I remained so enchanted that I found myself returning only a few weeks later…just to make sure it had all been real!
Diane Wheeler is an English Literature graduate and ex-teacher who has lived in Italy for many years. She has considerable experience of scripting and performing blessing ceremonies and will individualise your blessing by composing a script especially for and in close dialogue with you. Diane takes great care to ensure that every couple feel supported and guided through the process. It is more a passion than a job for her as you will soon see! Diane also complements the ceremony with expert recitation of some of the most beautiful poetry and moving readings of the English language.

For more information about blessing ceremonies on Lake Como please contact us.