It was almost 2 years ago that the organization of the wedding of Olesya & Fedor has started. After visiting numerous venues in France and in the most beautiful areas of Italy such as Tuscany, the Ligurian seaside and the Italian Lakes district, the spouses have chosen a charming private villa on lake Garda, in Desenzano. The beauty of the historic villa, the intimate atmosphere, the charming Italian garden and the spectacular position on the lakeshore conquered the heart of Olesya & Fedor for the first view…
Once the location was decided, it could start the teamwork of the Russian and Italian wedding planners. Misha, the head of the Russian wedding planner team, was the creative author of the event, ensuring to respect the Russian traditions very important both for the spouses and the guests. While the Italian team was responsible for the scene, the decorations and the realization of the creative ideas together with our trusted, professional suppliers. After a lot of working hours during the day and night, videoconferences through skype with the spouses, and finally the BIG day has arrived. Actually, it was not just the day itself, but a complete weekend with 3 days program, full of surprises for the guests…
After an exciting and funny treasure hunting in Venice, the wedding party arrived in Desenzano the night before. Followed by a hectic morning with the preparations, the guests arrived In the villa, where a refreshing rich aperitif welcomed them in the loan area, with delicious fingerfood and lot of champagne to admire the scene on comfortable sofas and pillows. Little white fans were offered to the women, to be able to support better the hot temperature. Soft jazz music gave background to the peaceful moment. Then the special wedding guest ( a tradition in Russia) called the guests to join him in front of the stage, decorated with the romantic white huppah and lively red flowers in huge white glass vases.
After the entrance of the Groom and the Bridesmaids, finally Olesya has appeared on the water, in a little fishing boat. A man in a sailor's striped vest was rowing the boat, then slowed down in front of the guests to allow to everybody the celebrate the Bride's arrival. Then the boat went to the pier, where Mothers of the groom and the bride met Olesya, holding candles in their hands.
After the romantic ceremony under the huppah, the guests took place at the tables, decorated with a fabulous flower cup in the middle and apples signaling the places of each guests. And this is the point when the wedding started to be very different from the italian weddings: in the breaks between the different plates of the dinner, various entertaining activities ensured that the guests are having fun. They had "fake" waiters turning up as singers with traditional italian songs, a little "group work" to build sketches with objects taken from different nations' wedding traditions, a creative corner where every guests could create his/her own personalized venetian mask, a caricaturist to make funny drawing of the participants. But the main spectacle was the first dance of the newly wed spouses, who danced a romantic classical ballet piece (as both of them are found of classical ballet, and the Bride practicing also actively this beautiful art).
Obviously, fireworks couldn't be missing to complete this very special evening, together with a romantic slideshow projection of the photos of Olesya & Fedor in Venice, few days before the wedding. Music and dance closed the event, while the surprise limousine (organized by the groom) didn't come to take the spouses to their hotel to their first night as husband and wife….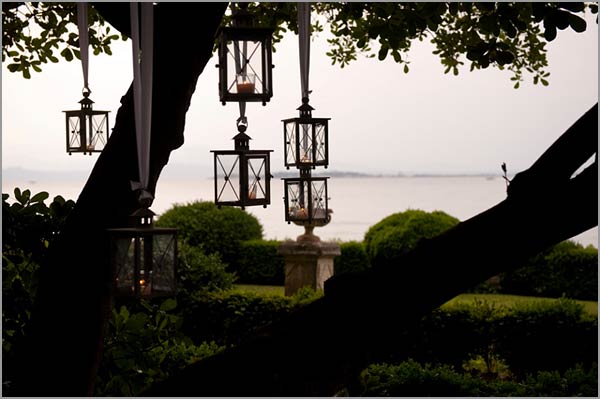 And it still did not finish: the day after a relaxing boat trip was offered to the guests to exploit better lake Garda before leaving our beautiful lakeshores.
We take the opportunity to say a big thank you for the Russian wedding planner team, and all our suppliers for this amazing weekend in Desenzano, and we wish again all the best and forever love to Olesya & Fedor!