endra and Andrew are a lovely American couple who travelled overseas to celebrate their wedding on marvellous Lake Garda with all their friends and family!
It has been great taking part of such a special event! Kindness and happiness of this couple have made this
wedding on Lake Garda
an unforgettable experience for all who joined.
Guests came from different parts of the world. They took the opportunity to enjoy traditional Italian lifestyle and to share some good, fun time together on Lake Garda.
Delicate blend of wedding colours as creamy white, ivory, cool gold and navy blue with materials as glass, wood, cool golden metal decorations and vintage objects, gave to this wedding on Lake Garda a unique elegant, sparkling and merry style.
Poet Kahlil Gibran's words, quoted throughout the ceremony, made wedding atmosphere even more emotional for all!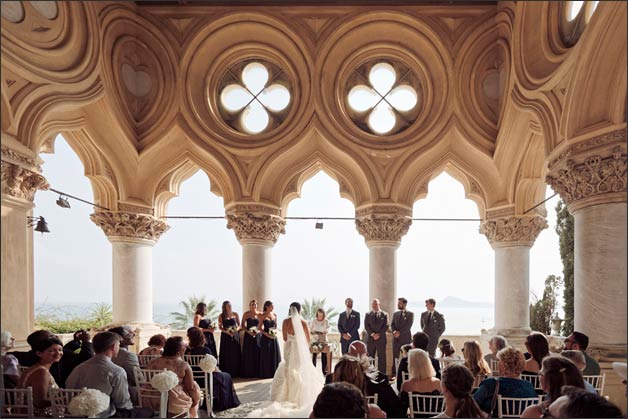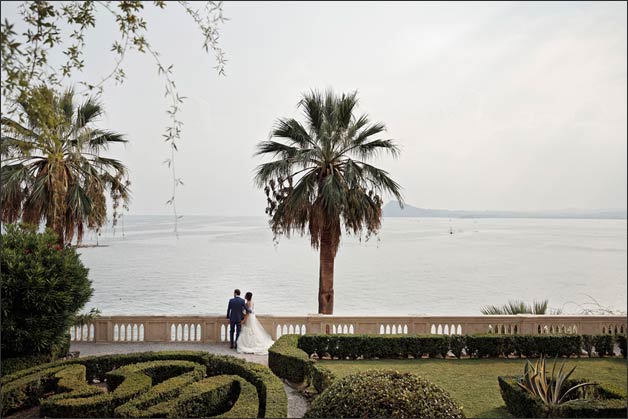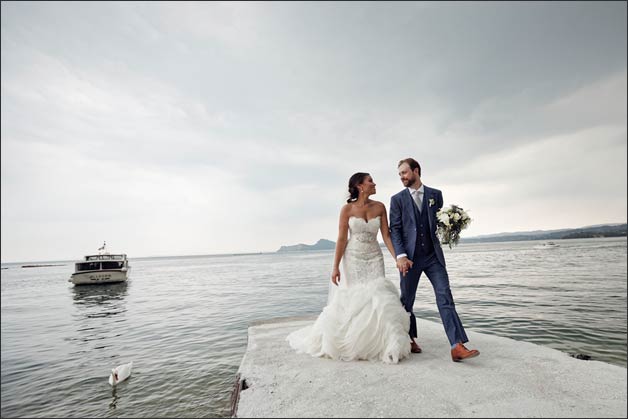 A long wedding planning for a special destination wedding on Lake Garda
This is was they did! Wedding preparations started long before the wedding itself. A long time full of emotions and thrilling expectations. Every single detail was planned with style following a precise concept.
Kendra wanted special wedding colours such as white and cool gold to be predominant for both save the date and invitation cards. She also wanted all the other wedding stationary items to follow the theme such as the program for all guests.
Om the wedding day, Kendra, her bridesmaids and her mum got ready in lakefront hotel overlooking Lake Garda.
A pleasant walk led them all to a little dock where they took a boat to reach a private island in the midst of Lake Garda for the emotional wedding ceremony.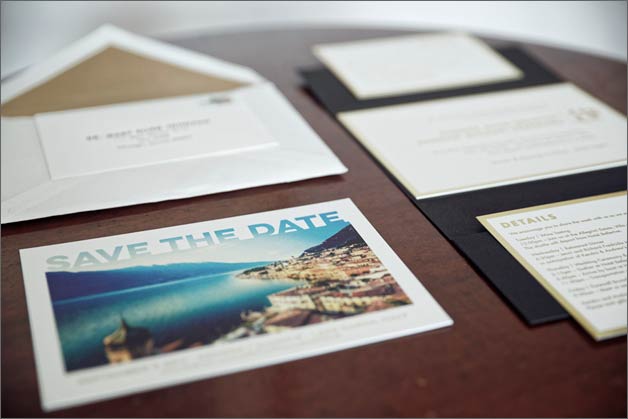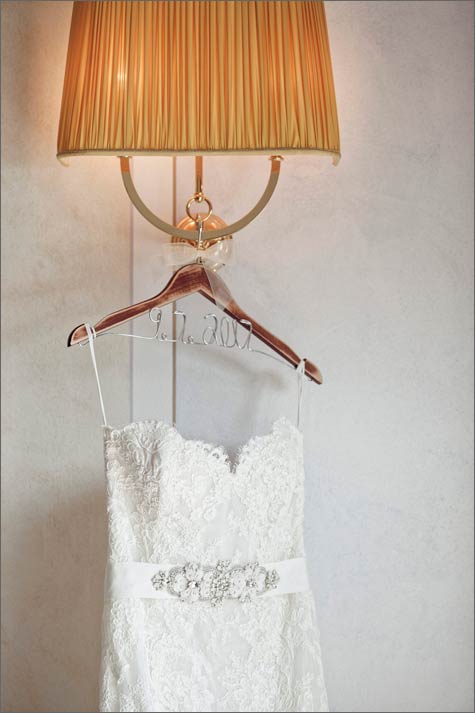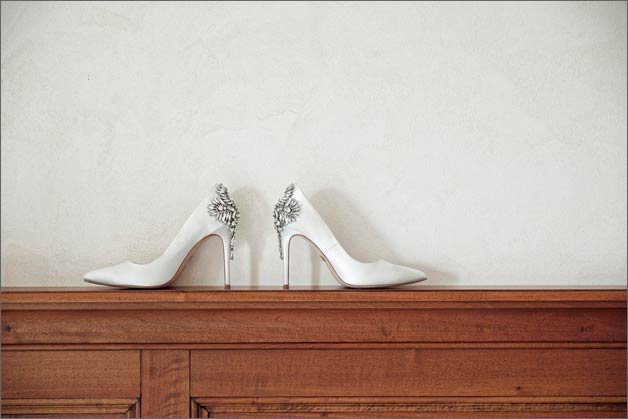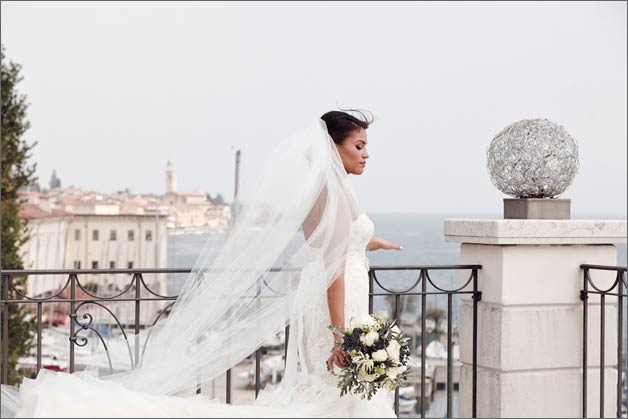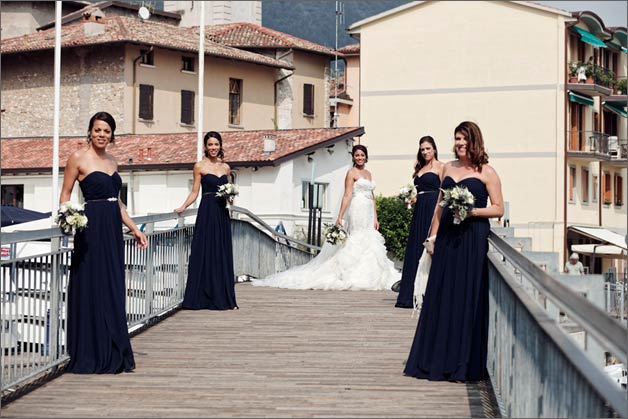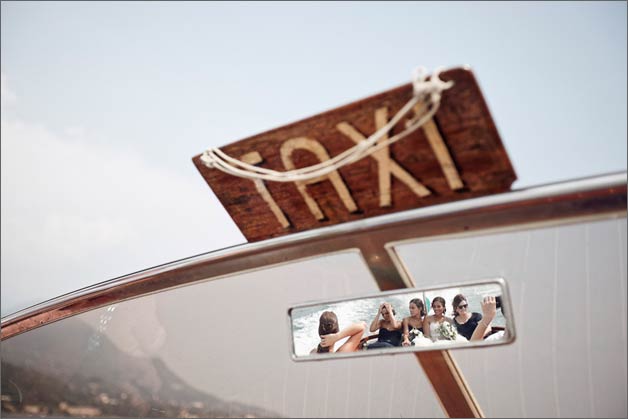 A dream wedding come true on Lake Garda
Isola del Garda is an astonishing wedding venue! So much beauty is difficult to describe!
Kendra and Andrew had been long dreaming about saying "I do" in this special wedding venue. They were right the venue is full of charme and tradition.
Imagine a small vintage wooden table with a arrangements with white and navy blue flowers on top, white hydrangeas decorating the back of the chairs along the aisle: a stunning wedding setting for sure.
Live music of a string quartet accompanied the whole ceremony and aperitif in the garden.
Isola del Garda has a big garden built on different levels: Renaissance Italian garden is made of shaped hedges and geometrical patterns. This was the spot bride and groom chose for their wedding aperitif.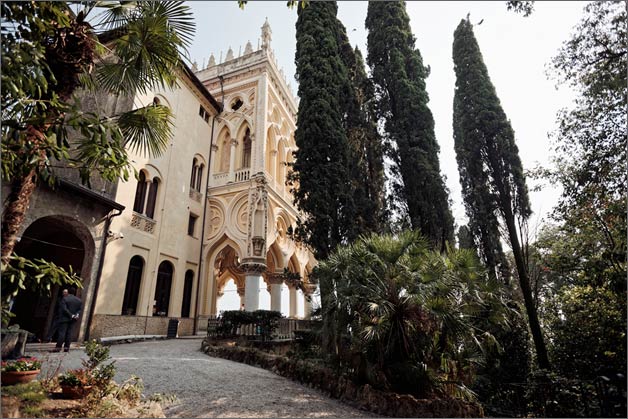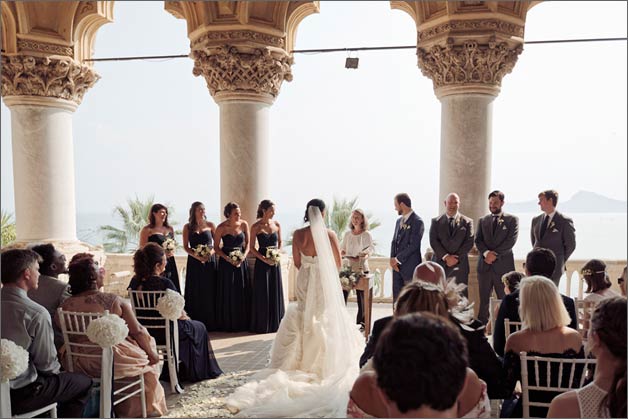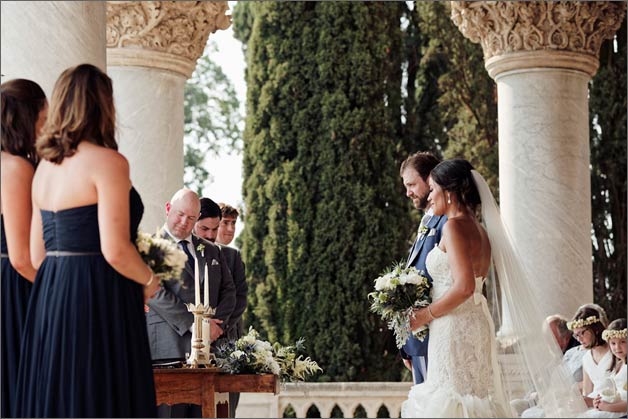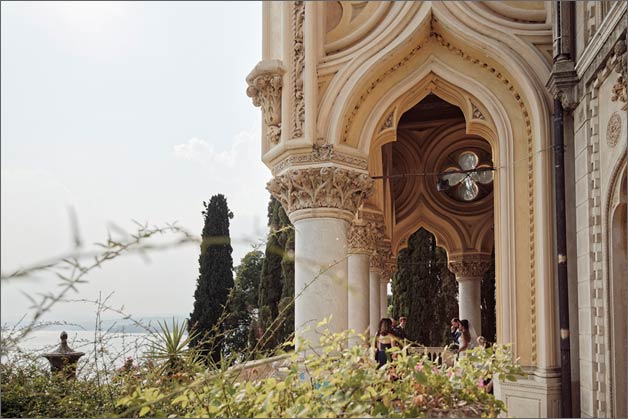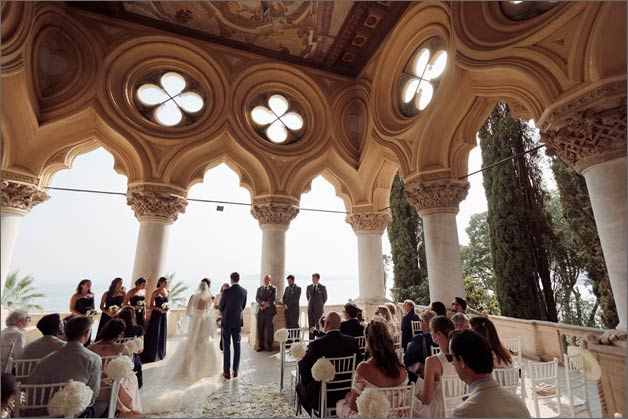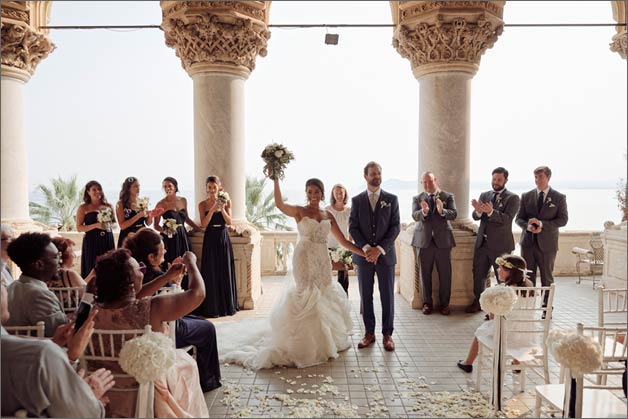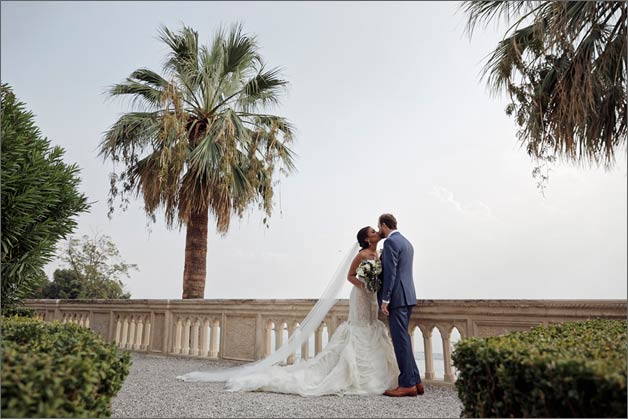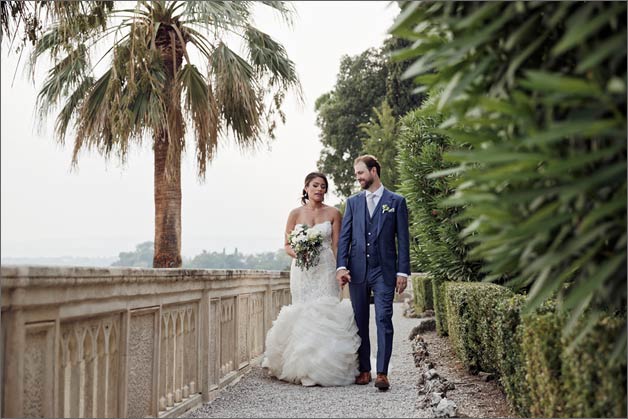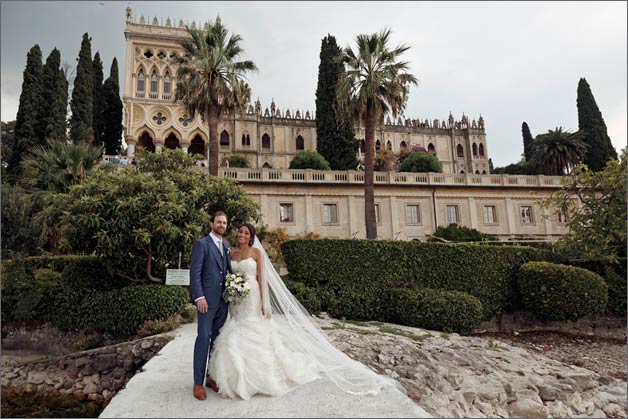 Elegant drop cloth curtains for a wooden patio on Lake Garda
Wedding dinner party was held on a wooden patio just on Lake Garda shores. Refined printed menu with golden sealing wax, golden chandeliers as centrepieces with flowery spheres hanging from them, wedding cake enriched with gold cloth and decorations! Amazing colours as opaque gold and navy blue were the main features of the wedding decor.
Lake Garda backdrop from the patio was just fascinating. After the wedding dinner, music created the right atmosphere enjoy the party while the twinkling lights from Lake Garda gave that dreamy touch to the whole scenery.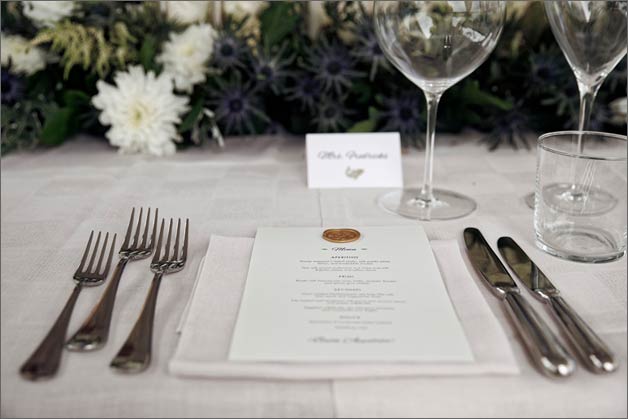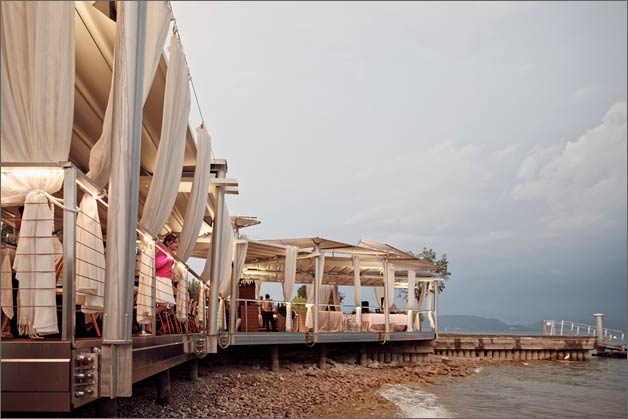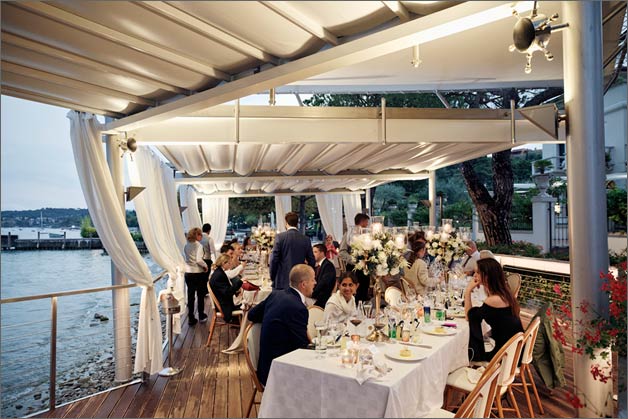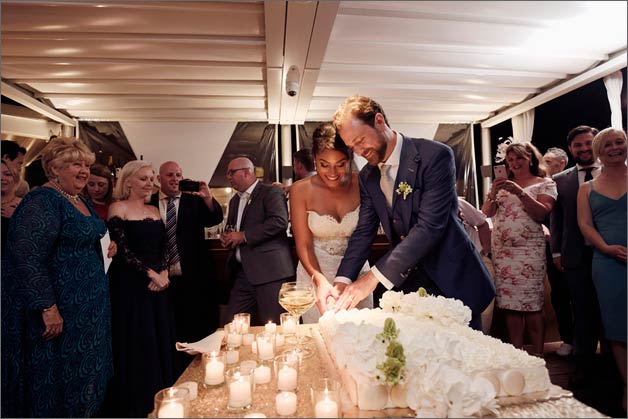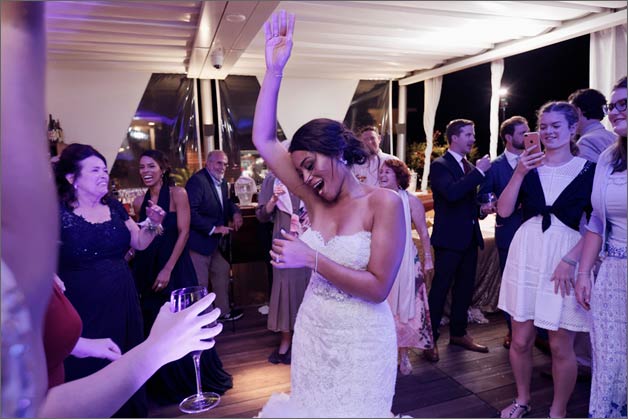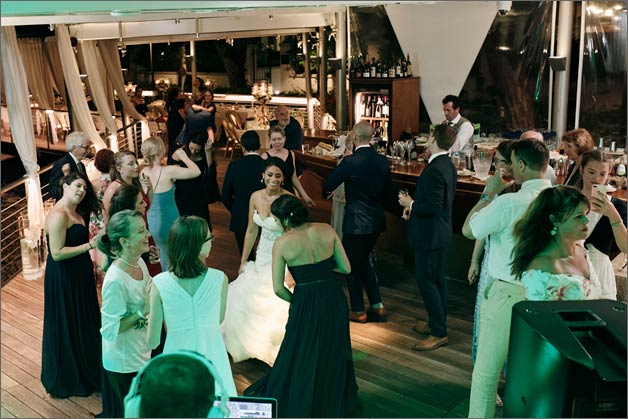 Special thanks to Kendra and Andrew for sharing this amazing wedding day with all of us. A very special thanks to David Christian Licthtag photographer and Lovvia Weddings videographer too for letting us relive some wonderful moments of the day through their beautiful pictures.