t was a great pleasure planning
Lyana and Rimantas's wedding
and I have a great memory of their
wedding day in Verona
.
They got in touch with me to plan an intimate wedding ceremony with their relatives. Their intention was staying in a very elegant hotel in Gardone Riviera on Lake Garda and finding a gorgeous venue for their civil ceremony. It had to be close by Lake Garda but not necessarily lakefront.
After seeing range of different solutions, they got struck by Verona, the city of Shakespeare's Romeo and Juliet! Beautiful Cappella dei Notai seemed to be the perfect vene for their wedding ceremony. It think that it is the most intimate and elegant wedding venue they could ever choose.
So, wedding planning got started!
We had thought to stuck to the idea of an intimate wedding at first, but when we met and started talking about music, wedding photos, video and flower arrangements, we decided to give a more lively touch to the wedding itself. We were in one of the city of Love after all!
This has been an extraordinary experience for me, full of emotions. Lyana and Rimantas fell back on my advice just straight away and their confidence in my work gave me great enthusiasm.
Lyana and Rimantas chose a very special photographer: Luca Rajna. His use of the camera is very sophisticated due to his original colors and shots. Portraits are surely Luca Rajna's musts-have and I believe that thanks to his wedding photos, bride and groom will keep the atmosphere of their special wedding day deep in their hearts.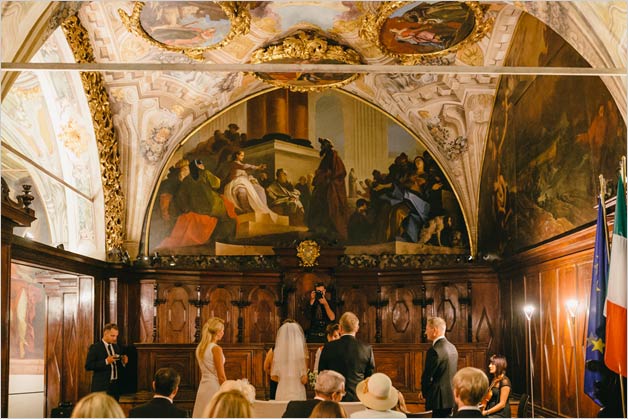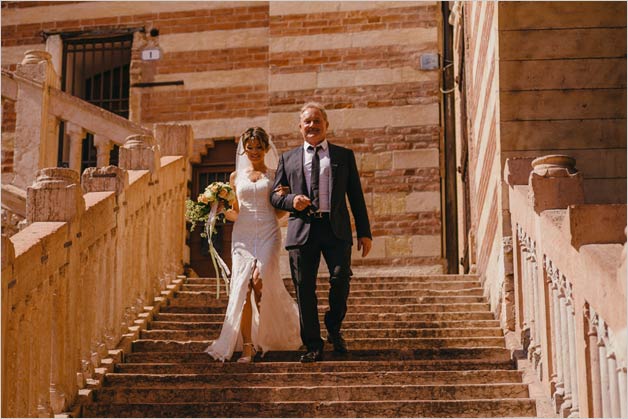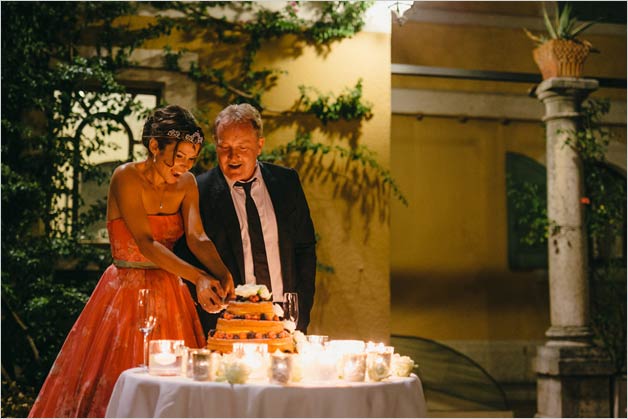 GETTING READY ON LAKE GARDA
Preparations took place in an elegant hotel on the western side of Lake Garda, in a lovely hotel room with a little cosy lakefront balcony.
I can say that, due to great expectations, this is the most exciting moment of the whole day. All started very early in the morning.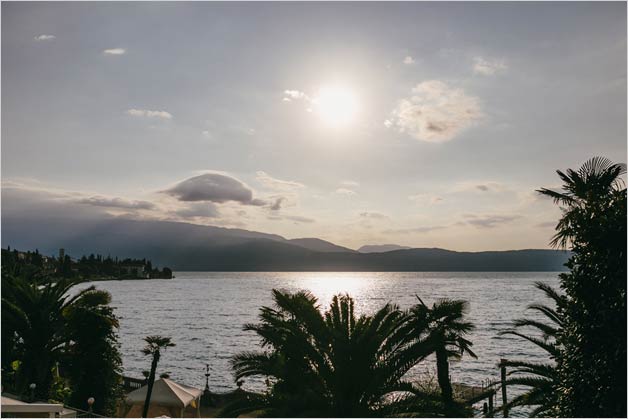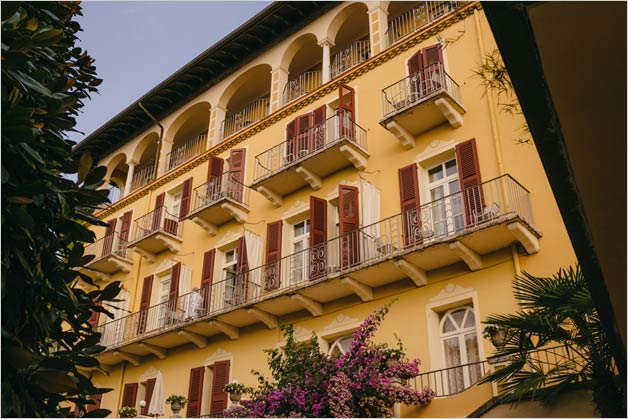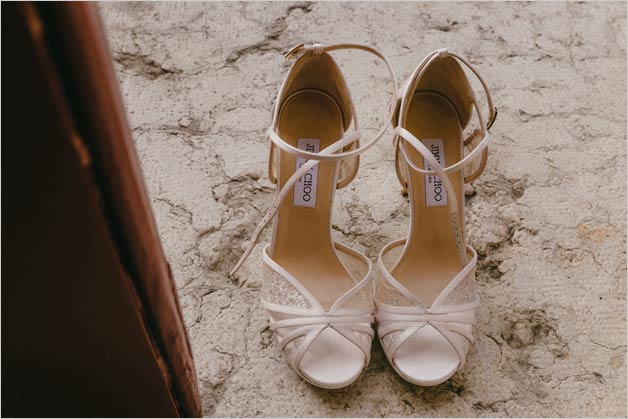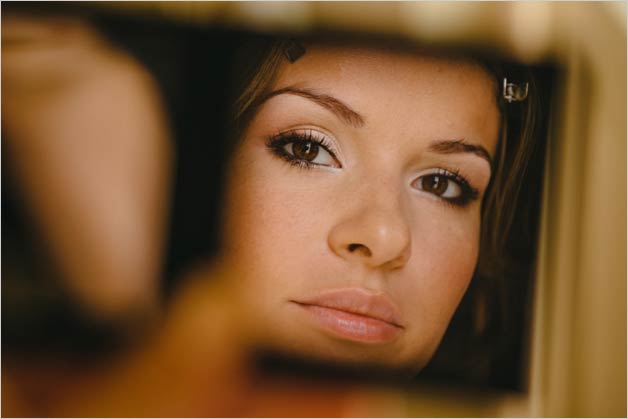 When everybody was ready, cars took the bride, the groom and all the guests to the historical centre of Verona.
The bridegrooms' car got to the front of Palazzo della Ragione and Lyana and Rymantas could finally walk up the majestic staircase to Cappella dei Notai.
A WONDERFUL FRESCOED HALL IN THE HISTORICAL HEART OF VERONA FOR THE WEDDING CEREMONY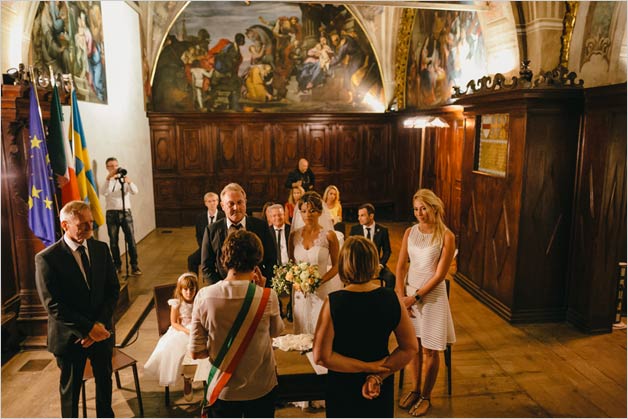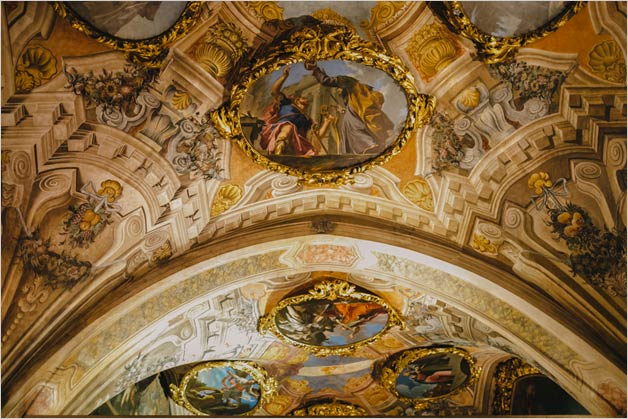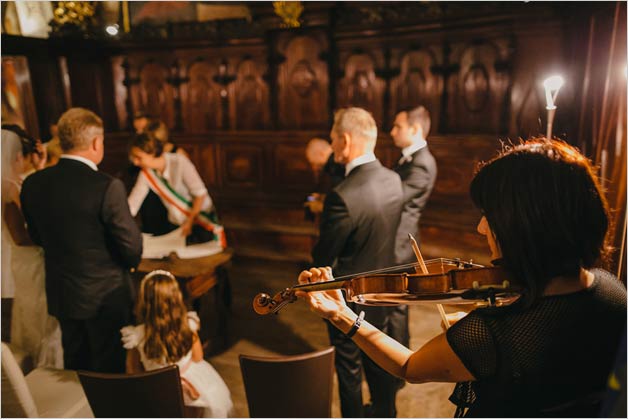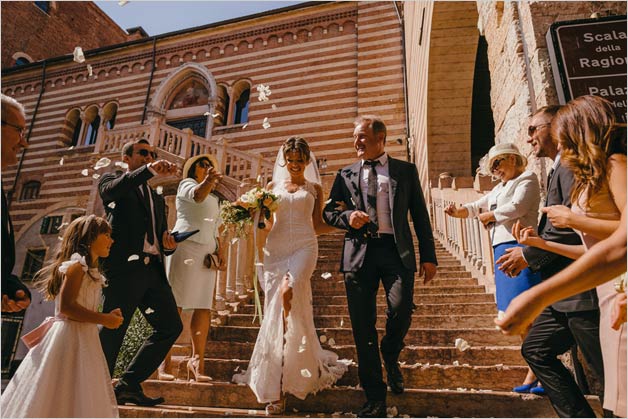 A nice after-ceremony stroll around the centre of Verona led everyone to Casa di Giulietta (Juliet's House). Newlyweds got upstairs to the famous balcony which looks over an ancient romantic courtyard: just the perfect place for Lyana to toss her bridal bouquet!
After that, they all reached a cafe bistro downtown where they enjoyed a lovely aperitif buffet with a selection of local food and wines.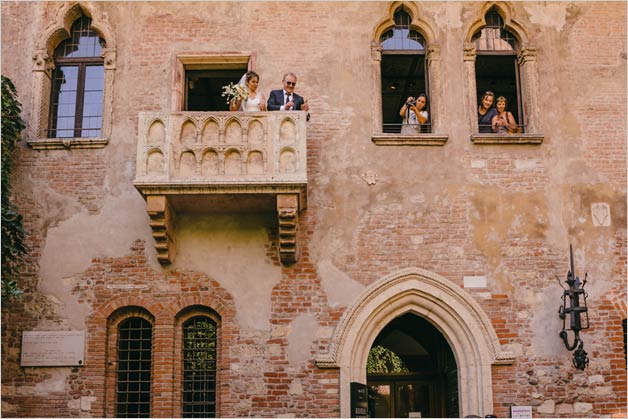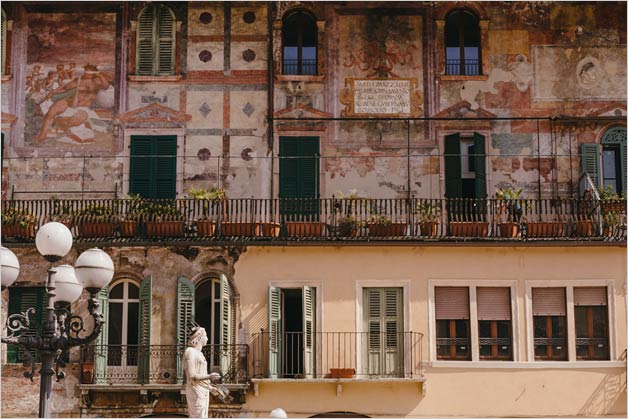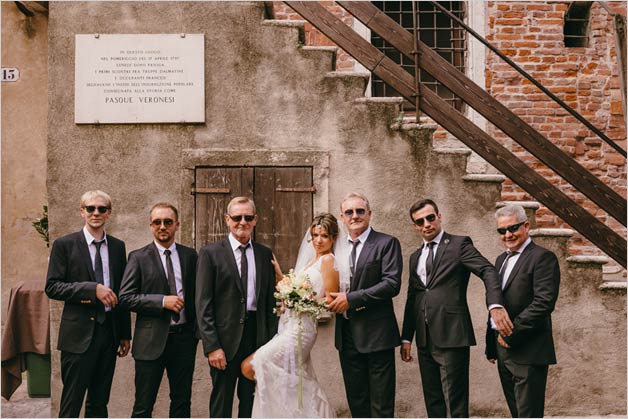 A SUMPTUOUS TERRACE LAKEFRONT FOR THE WEDDING RECEPTION OVER LAKE GARDA
Nothing could be better than an open-air dinner on a terrace with an extraordinary view on Lake Garda.
Since Lyana and Rimantas wanted was just an intimate lakefront wedding reception venue, they chose this splendid location in Gardone Riviera.
Welcome aperitif was served on the side of the terrace with pergola while the atmosphere was made absolutely enchanting by two lovely ladies singers and their band!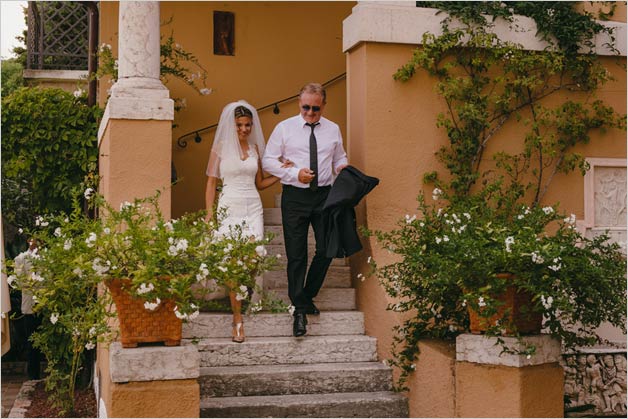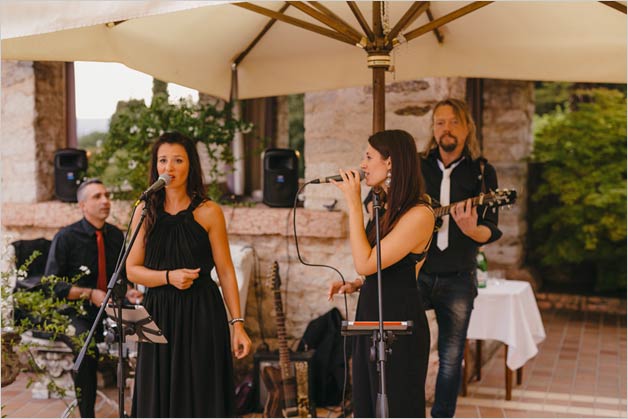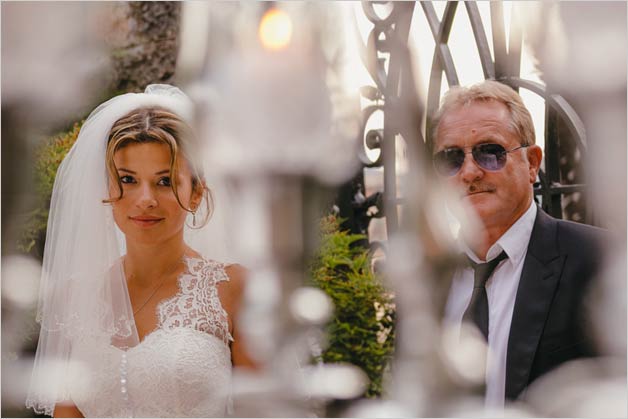 On the other side of the terrace we set the dinner table. Decorations were very refined: silver chandeliers, green and white flower centrepieces and once the sun set, lots of candles twinkling from inside little glasses. They gave a very special feeling of magic.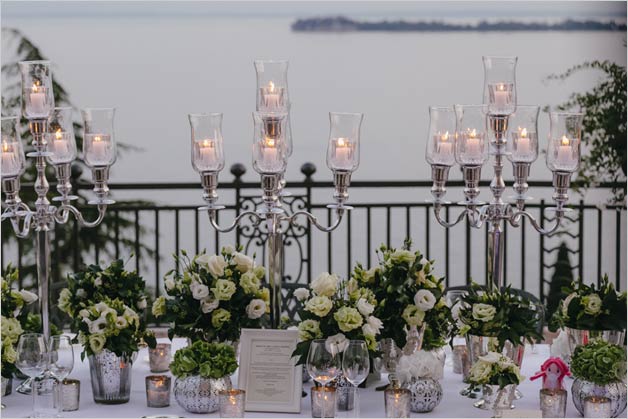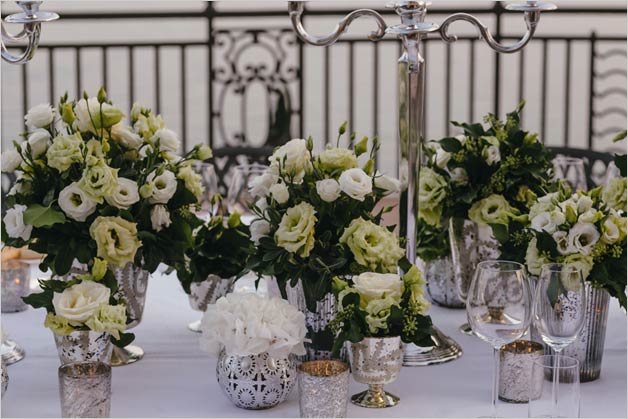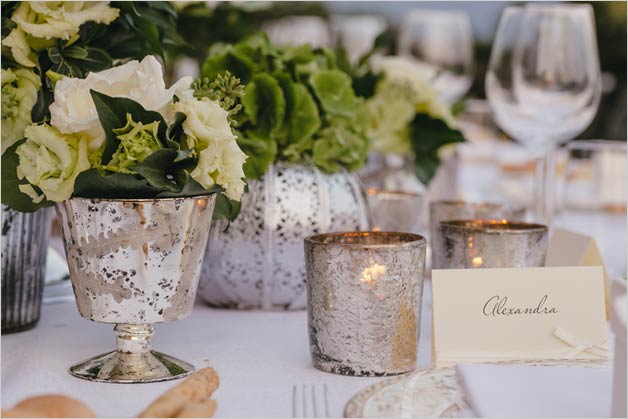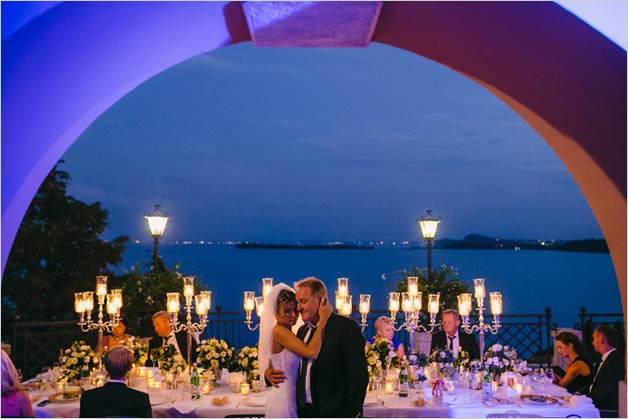 It was a great night and Lyana wanted to highlight it by changing her dress: the warm coral red of her evening gown was just like a cue to start the dancing!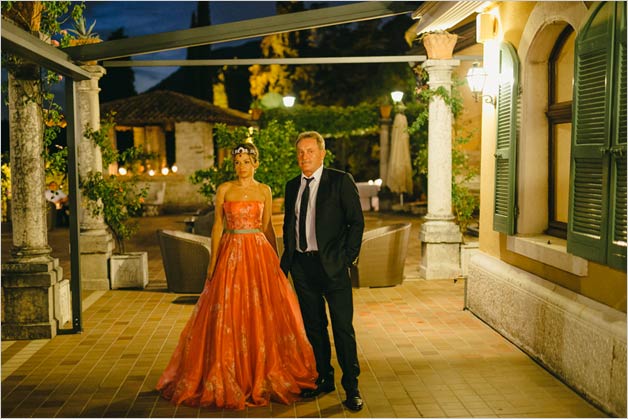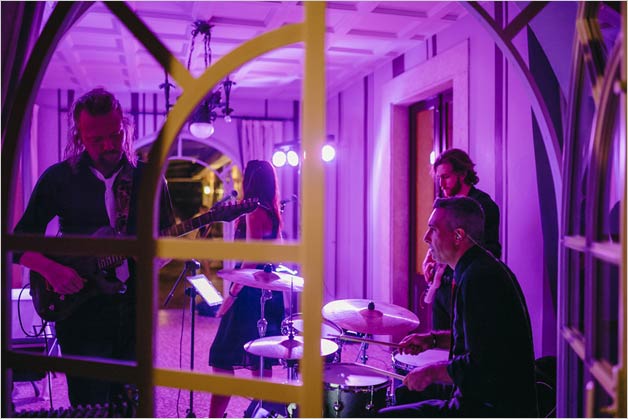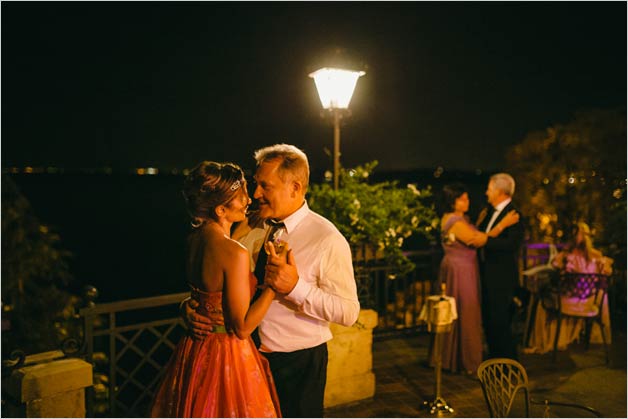 Wedding cake was a delicious layer sponge cake with Chantilly cream and berries. We used green and white flowers as decoration. Small tea light candles all around, added a romantic touch to the picture.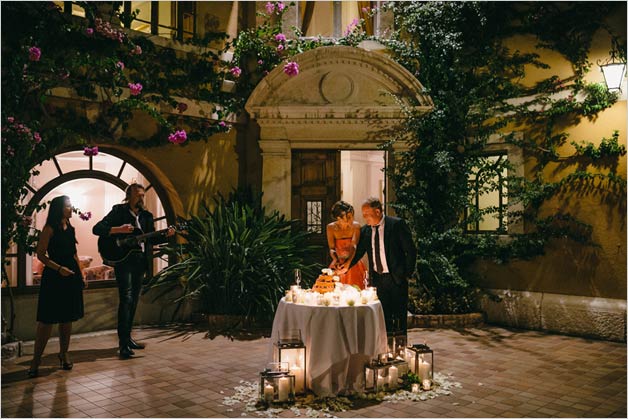 Lyana and Rimantas's wedding has been a very special experience.
It was involving and fun at the same time because they made me feel allowed to share their joy. What struck me most though, was the sense of harmony and union of their families which must have been the main ingredient for all the intense emotions of that day.
Special thanks to photographer Luca Rajna and videographer Andrea Fantoni, who gave us these wonderful images.