t the end of September as every month we will post our Just Married – September 2014 post.
You will see there some photos for sweet
Deepa and Andrew's wedding
. They got married on September 1st in
Orta San Giulio
.
A lovely
civil ceremony at Villa Bossi
with an aperitif to follow in the village and then a fun reception at
Ustaria Ca dal Rat Restaurant
.
It was an intimate but sweet day, with a lot of different elements that made the difference:
Italian traditions
,
English traditions
and even some
Indian traditions
as per Deepa heritage!
We will surely come back to tell you about the full story.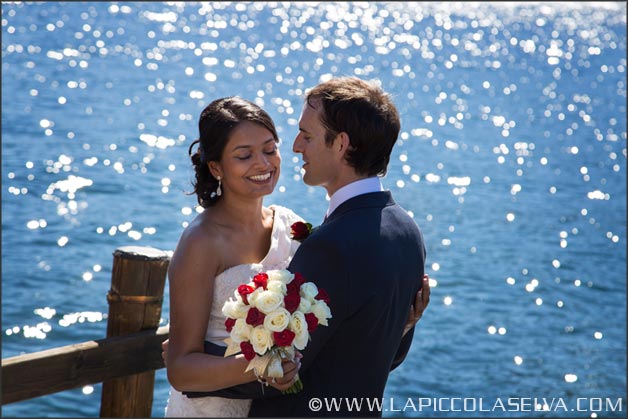 PLANNING A DAY BEFORE EVENT
Planning a day before event could be a great way to get together and create the right atmosphere to be enjoy the wedding day, the day after and the full staying.
What we would like to tell you here is their day before event!
Very often we plan
day before or rehearsal or day after events
for the destination weddings we organise.
We usually plan lovely trips on the lake, boat tours, casual dinners, pizza parties, beach parties, golf trips for men or spa days for ladies, aperitifs or buffet on St. Julius Islands and trips to close by Lake Maggiore.
We had a very original idea for Deepa and Andrew!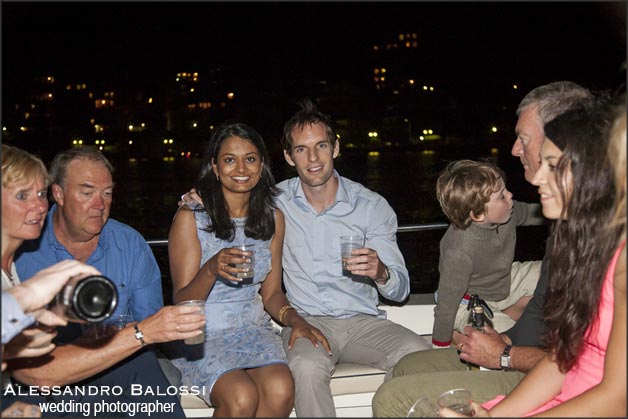 At the end of August on Lake Orta there is an famous festival called Festa di San Vito.
It takes place in Omegna the biggest town on Lake Orta located on Northern side of the Lake.
Festival is planned to celebrate St Vito one of the protectors of the town and it is celebrated the last sunday of August. To make the festival grand Omegna every year organise a very big firework display that challenges for the World Fireworks Championship.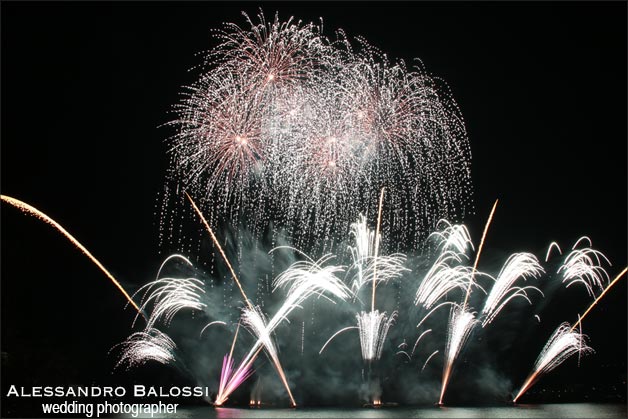 What a great idea for a day before event!
On August 31, after a lovely meal in Orta village, Deepa and Andrew with their guests got on a lovely motorboat and they reached Omegna with a lovely boat trip of about 20 minutes.
Once there motorboat stopped and the fireworks show started!
An impressive show that everybody loved.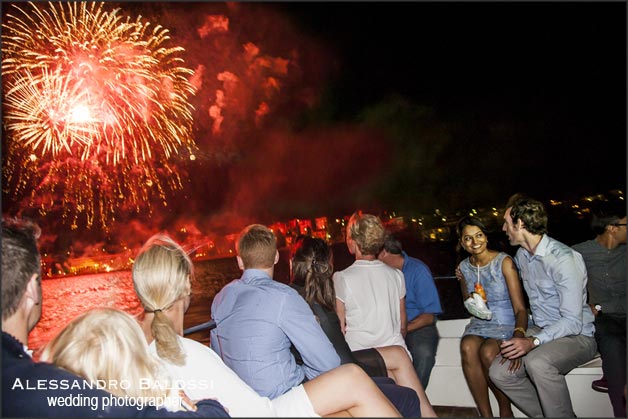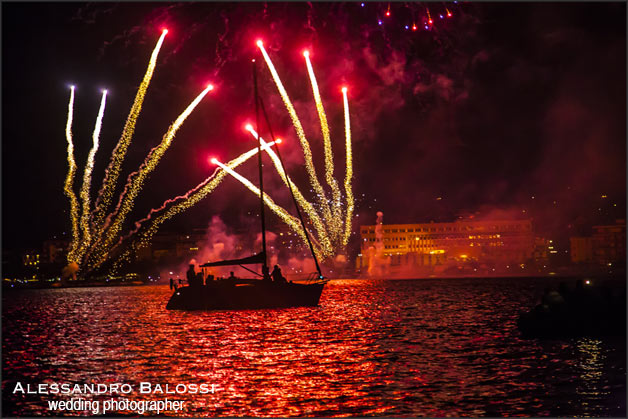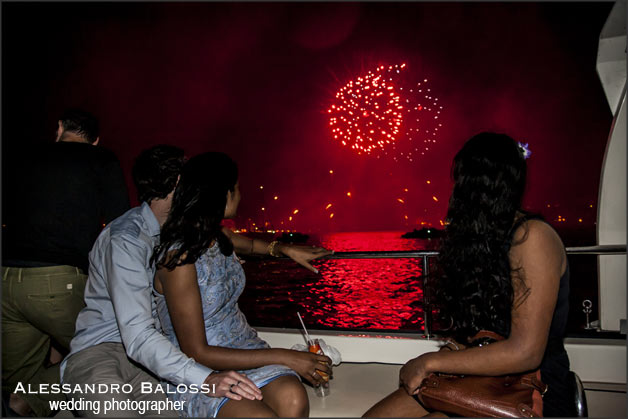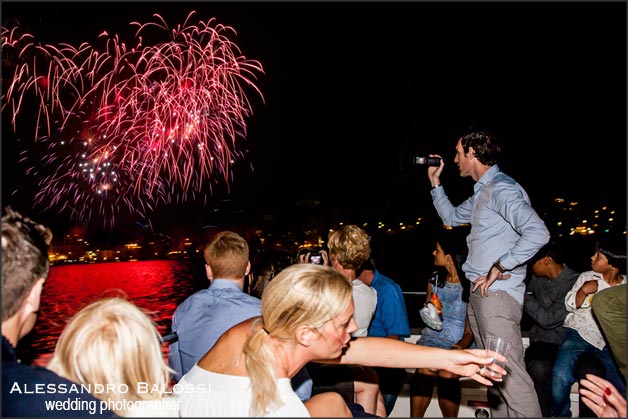 Some chats, some drinks on board and a great fun. This was a great way to plan a day before event to get together and offering their guests a wonderful show!
Have a look to these wonderful shots!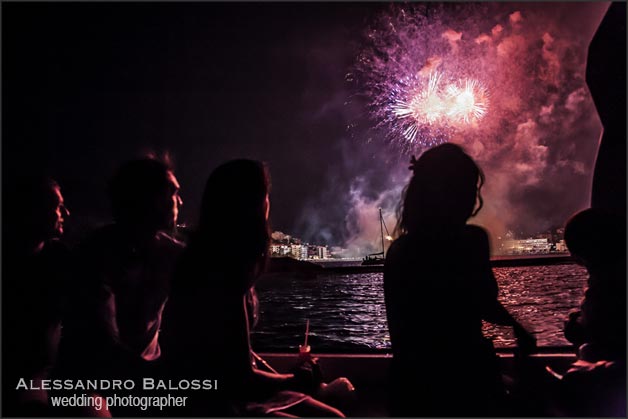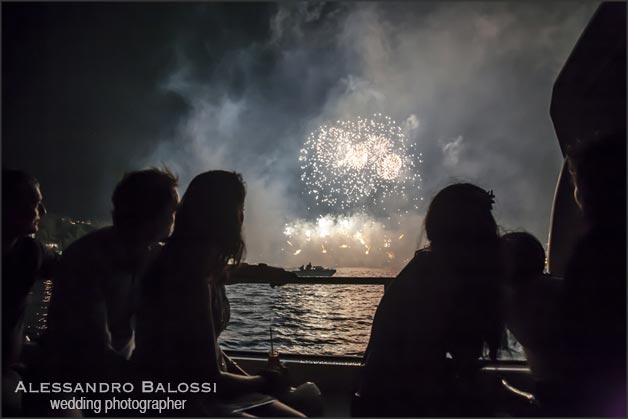 So if you really want to have a wonderful and special day before or day after event for your destination wedding on Lake Orta and you are planning to get married at the end of August or beginning of September, just do as Deepa and Andrew did!
We will be happy to plan for you a lovely night boat trip, with meal or aperitif on board if you want.
Boat captains of Lake Orta will be at your disposal!
It will be a wonderful experience that you and your guests will remember forever!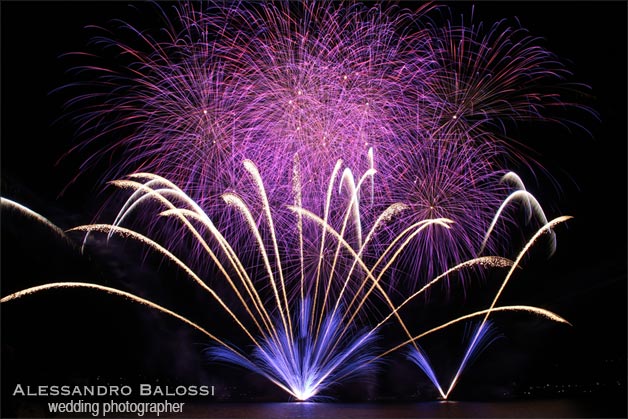 Fireworks photos were all taken by Alessandro Balossi photographer – Italian Lakes Wedding photographer for the fireworks show.
A special thanks to Alessandro Balossi photographer for such great shots!
Alessando Balossi photographer - Request a quote and availability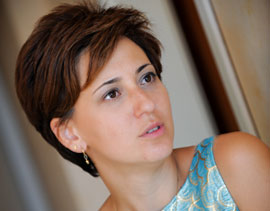 My name is
Valentina
and I work as wedding coordinator on
Lake Orta
and
Lake Maggiore
.
Before being a wedding planner and coordinator I worked for an American company planning events. I turned into wedding planning for SposiamoVi group, more than 5 years ago. Since Italian Lakes Wedding was founded I work with them to make bride and groom's dreams come true on this wonderful Lakes of North West Italy and Piemonte region.
l love creating with my couples the perfect event for them following their wishes and needs, helping to find the best solution for their ideas and budget.
I like meeting people talking with them and know more about their cultures and traditions. I do like sharing Italian customs with them and working in team with couples to let them experience a real and dreamy Italian wedding!
I will be pleased to guide couples along lovely traditional and pedestrian roads of Orta village discovering the beauty of this romantic Lake between villas, traditional restaurants wonderful churches and enchanting St. Julius Island.
I will be happy to let couples discover bigger and charming Lake Maggiore with its Borromeo Islands, wonderful hotels and villas overlooking the waters.
I'm sure you would be amazed by the beauty of these special corners of Italy so I'm simply wait for you for a lovely experience to create and live together.
For any information about wedding on Lake Orta CONTACT ME