Find Your Inspiration From The Weddings We Planned in Malcesine, Lake Garda
If you are looking for a wedding in an ancient Italian Castle overlooking amazing Lake as Garda… Malcesine Castle is the right destination. You can make your dream come true!
Couples who ask us to plan their wedding, want to create something unique and memorable for special day. Side of a wonderful ceremony they want to give their guests an experience and thank them for joint them in such and important day! As wedding planners on Lake Garda we are pleased to can suggest some special touches to create a magic mood for your wedding. This time we suggested something from far 1926!
Here we are back in lively Malcesine, on the Northern shores of Lake Garda, for Jacki and David
MALCESINE is a lovely and quaint village located on the north side of Lake Garda. It is veryfamous for its castle and romantic civil ceremonies on its terrace overlooking the lake. Scaliger castle is one of the most beautiful places on Lake Garda for a wedding. But Malcesine offers much more… it would be a …
Malcesine is a small village reflecting on blue waters of Lake Garda. With its magnificent castle and small colourful houses overlooking the small port is the ideal place for those who are looking for a fairytale atmosphere. Georgie and Manny fell in love with that and they chose this magical frame for their fun and …
Have you ever had the feeling of knowing someone from the infinite past? Definitely these are feelings arising when lovers look into each others eyes, lost in rapture, hypnotized by its vastness. Steve and Sarah flew all the way from UK to find a location that could match their antique and noble acquaintance! What could …
You may already read our article about a lovely wedding in the beautiful Castle of Malcesine on lake Garda. Malcesine is a pretty little town on Lake Garda. Over here you can admire charming Castle whch is also available for legal civil ceremonies outdoors overlooking the lake. However I would like to show you today …
It's hard not falling in love with Malcesine Castle and above all, anytime I go there I'm again and again surprised by its beauty and the breathtaking views and landscapes. September it's a lovely month for a wedding on Lake Garda: the weather is mild and sunny, and all the guests can really enjoy the …
Angela & Katiuscia – Wedding Planners in Malcesine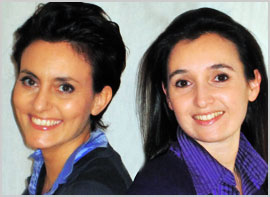 Angela and Katiuscia both work on Veneto region and Lake Garda. They will take you to discover traditions, savors and colors of Veneto region, not only on Lake Garda!
They can help and support you for a dream wedding on other wonderful locations such as Venice, Verona and Veneto gorgeous countryside where you could taste some of best wines of Italy.

For any information about
wedding in Malcesine
please
contact Angela and Katiuscia