Malcesine is a small village reflecting on blue waters of Lake Garda.
With its magnificent castle and small colourful houses overlooking the small port is the ideal place for those who are looking for a fairytale atmosphere.
Georgie and Manny fell in love with that and they chose this magical frame for their fun and colourful wedding.
Georgie is a young bride with a lot of imagination. She free her creativity here. She gave a touch of colour to the whole event.
Bride and all bridal party were all so moved and excited during the getting ready. They chose a modern and comfortable hotel just outside Malcesine that could host all the guests.
Breathtaking view of the Lake and blue sky already announced a great day.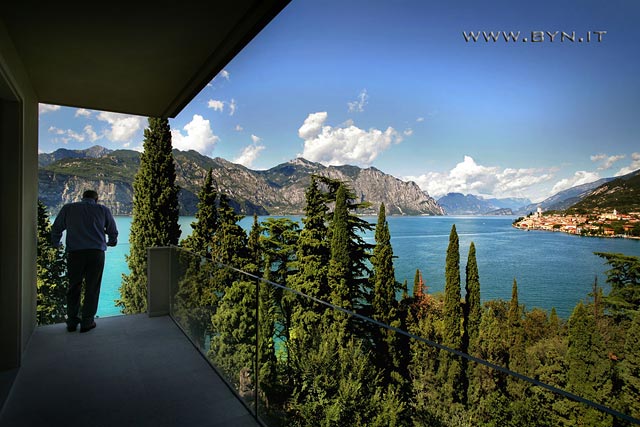 For Italian Lakes Wedding Team there was Simone Mottura of Blanco Y Negro Studio in Torino.
A lovely elegant and dynamic photo service that tells Georgie and Manny's big day perfectly.
Georgie chose to paint her wedding with splashes of purple colour. Family and friends were happy to take the tip. Each of them had a purple detail in their own dresses and suits.
Ceremony was planned to Malcesine castle.
Giorgie and her father reached the castle on fun and typical Ape Calessino.
Just a few steps in the small cobbled streets of the village and the ceremony began, accompanied by the notes of classical guitar.
The ceremony on the terrace of Malcesine castle is an unforgettable image for each couple of newlyweds and their guests. You can surely enjoy one of the most striking view of Lake Garda form here.

At the end of the ceremony and after the stunning photo shoots overlooking a perfect lake view, guests walked to the reception venue.
Bride and her friends had the opportunity to show off their lovely little parasols, simply perfect for a sunny afternoon.
Georgie and Manny chose a lovely restaurant in the heart of Malcesine for their wedding reception.
Here, every detail spoke about Georgie's playful creativity. Bride created with her hands all the decorations with coloured ribbons and buttons, butterflies and beads.
The most original touch? Namescards made with small cakes with coloured sugar buttons.
Newlyweds involved all the guests in a very fun evening:! Dances and laughs made the evening flowing away in an almost Shakespearean atmosphere, as in "Dream of a Midsummer Night".
Special thanks to Simone Mottura photographer, who took these magic shots over Lake Garda.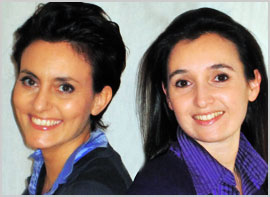 Angela and Katiuscia both work on Veneto region and Lake Garda. They will take you to discover traditions, savors and colors of Veneto region, not only on Lake Garda!
They can help and support you for a dream wedding on other wonderful locations such as Venice, Verona and Veneto gorgeous countryside where you could taste some of best wines of Italy.

For any information about wedding on Lake Garda please
contact Angela and Katiuscia
.
BLANCO Y NEGRO Simone Mottura photographer - Request a quote and availability