Waiting for upcoming week end on Lake Maggiore (Fiona & Marco and Cindy & Christian) we come back on Lake Orta for Marina and Carlo's wedding.
It is a nice couple coming from a little town near Milan and we are glad to to show you the first pictures of their big day!
Marina and Carlo got married this morning in the pretty church of Assunta in the heart of Orta San Giulio village.
Marina arrived on a legendary vintage Fiat 500 a real symbol of Italian 60s.
Carlo was waiting for her just in front of the church.
Bride and Groom chose as color theme white and orange. It was used for the decorations of the church and for bridal bouquet.
Marina opted for white Calla Lily, Vendela cream roses and orange Gerberas.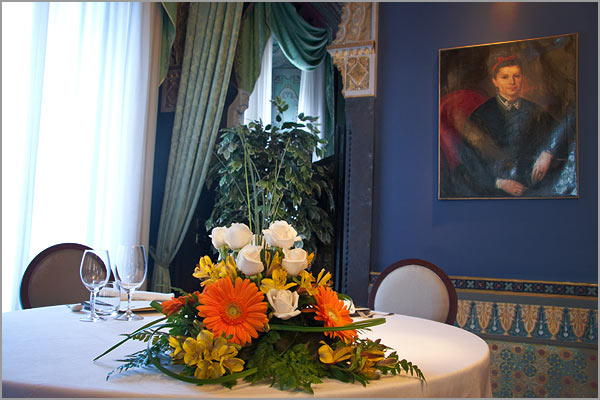 This is the same color scheme that they wanted for their reception to Villa Crespi. This time Marina wanted to add some Alstroemeria golden yellow which matched perfectly the wonderful stuccoes of this amazing venue on Lake Orta.
As usual our best wishes to this lovely couple for a wonderful and happy life together!
Monika Andenmatten is La Piccola Selva's floral designer.
Based in lake Orta, has worked with brides for over 20 years to create floral arrangements for weddings in the Italian Lakes district.
His wedding arrangements are creative, elegant and sophisticated. Monika will be able to help you choose how best to incorporate floral design into your wedding celebrations. From the initial consultation to the wedding day, she will make your wedding flowers truly an expression of your dreams.
For any information about wedding on Lake Orta please contact us.