t's a real pleasure to introduce a couple whose kindness and tenderness are really special!
Jie and Tony
got in touch with me on their arrival from the
USA
to celebrate their
dream wedding on Lake Garda
. They had never visited Lake Garda before and they asked my advice about the perfect location for their special day.
After taking into account several solutions, their hearts beat for
Isola del Garda
. Hard to blame them:
Isola del Garda
offers such breathless sceneries!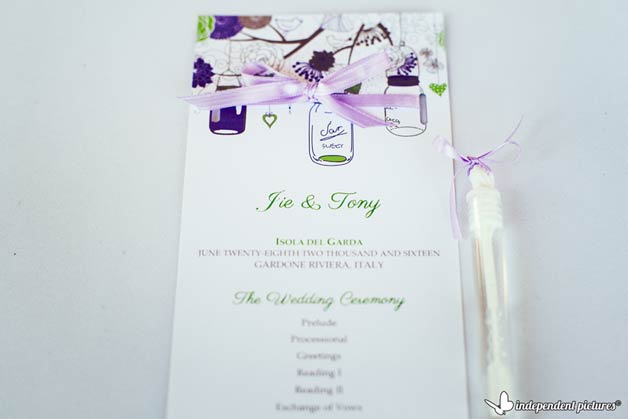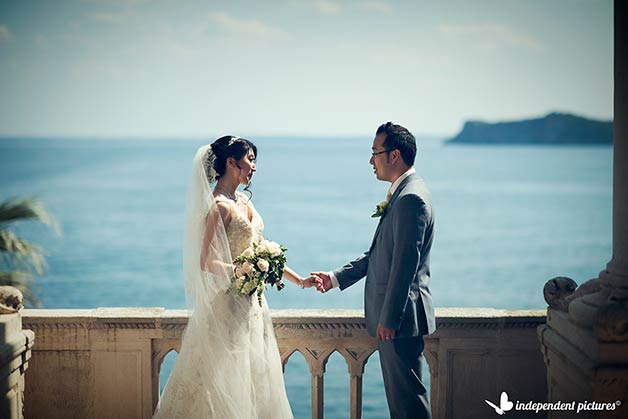 Off we started with the planning then and we defined every single detail with great care. Jie was so keen especially on flowers and we dedicated a long time to the choice of colours and decor. White and sage green were the colours for her bridal bouquet, while her bridesmaids had light sage green, lavender and light purple as main colours for their bouquets.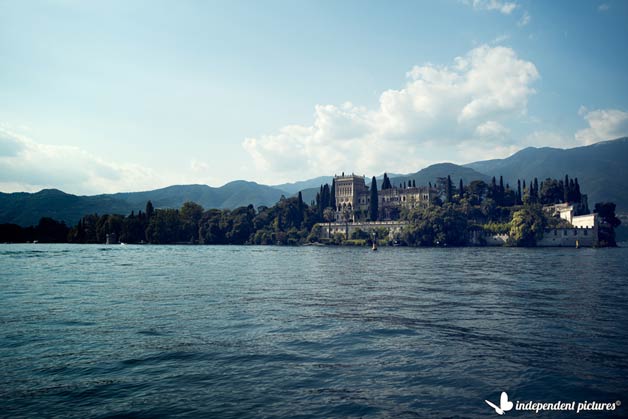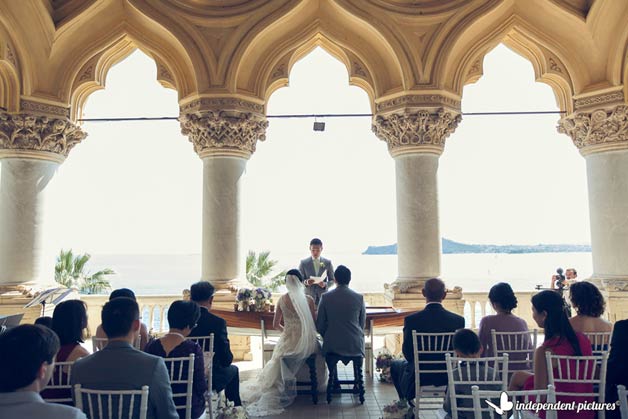 A WHITE WEDDING DRESS FOR THE CEREMONY AND A RED WEDDING DRESS FOR TRADITIONAL TEA CEREMONY
Jie e Tony are both Chinese and it goes without saying that their wedding day was a natural confluence of charming traditions such as famous Chinese wedding tea ceremony.
The Tea Ceremony is one of the most ancient Chinese traditions and it dates back to more than 1200 years ago. Bride and the groom offer a special tea to their parents in order to show respect and gratitude and traditionally, the bride dress must wear a red wedding dress.
That is the reason why Jie planned to wear a white gown for the wedding ceremony on Isola del Garda and after that, some time during the dinner party, she should have changed so as to be ready for the tea ceremony in her red dress.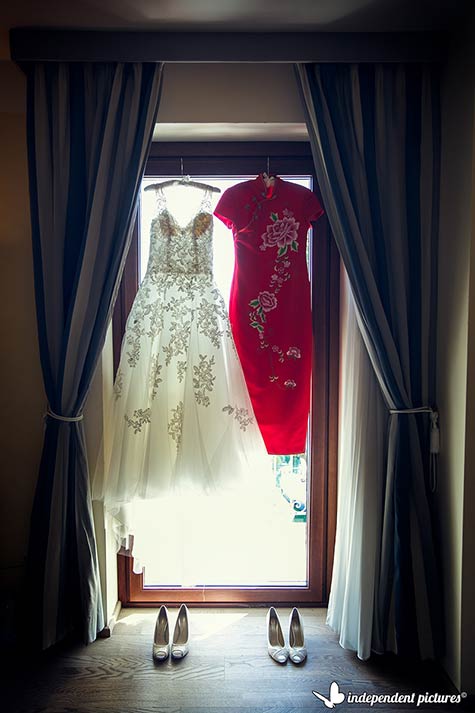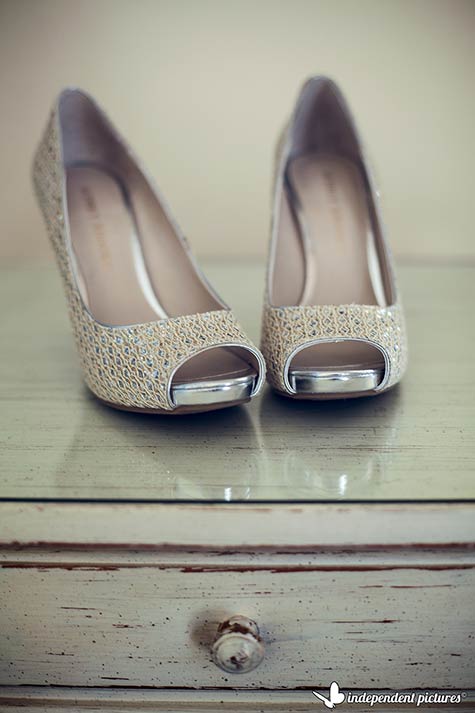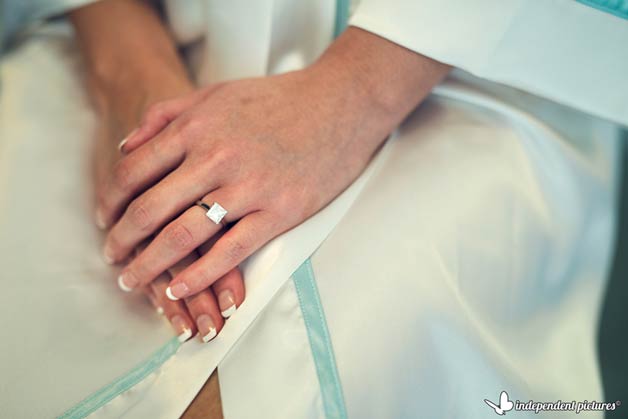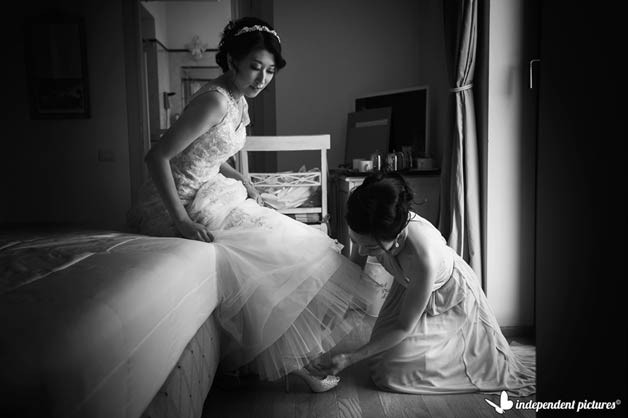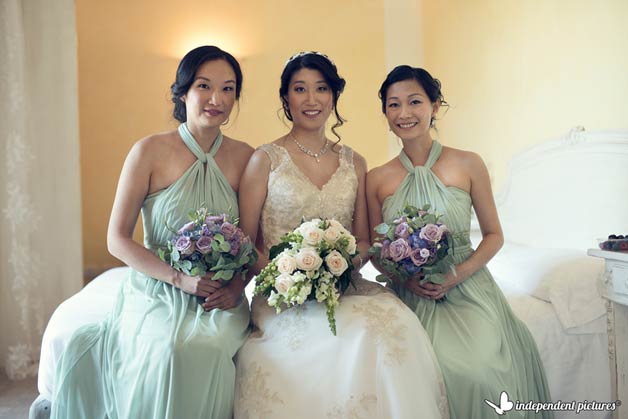 After getting ready, the bride and the bridesmaids got on board of an elegant speedboat to reach amazing Isola del Garda: what a stunning venue for a wedding ceremony overlooking Lake Garda view!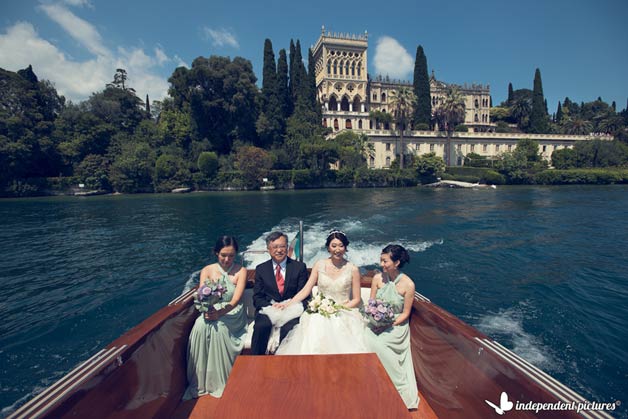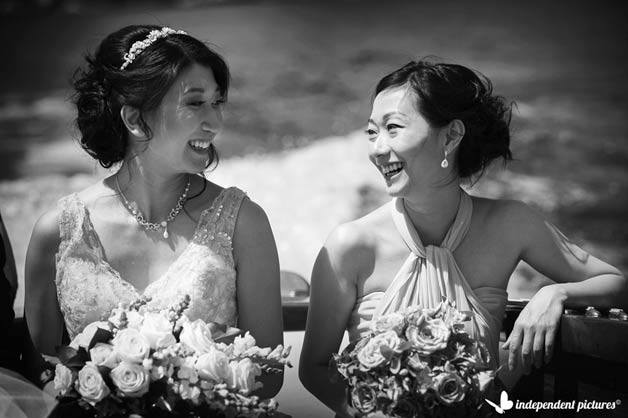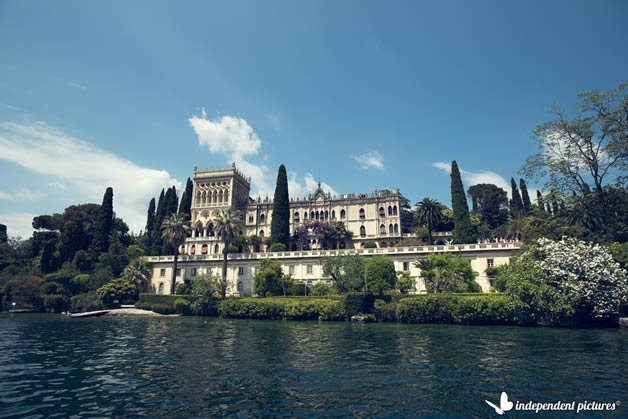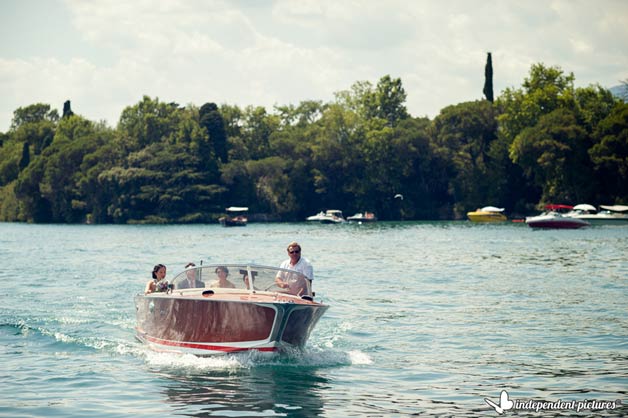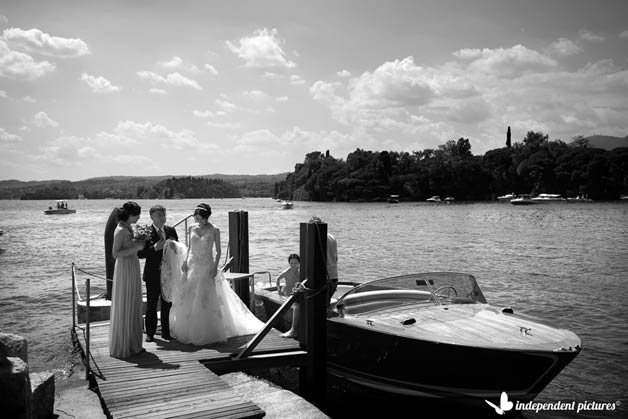 A ROMANTIC CHINESE WEDDING CEREMONY ON ISOLA DEL GARDA
A very special and moving wedding ceremony took place on the Loggia, a majestic terrace of neo-gothic Villa on Isola del Garda. Once off the boat, Jie reached everybody walking down the serpentine paths of the lush gardens around the villa.
She wanted the Loggia to be decorated with simple and refined flower arrangements based on the delicate combination of such colours as white, champagne, gold, light purple, lavender and light sage.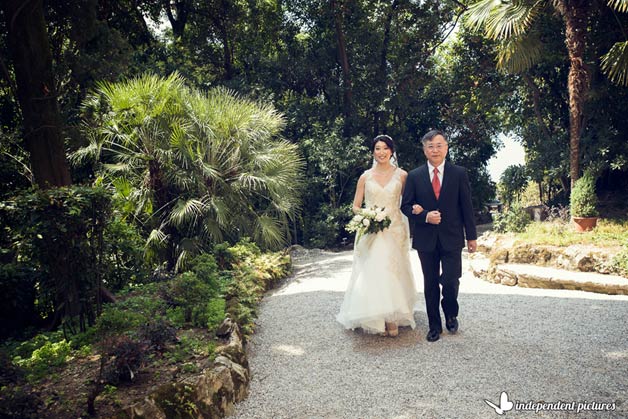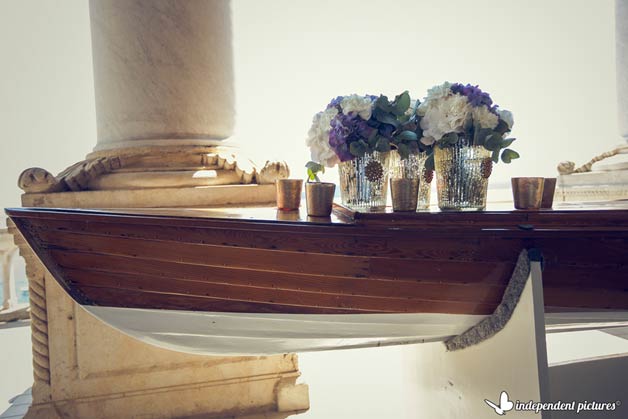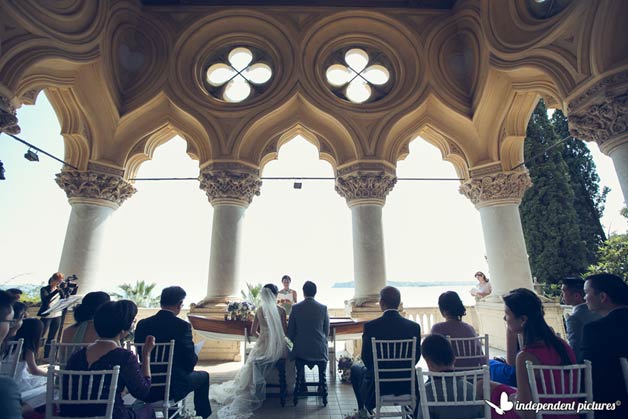 The candle lit ceremony is always a touching ritual. By the lighting of a big candle, the newlyweds unite their souls in a unique flame.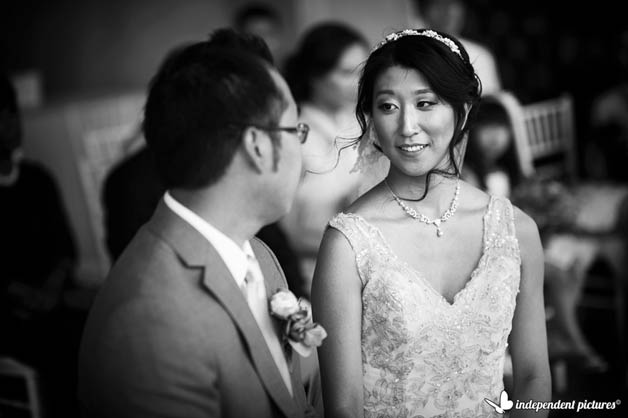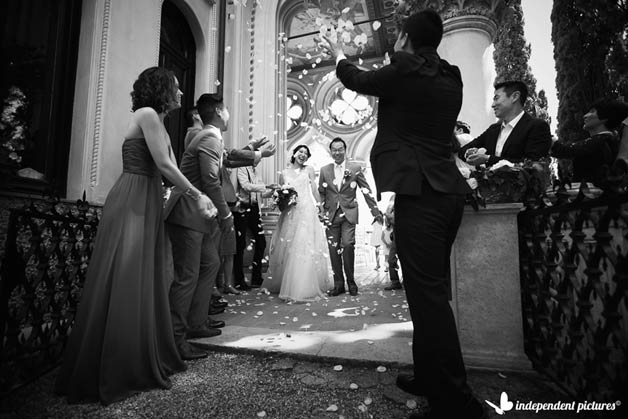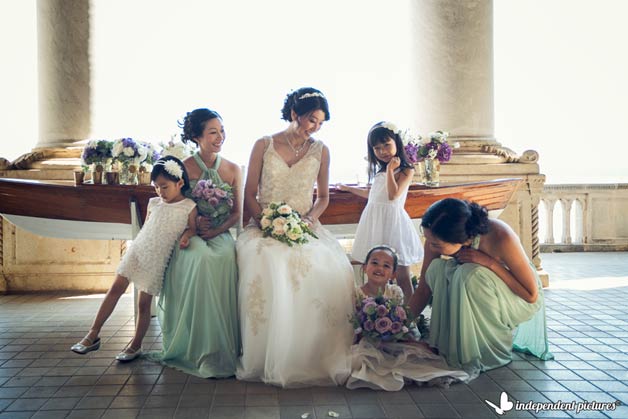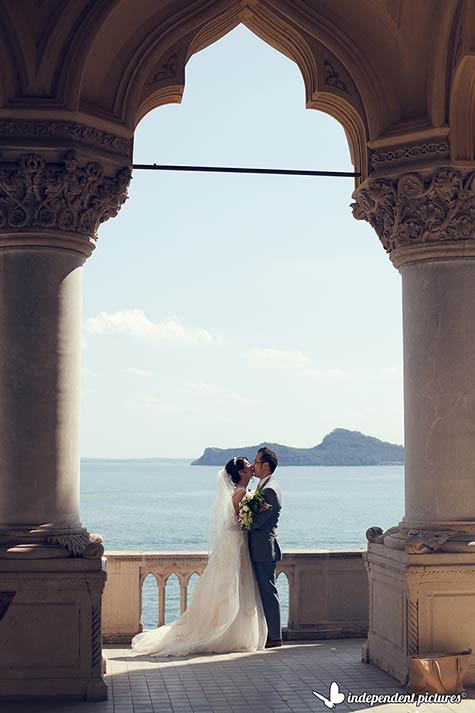 A WONDERFUL WEDDING RECEPTION IN GARDONE RIVIERA
Gardone Riviera is one of the loveliest villages on the shores of Lake Garda. Jie and Tony decided to reach the lakefront terrace of a gourmand restaurant in Gardone Riviera.
Terrace contains a modern style gazebo. Jie wanted it to be decorated with hanging white and light purple flowers: the effect was really sweet!
The other way down, all along the centre of the imperial table, a long flower garland was spotted by nice golden tiny jars with a candle inside.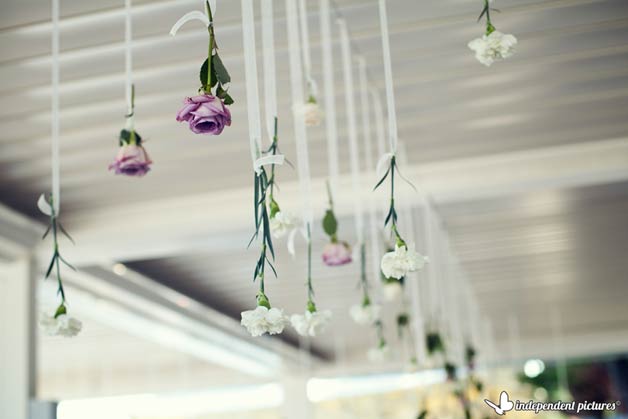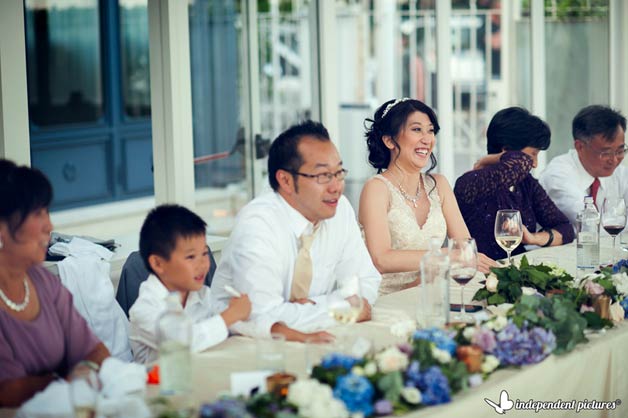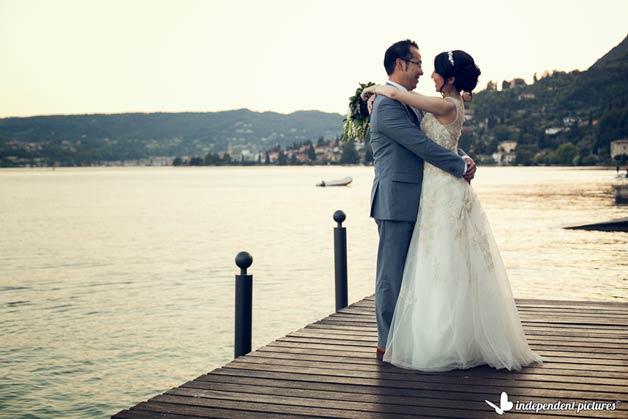 And here is the moment of the Tea Ceremony!
Jie had changed her dress then she made tea to be served to their parents with her husband. It was a very intimate moment which was followed by traditional background music.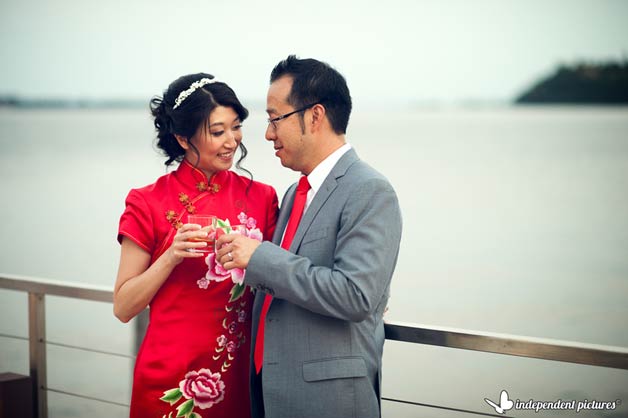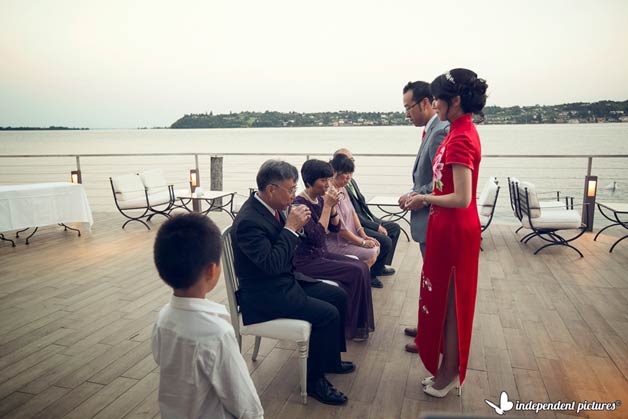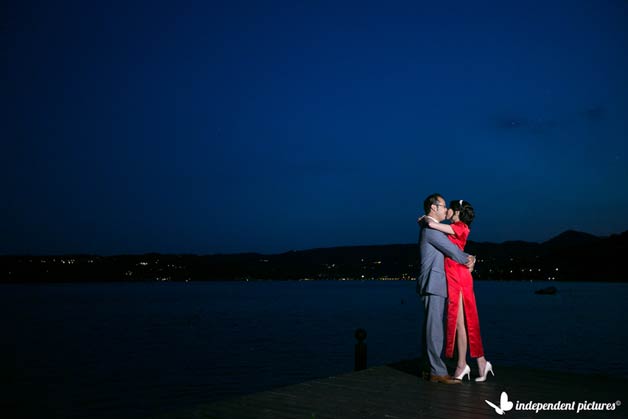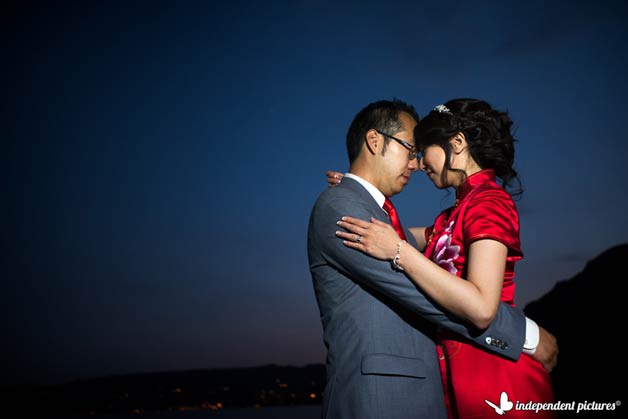 Jie e Tony are just lovely and sweet. They were smiling and merry throughout the whole day and I can say that if you want to make the most of your very special moments, that is the spirit!
Special thanks the newlyweds who have given us another great emotion, to the photographers Indipendent pictures and to the video makers The Lovely Day.
Have a look to the video for Jie and Tony's wedding by The Lovely Day for their fantastic wedding on Lake Garda. The best and most emotional moments of their Chinese wedding with Italian ceremony at Isola del Garda and a tradational chinese tea ceremony on the lake shores.