t's a beautiful summer day on
Isola del Garda
.
Thomas and Alexandra
arrived on Lake Garda to celebrate what will be one of the most exciting day of their lives.
They decided to spend their Italian days in beautiful village of
Gardone Riviera
, located on the Brescia side of Garda Lake.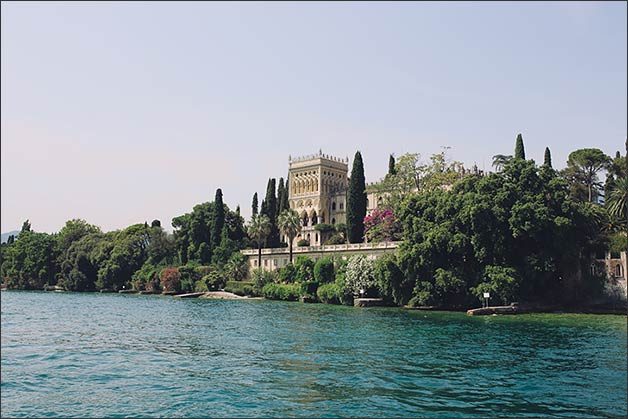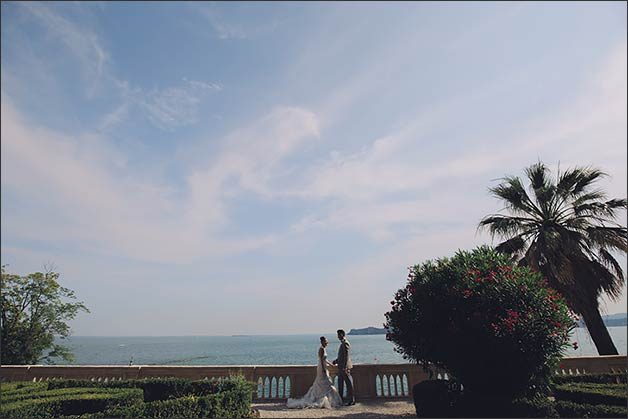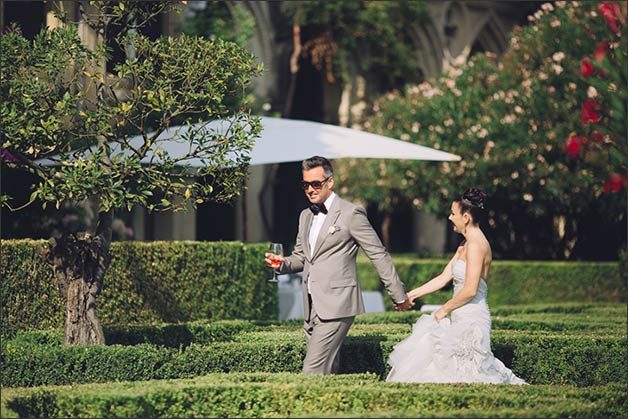 A civil ceremony in Gardone Riviera
Lake Garda is standing still in its glorious majesty, sun is shining gracefully up in the sky, giving to this Northern Italian village a magic touch.
Thom and Alex decided to plan most important day of their lives in one of the most fascinating Italian Lakes.
The day before Thom and Alex exchanged their vows during a romantic civil ceremony in Gardone Riviera Town Hall with just few intimate family members and friends.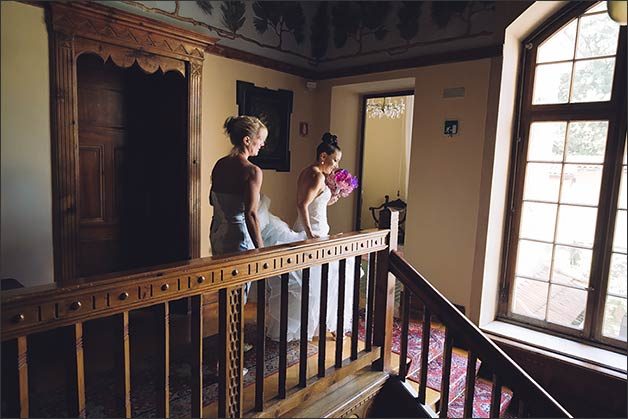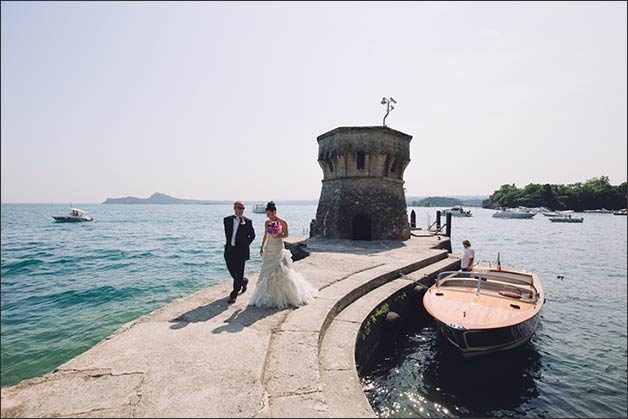 Romantic wedding blessing on Isola del Garda
But the big day is still to come! On the Wedding day more friends gathered in Gardone to share a special day with this lovely English couple.
As anyone coming to Garda Lake, Thom and Alex's guests, were charmed by the evocative atmosphere the territory.
Infinite lake, lush forests surrounding it, evocative silence dominating the whole area… just amazing!
And Isola del Garda is just the icing on the cake! A small, precious island right in the very the heart of one of the largest lakes of Europe: Lake Garda.
What an incredible locationto say I do!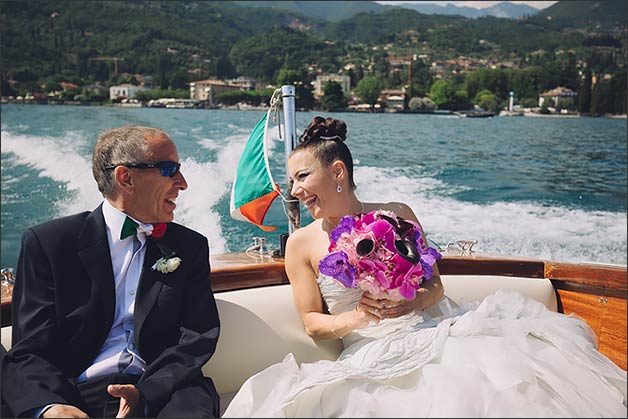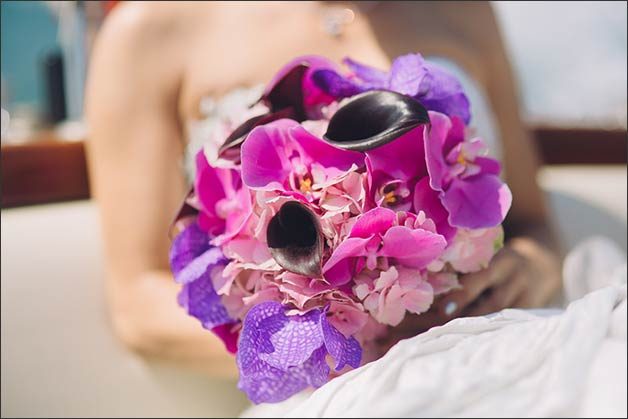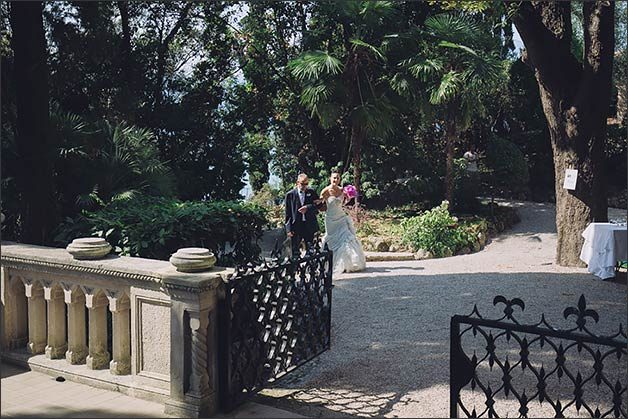 Symbolic wedding ceremony was planned on Isola del Garda, the smallest – and surely the most charming – island of Garda Lake
All guests have reached the island by boat, while bride chose to travel separately in a classic motorboat, accompanied by her father.
Alexandra is stunning in her mermaid style wedding gown and sophisticated hair-do.
Everyone is mesmerized by her beauty, especially Thomas.
Symbolic wedding rite was celebrated in the beautiful terrace of the Villa overlooking the lake, the only building you'll find on Isola del Garda.
The view is simply unique! From here all could overlook the whole lake and surrounding territory.
Wedding ceremony was simple yet very very emotional. It was even more special by precious details decorating the venue: white chairs and a colorful cascades of pink and purple flowers, the same of bride's vibrant bouquet.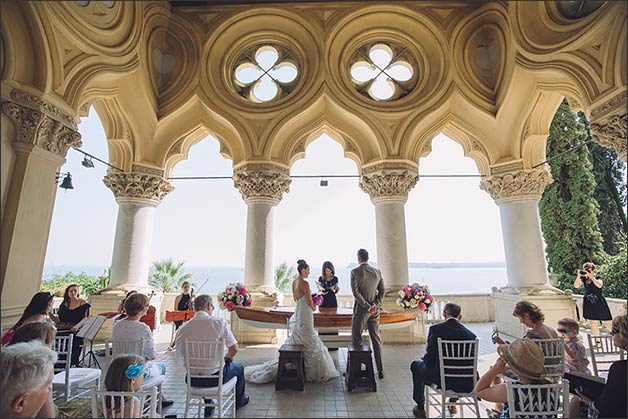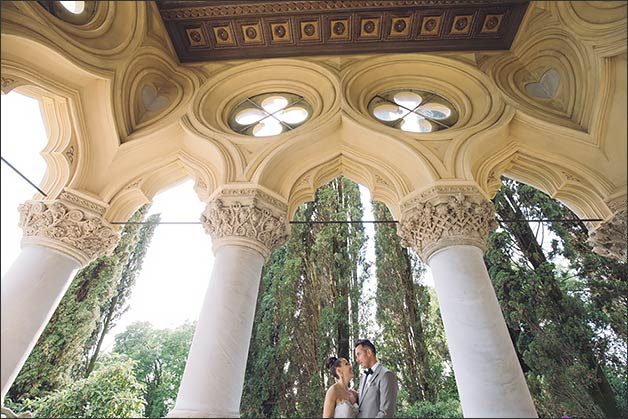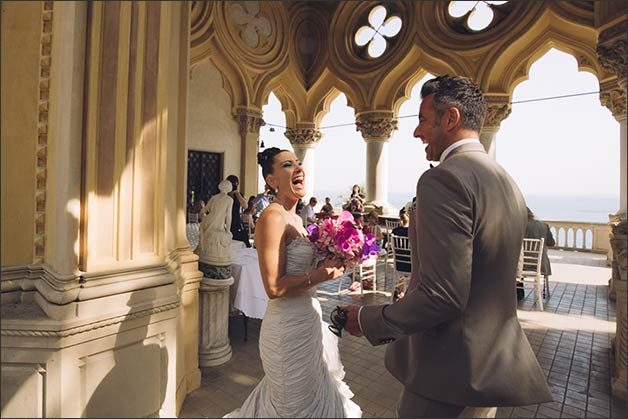 After the ceremony newlyweds were cheered by their family and friends with a lively cocktail served on amazing garden of the Villa.
Guests were all smiling and laughing, celebrating a great time.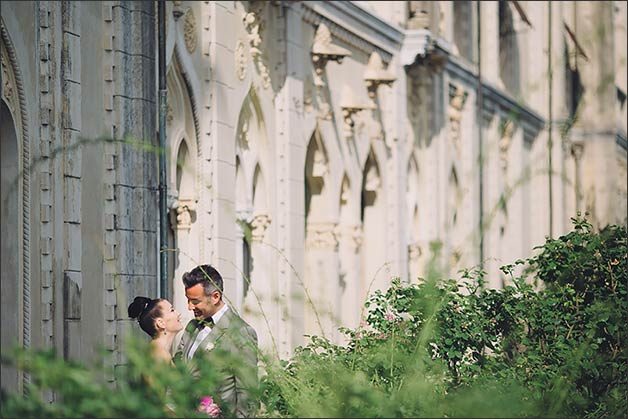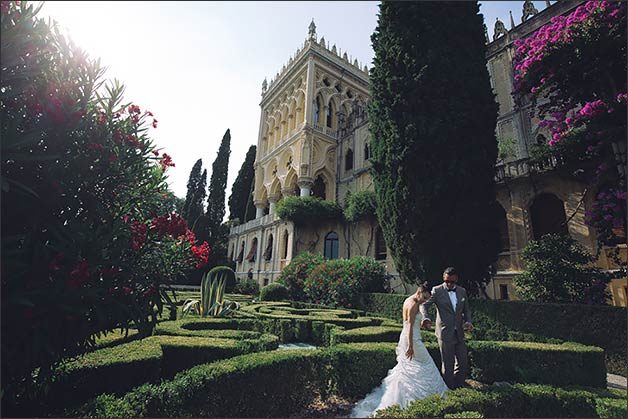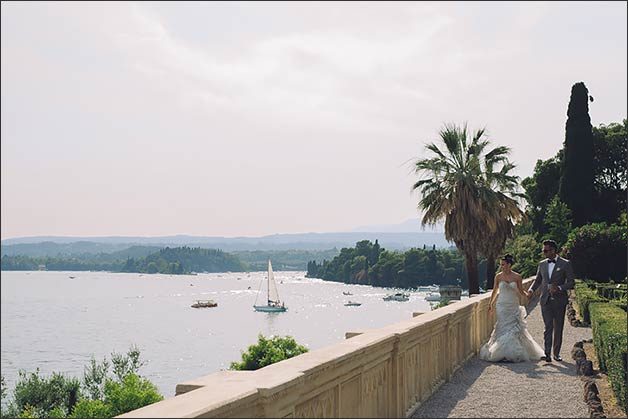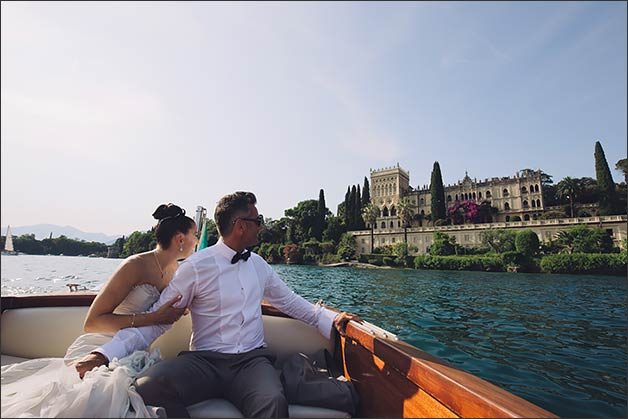 Time to party in a romantic villa in Gardone Riviera
After some pictures in such a wonderful frame it's time to go back to Gardone Riviera and start the real party!
For the wedding party bride and groom chose a lakefront Italian Villa, to celebrate in style.
Wedding reception took place in a beautiful, ancient Villa on historical part of the town. Villa interior are just elegant and refined.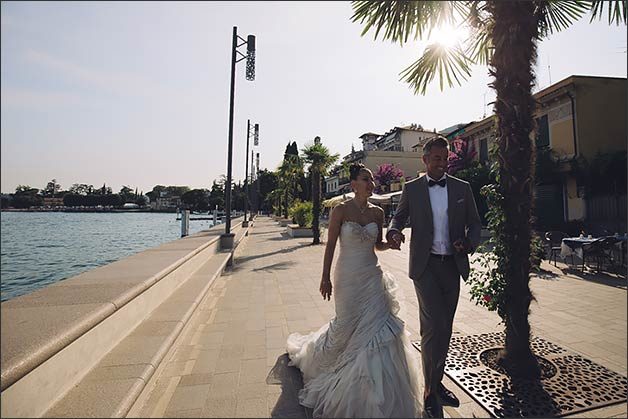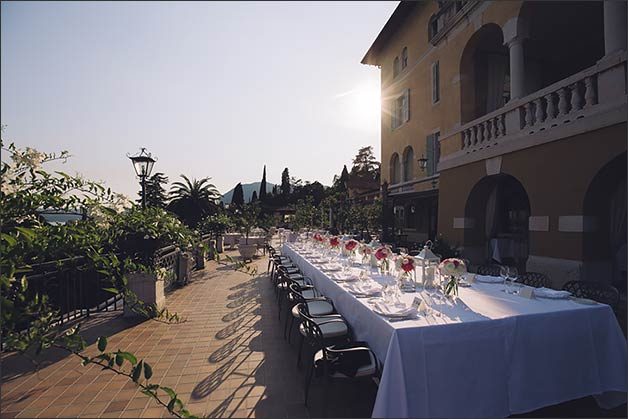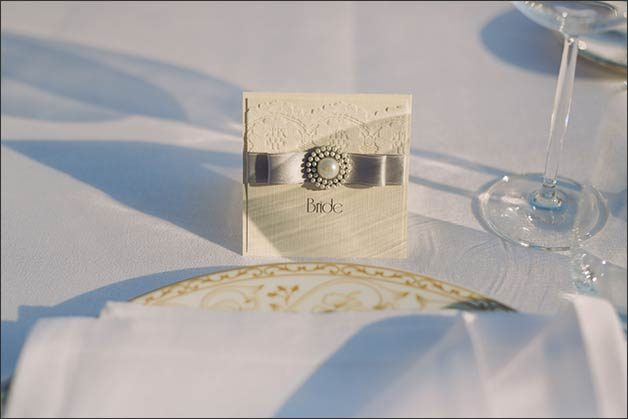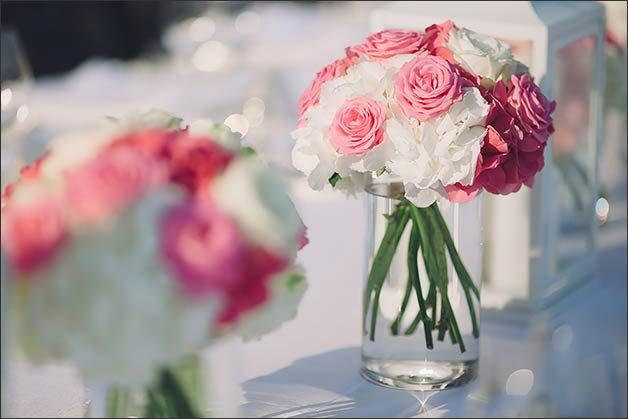 While out for some more shots over the lake, Alex and Thomas's friends prepared an emotional surprise for the newly weds.
They all gathered in the piano room and started singing for the couple arriving at the Villa.
Surprise was so sweet and unexpected that caught both of them off guard.
Alexandra cryed tears of joy, overwhelmed by the sweetness of this moment.
It's about time to laugh and smile again, what's better than to get pampered with an incredibly luscious meal with the exquisite dishes of Italian cuisine?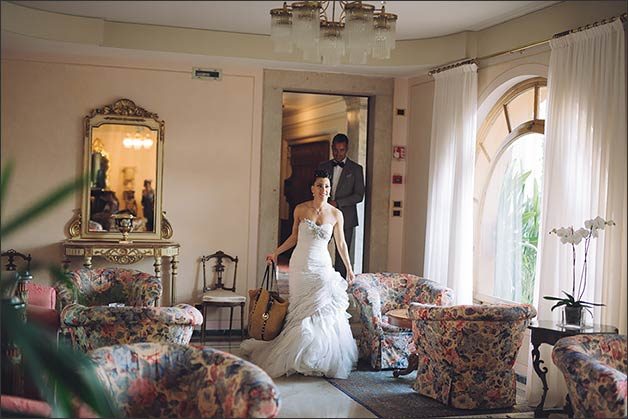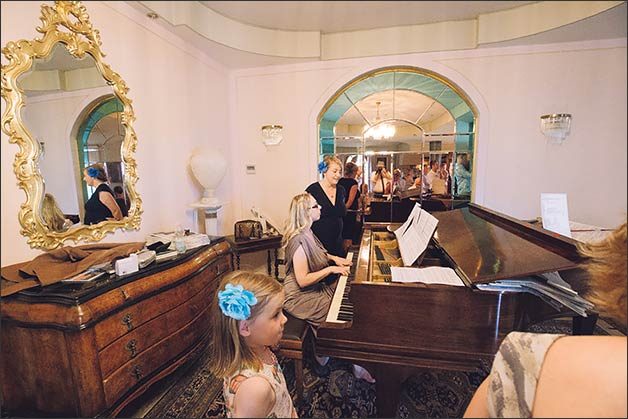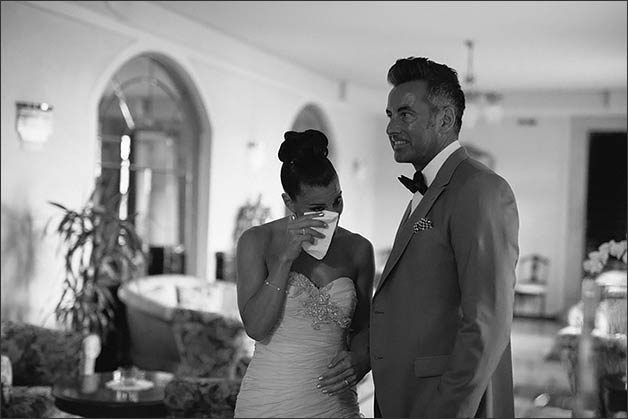 Wedding banquet has been arranged on the majestic terrace of the Villa, offering the guests the view of a lifetime. The Garda Lake is so quiet and suggestive at this moment of the day.
All guests were sitting in a wonderful imperial table.
What an amazing feeling must have been for Alex and Thom having all people they love the most right there for them.
The decorations were simple but very stylish using delicate and romantic details: a white tablecloth, pale white and pink flower centerpieces, Provençe-inspired candle-holders.
Alex and Thomas wedding was vibrant and full of energy, just like this irresistible couple.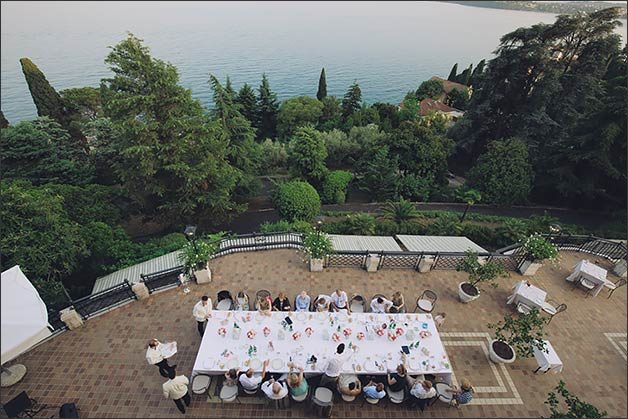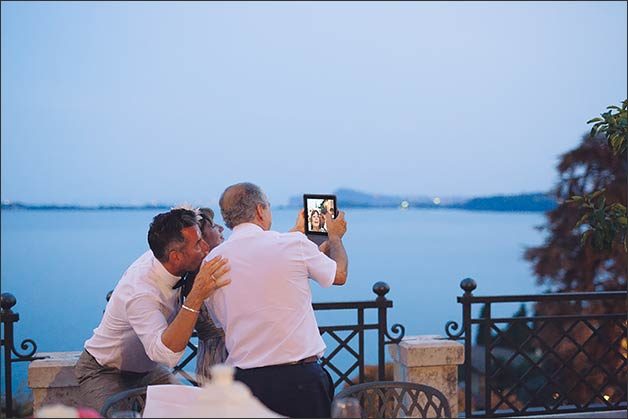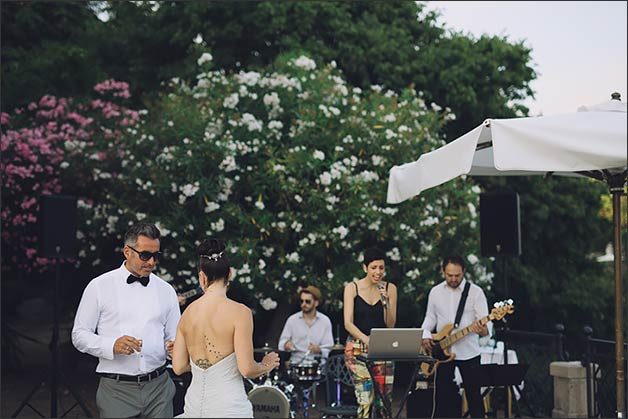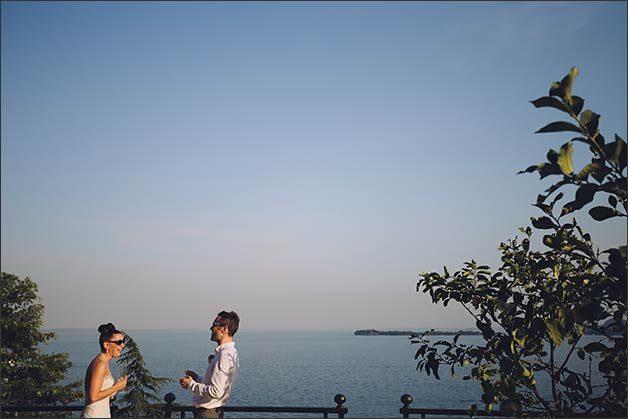 The dinner was relaxed yet full of joy. As the sun went down music got louder!
It's the perfect moment to start some dance moves and party!
A live band brilliantly entertained bride and groom and their guests.
But the best dancers were surely Alex and Thom who just got wild on the dancefloor.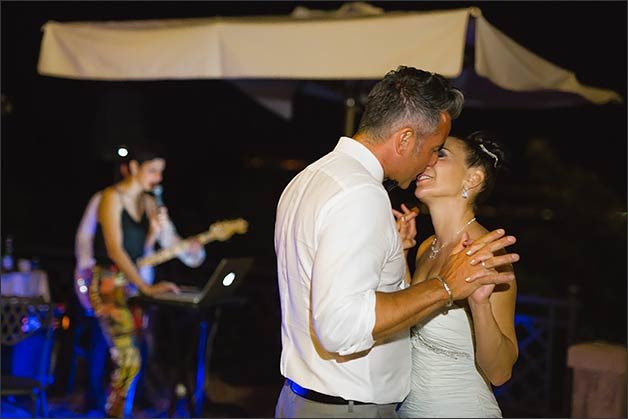 What a happy couple… What an amazing day!

A very special thanks to Alessandro and Veronica Roncaglione for these great shots, and thanks to Alexandra and Thomas: it was really an amazing fun day on Lake Garda!