Veneto region surely has great features to offer! Not far from beautiful Lake Garda you will see amazing plains and hills surrounded by the Dolomites and rivers which cross cities such as Verona, Vicenza, Padua to finally reach magical Venice.
Along Brenta River, not far from Venice, ancient noble Venetian families built outstanding abodes to spend their holidays, that could reflect their wealth and power.
Ideal extension of Venice onto the mainland, the ancient course of river Brenta lived from the sixteenth to the eighteenth century a golden age that made the area a favorite place of vacation of the rich Venetian nobles.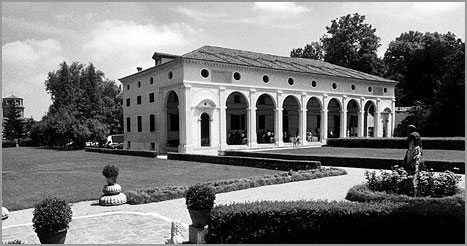 Along the river there are many villas designed by masters of Italian art. Along the centuries these places has been visited by artists, popes, kings, men of culture, envied for their beauty, perceived as country houses in which to celebrate the rite of procession on water, of sumptuous dinners, of parties lasted until dawn.
In Riviera del Brenta you can appreciate today blooming gardens of noble villas, water reflections intercepted by the statues, the gardens lapped by the current.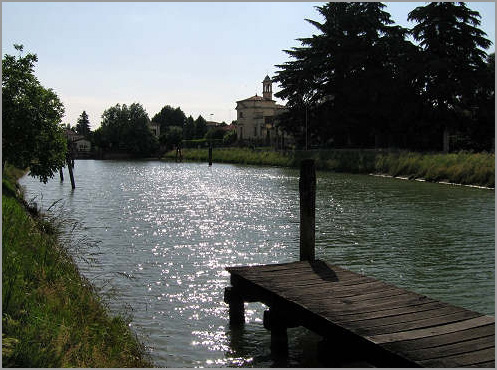 One of these wonderful villas was the perfect frame for Max and Valentina's wedding.
17th century architectural complex called Villa Foscarini-Rossi hosted this special event we would love to tell you about today.
Valentina and Max opted for a religious ceremony in a church not far from the villa.
Parents, relatives and many friends were all waiting for the bride to come!
Church of Sanctuary of Madonna in Borbiago bride and groom chose, was adorned with beautiful white roses to keep theme Valentina wanted: very charming and romantic!
During the ceremony, the smooth sound of harp and violin made the atmosphere even more magical.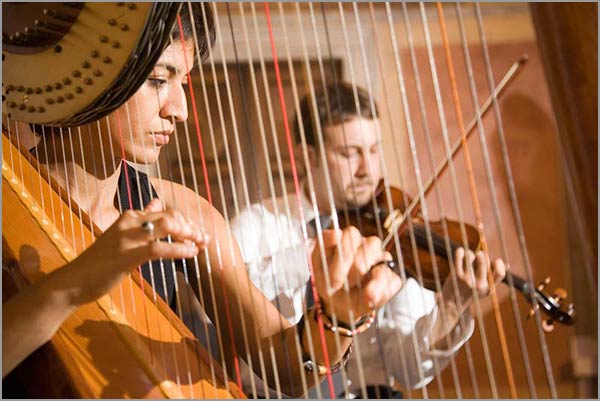 Outside the Church all guests waited for newly weds for the traditional rice and red rose petals throwing which is a very good wish of good luck in Italy. Have a look to the fancy baskets and wraps containing rice cones for throwing…a sweet idea the bride had for her guests!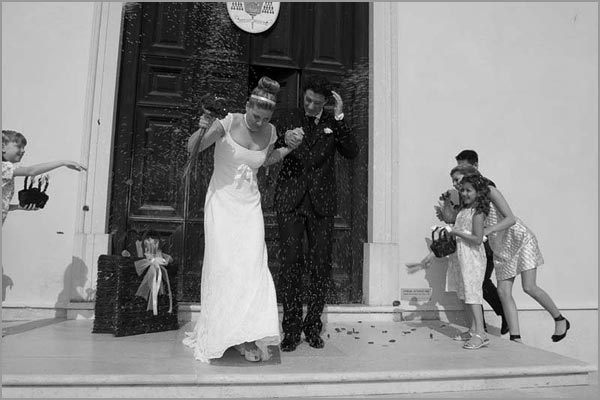 About six o'clock in the evening, Valentina and Max, after a lovely boat tour reached by boat private pier of villa for their reception.
Under the beautiful sun of July, guests had their delicious and traditional Veneto aperitif in the Italian garden and wonderful portico.
The evening continued inside, in the frescoed hall.
While music accompanied the event, the wealth of paintings and golden light floods in through the old windows overlooking the garden was the setting for a refined dinner based on typical dishes of the Venetian tradition reinterpreted with sage creativity.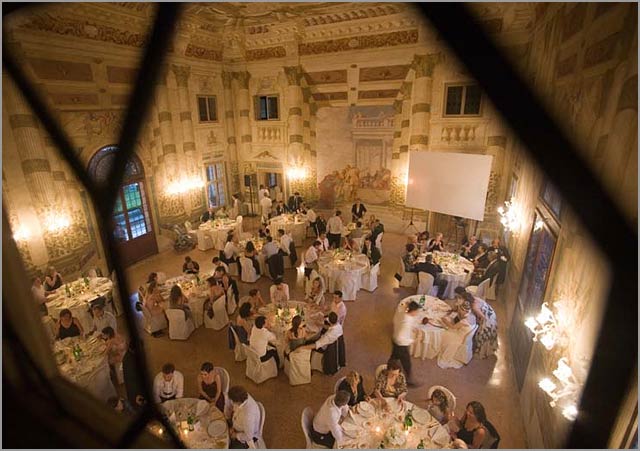 Here's the end of this wonderful day … back outside, illuminated by soft light of candles and chandeliers always ravished by fresh flowers the cutting of the cake was another suggestive moment of this elegant reception.
Talking about this day Valentina and Max said:
It was not a wedding… it was "the wedding" … the most exciting moment for a couple … but thanks to the meticulous and fantastic organization of "our "wedding planner … everything was almost perfect. Thank you for making possible an idea into a real dream.
Angela and Katiuscia both work on Veneto region and Lake Garda. They will take you to discover traditions, savors and colors of Veneto region, not only on Lake Garda!

They can help and support you for a dream wedding on other wonderful locations such as Venice, Verona and Veneto gorgeous countryside where you could taste some of best wines of Italy.

For any information about wedding on Lake Garda, Venice, Verona and Veneto countryside please contact Angela and Katiuscia.