Italian Lakes Wedding
we are truly excited this time to post a
real wedding on Lake Orta
on our blog this time. This wedding was planned and coordinated by our planner
Valentina Lombardi
and thanks her and bride we can post this wonderful story.
R
osie, the bride herself wrote the full text!
Rosie and Sam
got married last summer on
Lake Orta
. They opted for a
civil ceremony at Villa Bossi
with a toast in the mains square and also a wonderful ice cream (gelato) break. After some amazing photos on
St.Julius Island
they reached their guests at
Ustaria Ca dal Rat
. They were all waiting for them to celebrate a fantastic happy day full of music and fun.
Rosie opted for a delicate, chic and red themed decor. She wore a fantastic wedding dress and a red roses bouquet matching perfectly decorations she chose for the reception.
Have a look to a very first selection of photos taken by official photographers
Independent Pictures Photography team
.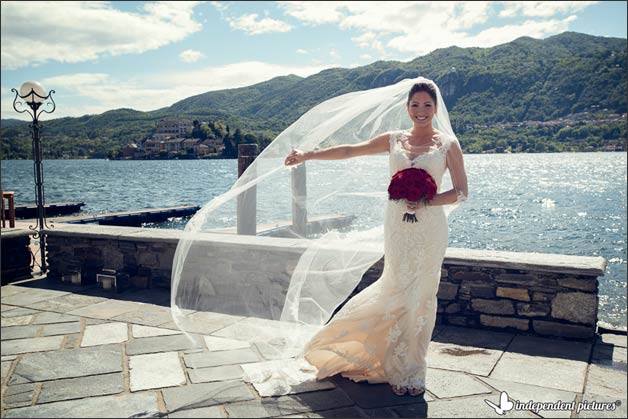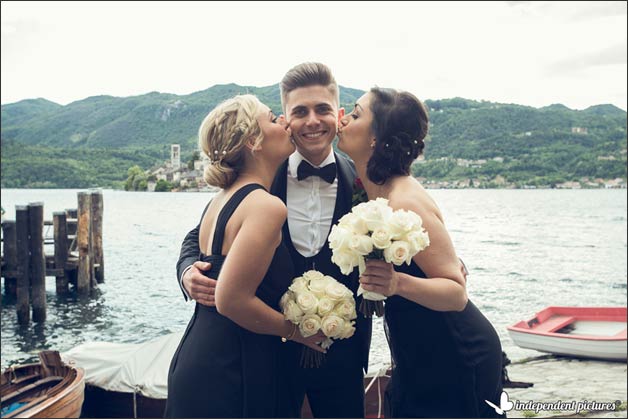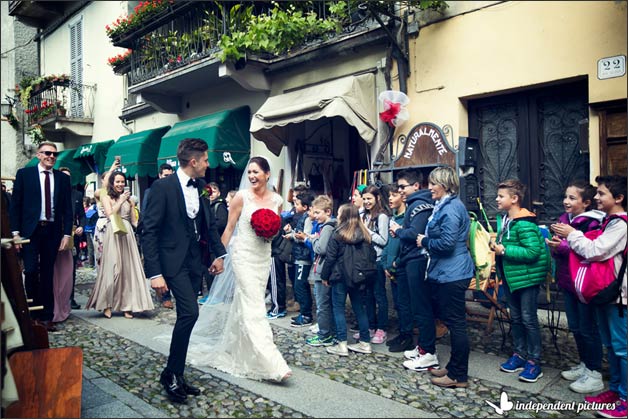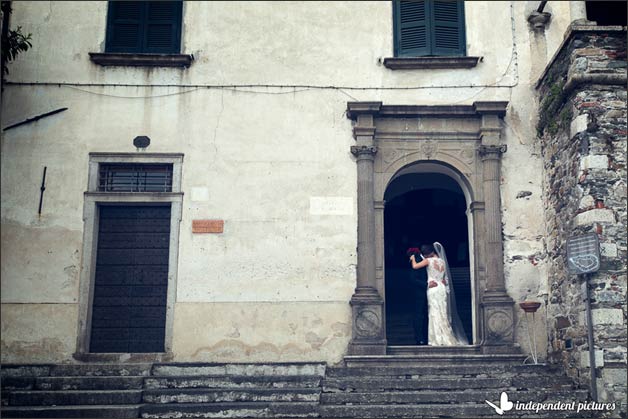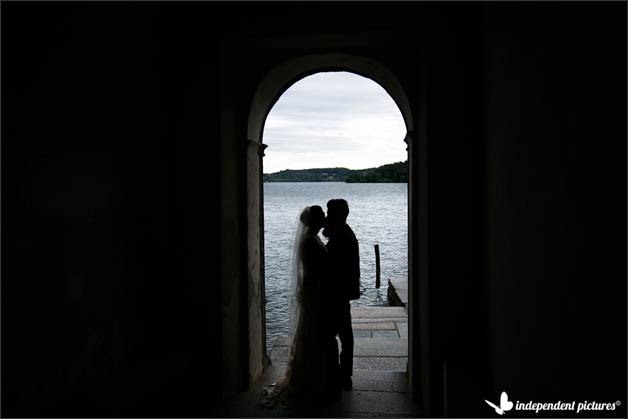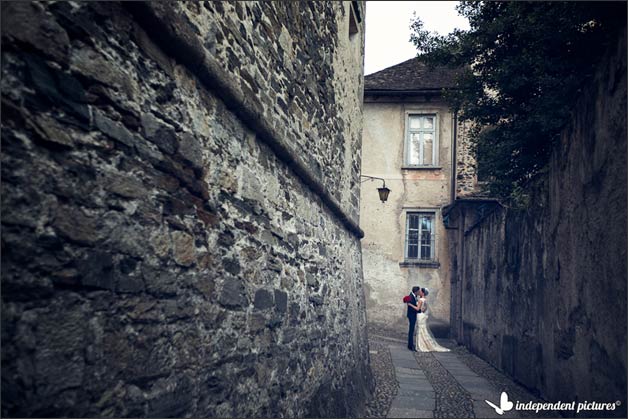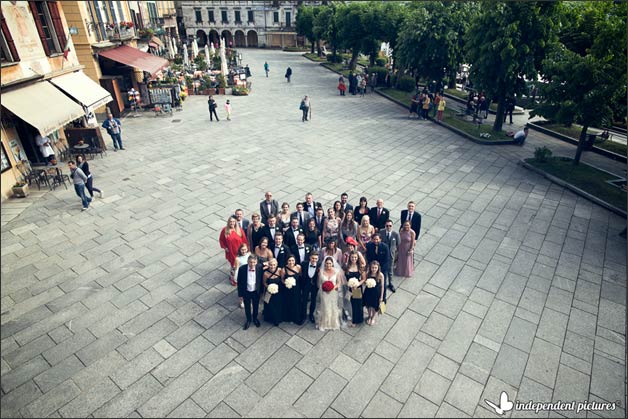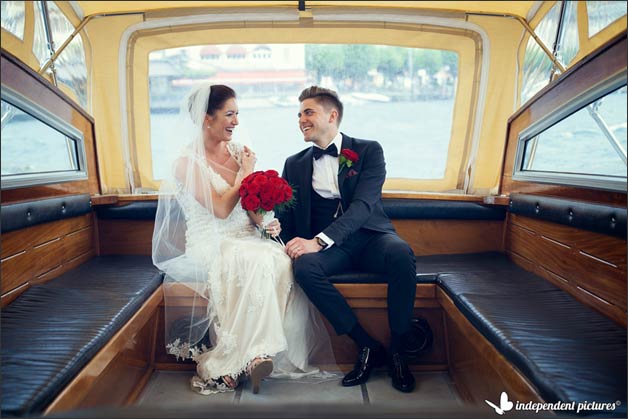 But wait wait …this is not our post …this is Rosie's one!!
As we mentioned above Rosie the bride in person wrote this amazing post telling all about her wedding planning and wedding day! We are very lucky to include also some of her amateur photos that Rosie sent herself to post on this blog! This is just great as we can really see step by step all the planning from the beginning to the end
So we really let her speak and tell you about her fabulous day on Lake Orta.
Our bride story speaks herself about her wonderful wedding on Lake Orta – with some very special amateur photos by the bride herslelf.
How we met
Sam and I are childhood sweethearts (I was 16 when we met) and by the time of our wedding we had probably been through as much as most married couples! Because we (maybe more me) are quite sentimental, when Sam proposed in New York in 2014 on our 8 year anniversary (the biggest surprise of my life!) I knew it would be just perfect to get married 2 years following in the month of what would be us celebrating being together for 10 years.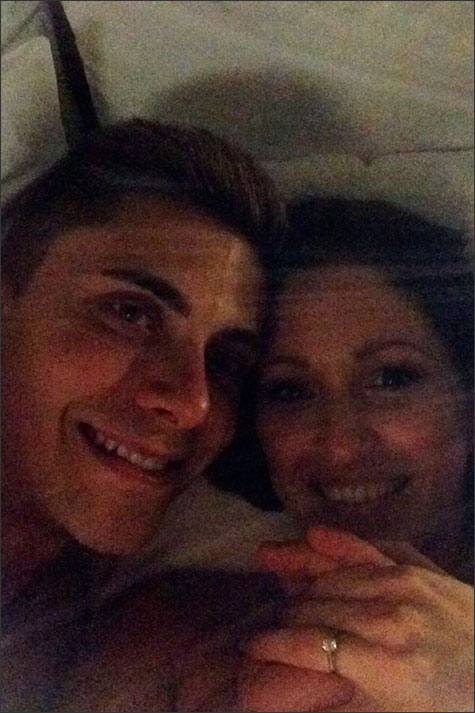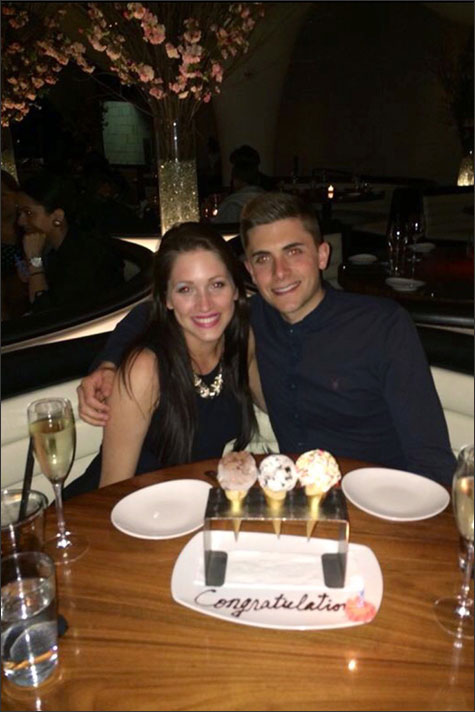 Choosing to get married in Lake Orta
After 2 years together Sam and I took a trip with his Dad and youngest sister Milly (who was only 4 at the time) to this place I had been told about, Lake Orta. Sam's Dad had been visiting for the past few years on business so I didn't have any expectations (except the Italian food!) however when I pulled up to the square I could have cried. It was the most beautiful place I had ever seen. Unfortunately, Sam's step-mum has passed away the year before so to make our visit even more special we were able to eat, drink, laugh and create memories in the same places she had, from her trips to the Lake with her husband.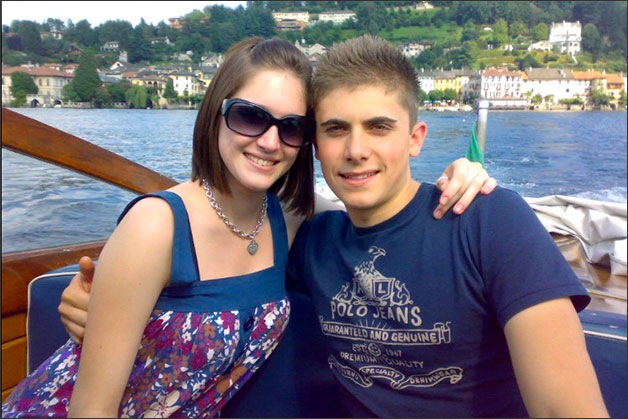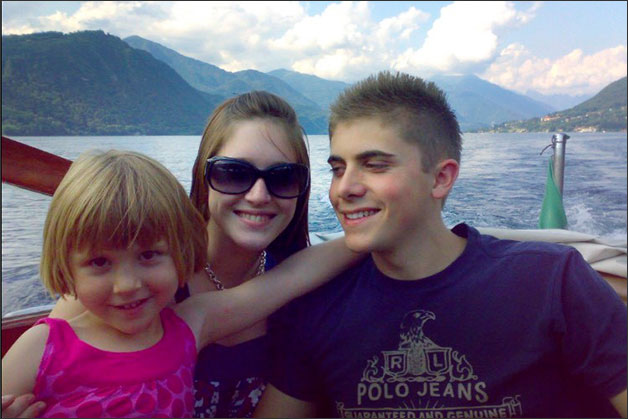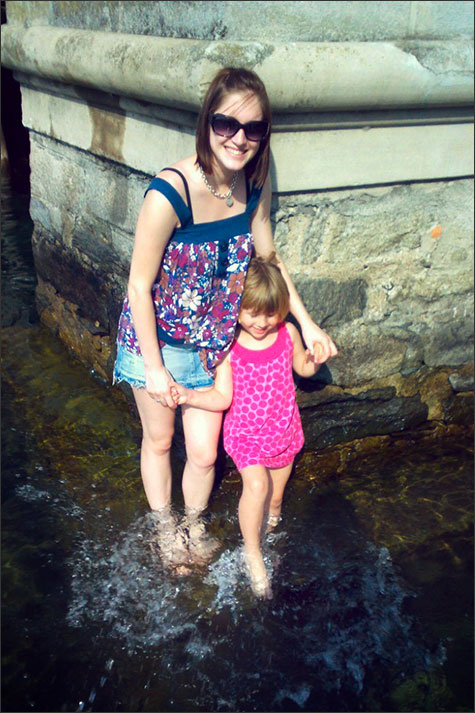 The thought process behind our destination wedding
During our relationship we made jokes about getting married in Lake Orta, but once we were engaged we looked in to the possibility and never looked back! Sam's Dad told me on the weekend of the wedding that at the mere age of 18 on that first ever visit I said quite confidently to him 'I'll get married here one day', I don't remember this but it seems I knew what I wanted! Basically from that first trip to the Lake we had never forgotten it and what it meant to us, so nothing else for our special day would have been right.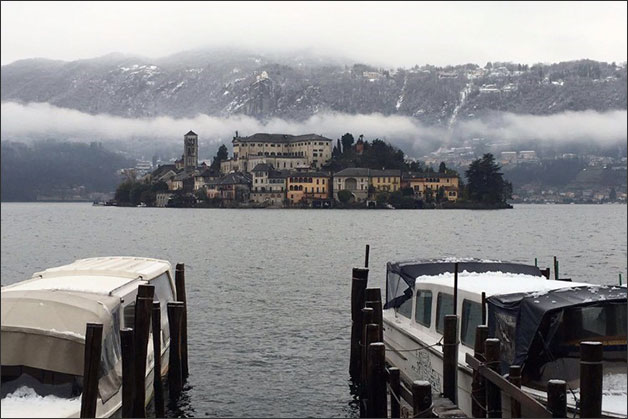 Taking inspiration from the place itself for our big day
With over a year to go before the wedding we travelled to San Guilio to meet Valentina and Ernesto after exchanging many emails… we were so excited! The more time we spent and idea's we heard we knew we wanted the day to be a mixture of Italian/our own visions. From getting a boat to the ceremony, to ice-cream in the square, and of course incorporating Aperol wherever we could! Also on this visit, we stayed at 4 different hotels (all extremely close to each other) so we could experience them for our guests and let them decide for themselves.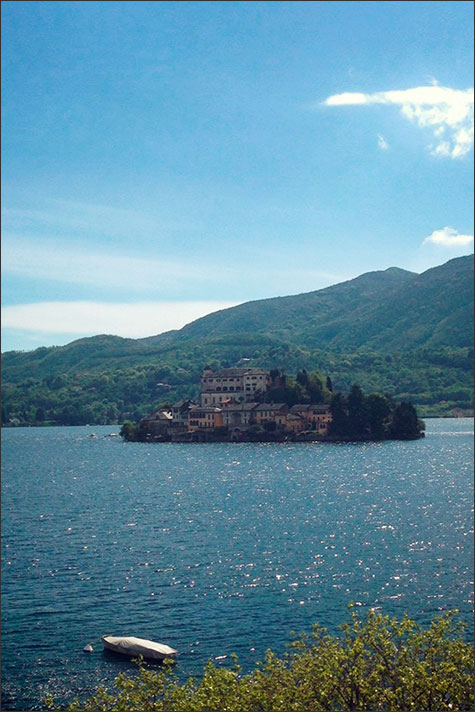 Our amazing wedding planners
I'm not sure where to start, from my first email reply from Valentina where she was so warm, re-assuring and not at all pushy, I had a great feeling about our relationship! Even the first time we met, poor Valentina had the flu (it was a very hot day and she was wrapped up in layers!) but she still came along and was so enthusiastic along with Ernesto. From there we became closer and as communication continued, I learnt that no matter how much I was worrying about plans, they always had things under control in a cool, calm and collected way. On the day when Valentina came to greet me in the suite with a head set and clip board… I knew I was in safe hands and that the day would go without a hitch!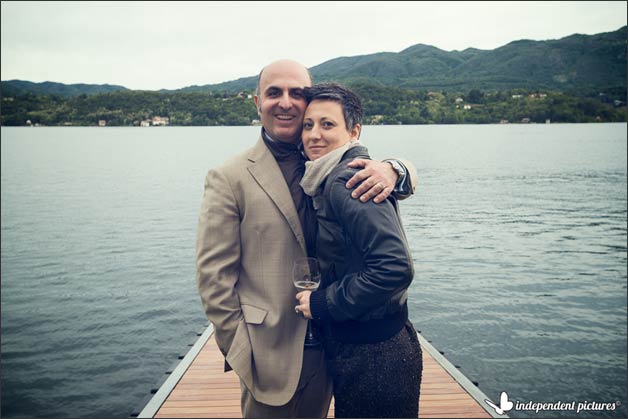 The reason behind our save the date
It's simple really, this idea came from Valentina and Ernesto. At the end of our first meeting we were saying goodbye and arranging next steps and we mentioned that we had a passport idea for the actual invite but were not sure how to create a save the date with a similar vision, so they suggested post cards. We popped in to the local shop and bought around 25 post cards, it was such a personalised way for our guests to get a feel of where we were inviting them.
Hotel San Rocco
We had stayed here before and love the space and surroundings, although it wasn't quite intimate enough for our wedding (t was one of the options) we chose it as our hotel for the stay of our wedding. Although after our first night we were told the bigger suite we were promised wasn't available, they compensated us by showing us the Presidential Suite and we were slightly delighted to say the least! It was the icing on the cake for our special stay.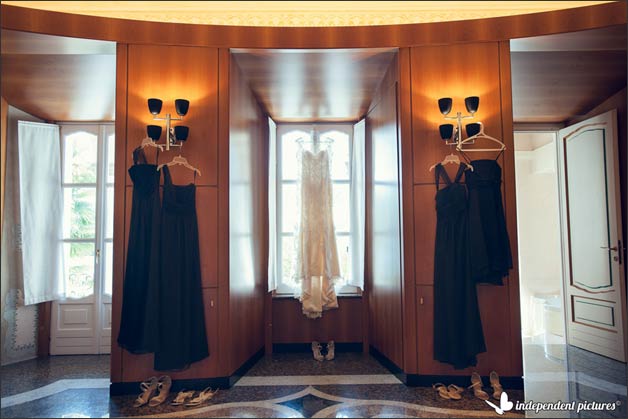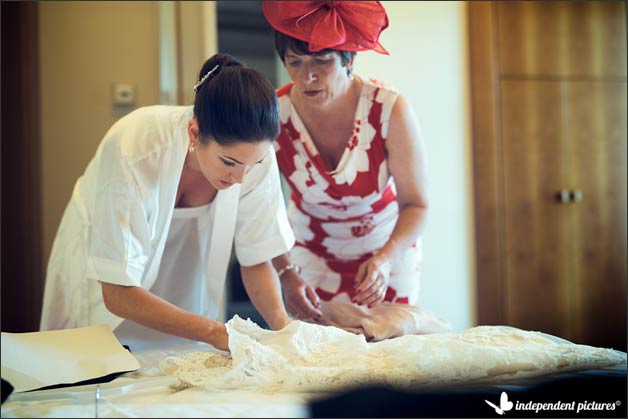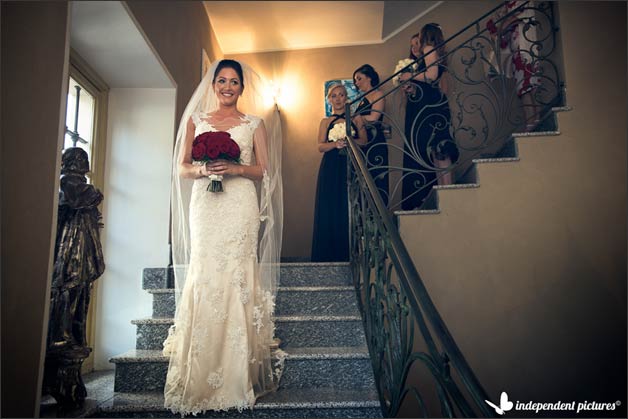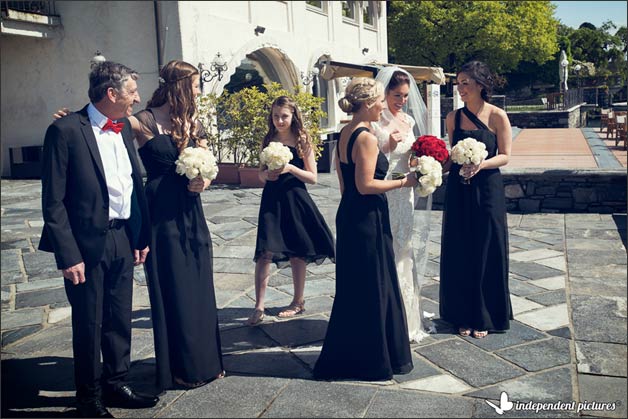 Personalised gift bags for the guests
I started this process with lots of time to spare before the wedding, I didn't want a grand favour on the tables at the reception as from previous experience they can be left behind and the fact that we were abroad, the guests may not have taken them home. So there was a bag for each guest on their chairs at the ceremony consisting of an Order of the Day, a fan, a little bottle of Aperol, personalised tissues, sweets, ponchos (you never know what the weather will do on a lake!) and bubbles (and rose petals were provided to throw for guests which was a lovely change to confetti/rice).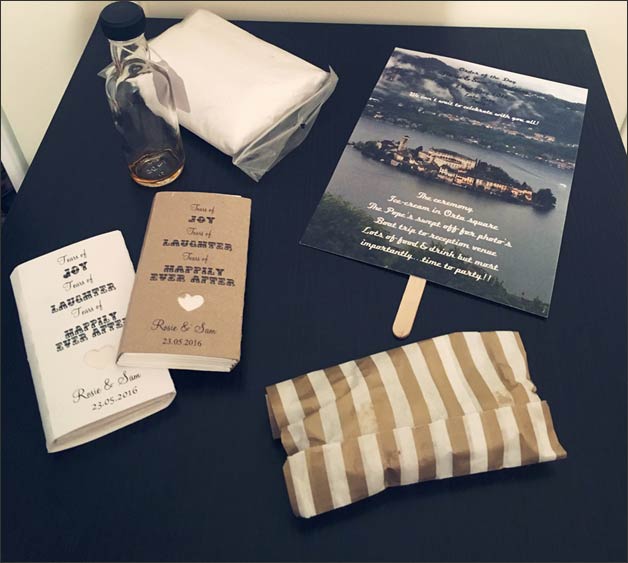 Changing all but the material of my dress
I fell in love with the lace, colour and back of my dress when I first saw it in Clifford Burr Bridal in Ware – however the shape was not what I had envisioned. Becky in the bridal shop was a joy to be around and gave me an experience I hadn't come across in any other fittings. My seamstress admitted it was going to be a rather big job (because of the material) and not one she had really taken on before but in the end it was an amazing accomplishment and so a beautiful Sottero and Midgley dress starting as an a-line turned in to a fishtail (but one I could still walk in!) – with no forgiving structure or bones I might add, it was going to be all me so I definitely upped my workout routines!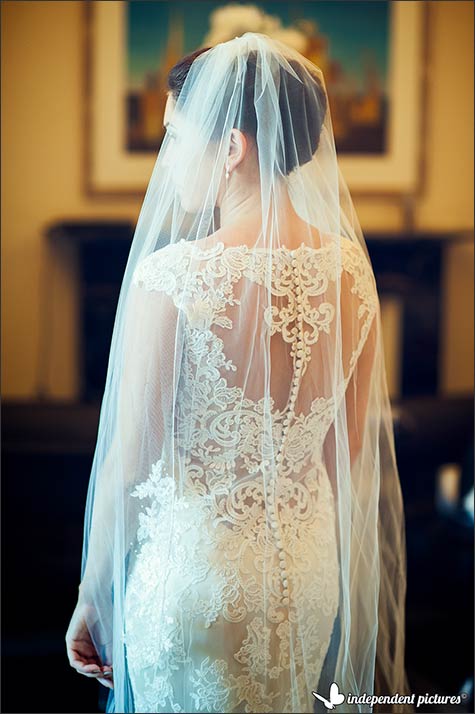 Old, new, borrowed, blue
I had my Grandma's broach clipped in to my bouquet as my Old, my earrings from Sam were New, the very pretty hair slide I wore was Borrowed from one of my very special friends who attended the wedding and kindly did my hair (no pressure!) My Blue was my most important, it was a piece of blue handkerchief which belonged to my Grandad who had sadly passed away the year before and we were very close, my Mum and I placed in my dress, a position closet to my heart.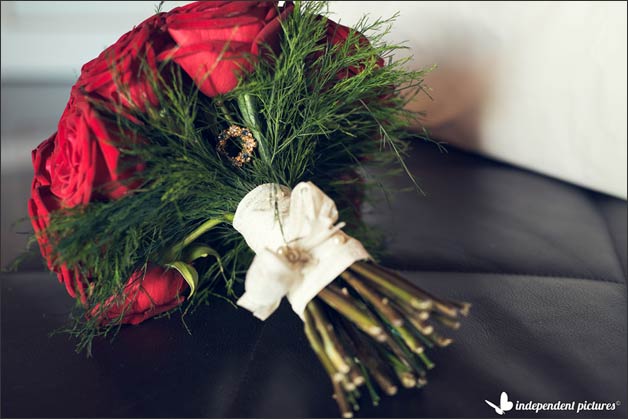 My groom
Sam's suit was made to measure from Anthony's in Essex, they were incredible from start to finish. I went to the initial appointment (as I'm a slight control freak!) and helped with some of the decision making, months later when the suit arrived I also went along for moral support (I like to think of Sam as my own Ken doll – I love to dress him up!) for some final tweaks to the fit. After that Sam was on his own so I wouldn't see the final look until our day – it did not disappoint, and of course I'm bias but he looked absolutely gorgeous (in fact I think the suit has as many comments as the dress!).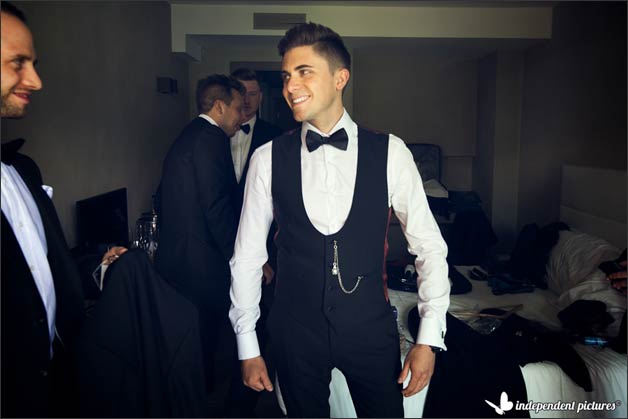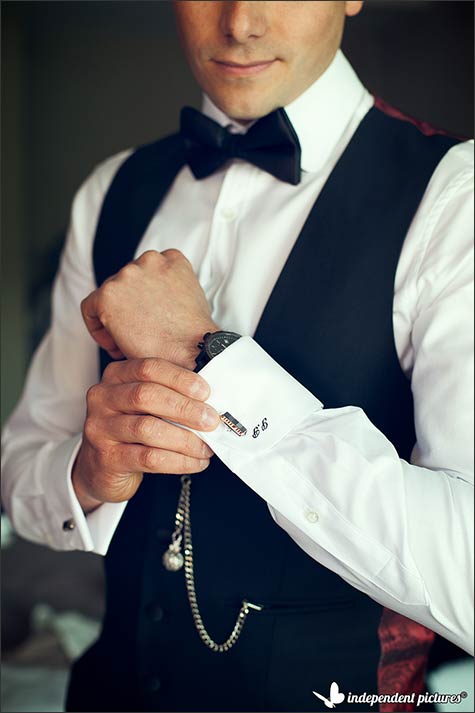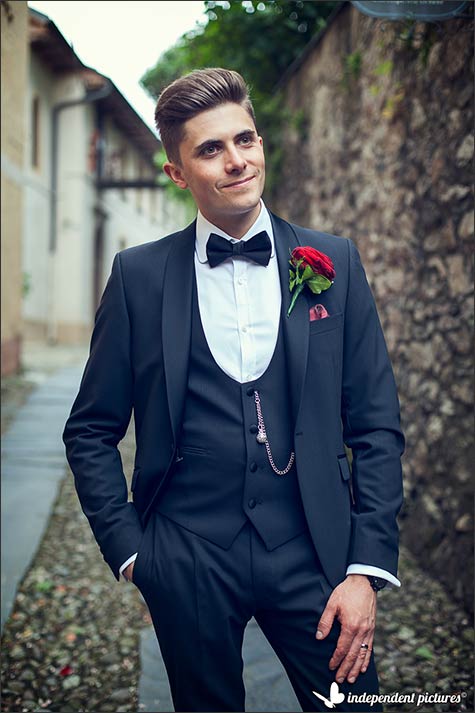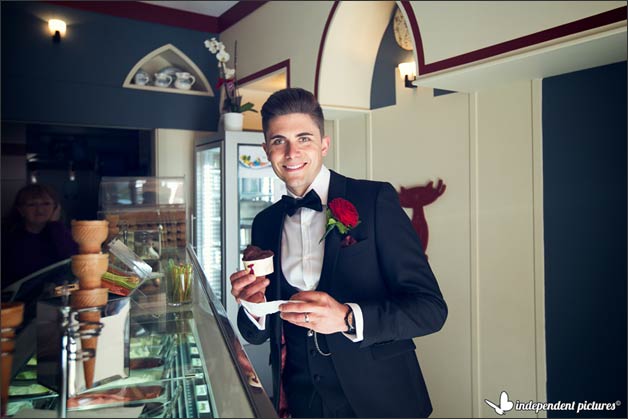 My bridesmaids
I asked my sister, Sam's youngest sister, and my two best friends to be there by my side for our big day. I always knew the colour scheme I wanted…black. Not the most obvious for a wedding, but I don't like obvious. Their dresses were black, with all slightly different sleeves. Leading up to the wedding I made them bridesmaid boxes (I love to be creative so this was a nice release for me with all the other planning weddings include). I wanted them to feel special so thought of everything possible they may need for the day. Watching them open the boxes after a fitting one day was wonderful – their reactions didn't disappoint!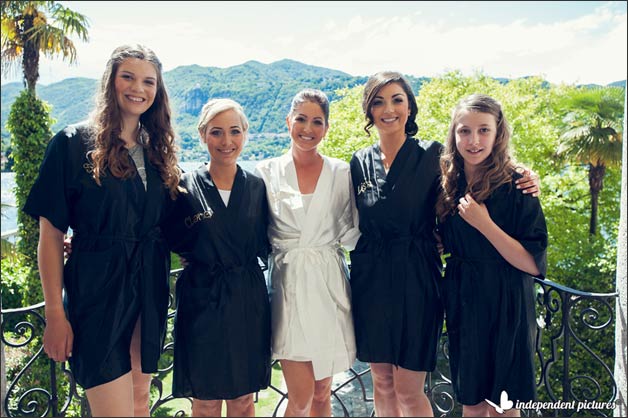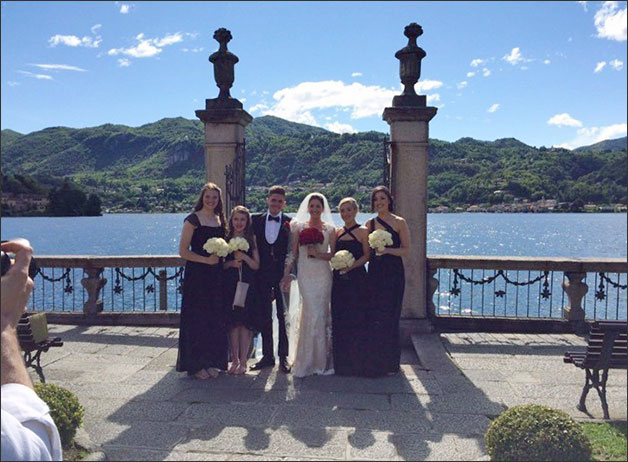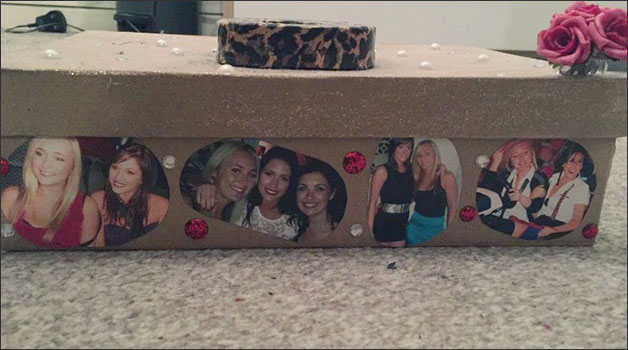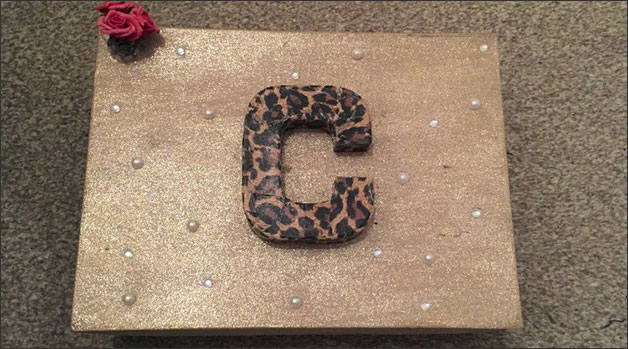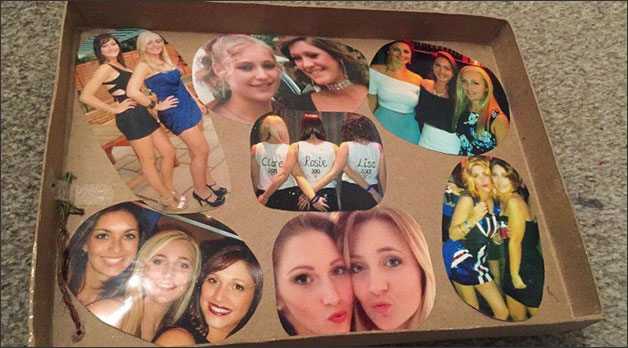 Our wonderful florist
Valentina and Ernesto suggested Stefania, and we are so grateful! Although the designs and ideas I sent over were quite simple, she proposed a few touches that made the little differences. She kept in budget and even allowed me to send some gems and pearls over to her to thread in to the centre pieces. At one point she thought it best to mention that the pictures I had sent were of white roses and she remembered another conversation where ivory was mentioned… well thank goodness she did because I hadn't even realised the mistake, this was about 4 weeks before the wedding so I was so appreciative of her eye for detail! Stefania also helped arrange a gift for me to leave at the venue for Valentina as an extra little thank you, another time she went above and beyond for me.
And the rain came…
Our wedding was on Monday 23rd May, the Saturday we arrived there were blue skies and boiling sun, Sunday again was gorgeous skies and a lovely warm heat wherever you were…then Monday came. We aren't a traditional couple but we liked the idea of staying separately the night before so I woke up in my room with my mum, to hear rather loud thunder and what sounded like someone throwing a bucket of water at our window. I made the mistake of looking out to see a rather heavy storm (I'm talking rain, wind, harsh waves on the lake). My friends and family told me afterwards that they couldn't believe how calm I was getting ready but I had it covered, I decided to leave all windows and curtains shut and pretend the weather wasn't happening! By 1pm the skies came good for us and it was like the last 4 hours hadn't happened!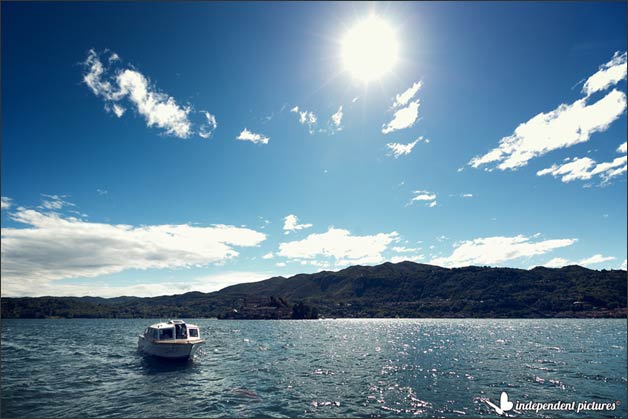 Ceremony music and a special last minute surprise at the ceremony itself
We had to put a lot of trust in our musicians…we had seen some amazing video's on Youtube but had not heard them in the flesh until the moment I was walking down the aisle. We chose a violin and piano duet and it was beautiful. My aisle song was Power of Love by Frankie Goes to Hollywood, it gives me chills just thinking about it, the words are beautiful and powerful…we like a bit of drama! Earlier in the day Valentina came to tell me the translator for the ceremony wasn't well, and I think she thought I may have had a panic… but I think things happen for a reason. Valentina asked if we would mind if she translated for us and I couldn't have been happier, having her up there with us as a part of the day was wonderful and just made it even more personal!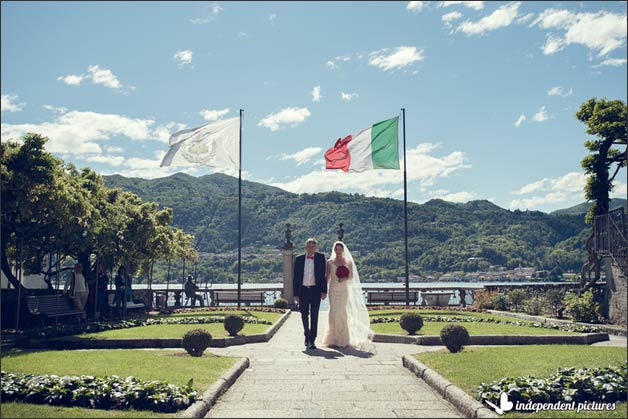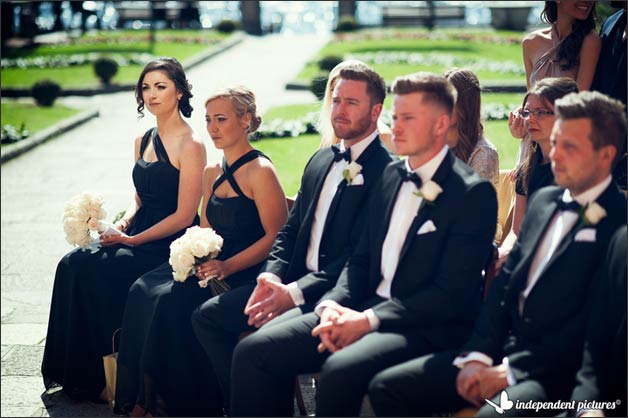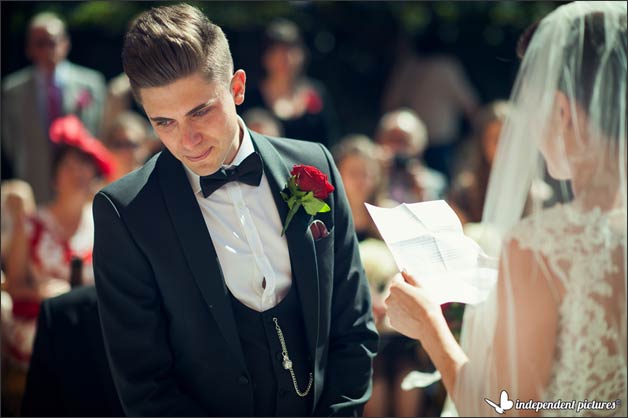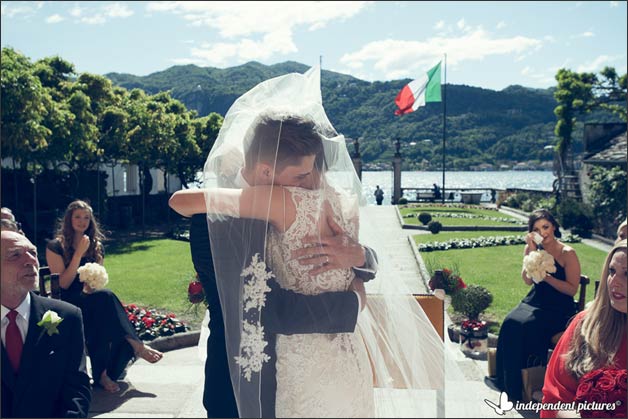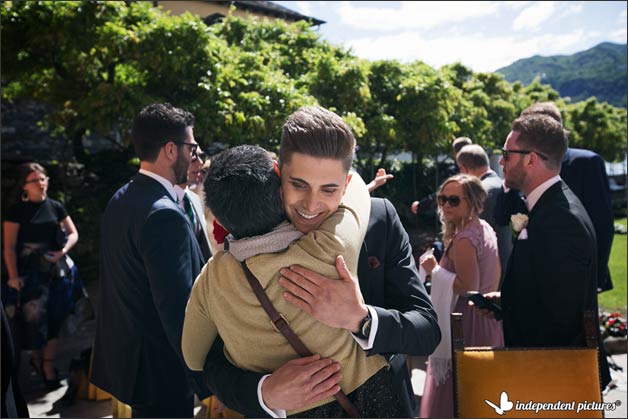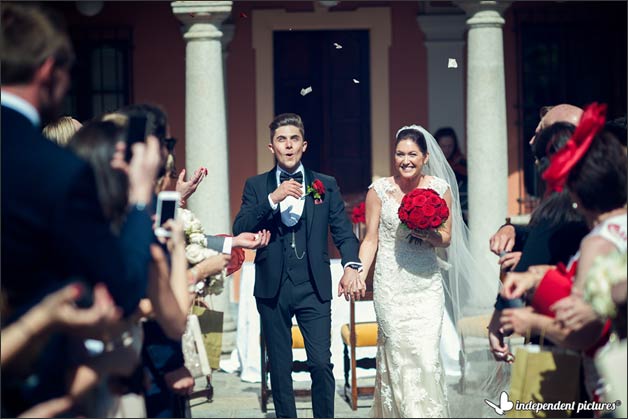 Our reception venue and the food tasting we will always remember
A month or so before the wedding we planned another trip to the Lake to meet again with Valentina and Ernesto, to do some final planning and have our food tasting. The evening we arrived we were excited for the days ahead, so not ready for bed we went in to the local cocktail bar and was greeted by Alessandro. Before we knew it we had been in the bar chatting for 4 hours, also meeting the local Michellin stared chef! We stumbled back to our hotel feeling rather worse for wear…and the morning wasn't much better. We made it to Ustaria where Enrico greeted us for our very own private food tasting. It was wonderful, however when it came to choosing the wine we maybe weren't as enthusiastic as usual! Enrico and his team made everything leading up and on the day so easy and we are so thankful for that, food and wine are a big part of a wedding …especially in Italy!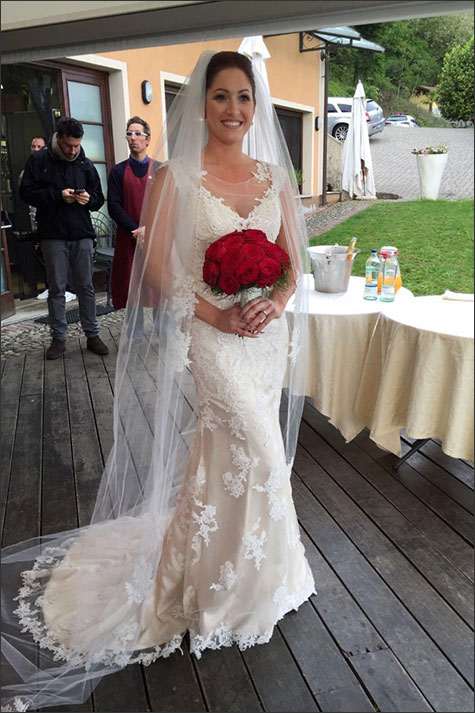 A test for the guests and a comeback from my Uncle
As I said earlier, I wasn't looking to have favours on the tables at the reception. Instead I wanted to give the guests a bit of friendly competition with a quiz! It was great because you could see everyone conferring and it made everyone laugh! We also found out just who knew us best with a few trick questions in there! After dinner and the speeches, it was time for our first dance (which Valentina had to remind us about because with all the fun we were having we completely forgot!) Following was a little surprise for the guests… growing up I thought my Uncle was a pop star because I used to watch him perform in pubs. As I got older I realised this wasn't the case but I wanted him to sing a few songs at the weeding because one, he was a big part of my life growing up and two, he is a fabulous entertainer… what a way to kick off the party!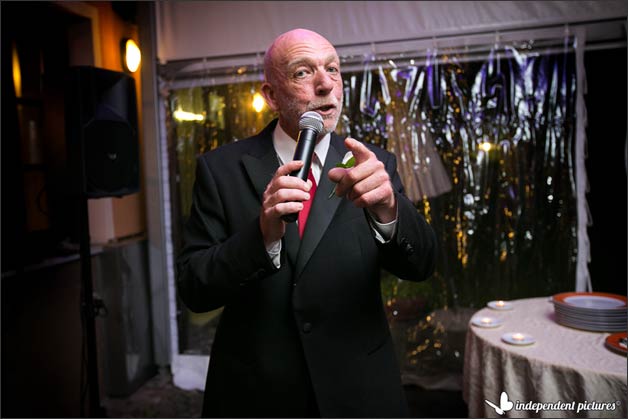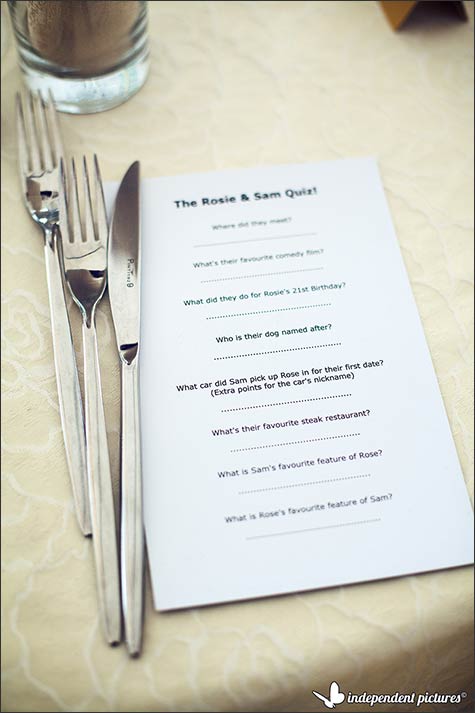 A world class DJ – our families know how to party…
Back home in the UK we love to go out, and we really appreciate a DJ who knows what they're doing… Paolo (again suggested by Valentina and Ernesto) certainly did! We had so many comments all night from our guests about how fabulous he was and we totally agreed! Being it was the first time we met, the outcome could have been quite different but my trust in our wedding planners exceeded our expectations again! Also leading up to the wedding Paolo was so responsive with any questions we had, it made such a difference and so although he played what we asked, he understood what we like and played songs we didn't even think of but they just made the night!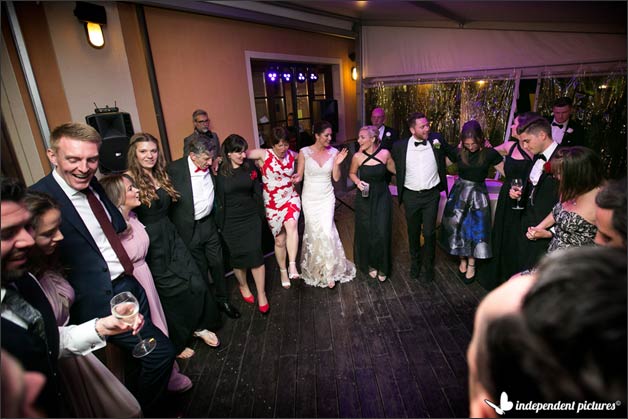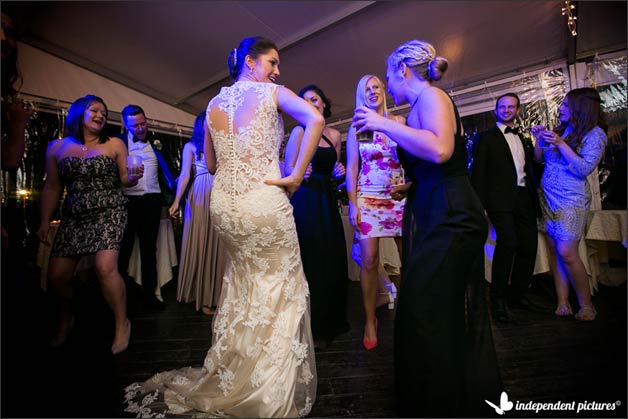 Our brilliant photographers
I couldn't finish this blog without mentioning our wonderful photographers. When Valentina sent us options of different companies, we knew Independent Pictures were right for us, and when Andrea and Francesco arrived on the day we couldn't have asked for anything more. To be honest while we were getting ready we barely noticed they were there…like two ninja's clicking away! They captured the most amazing memories for us and made the process so simple when all the photos were ready. They even stayed right until the end of the reception just to carry on parrying with us!
THANK YOU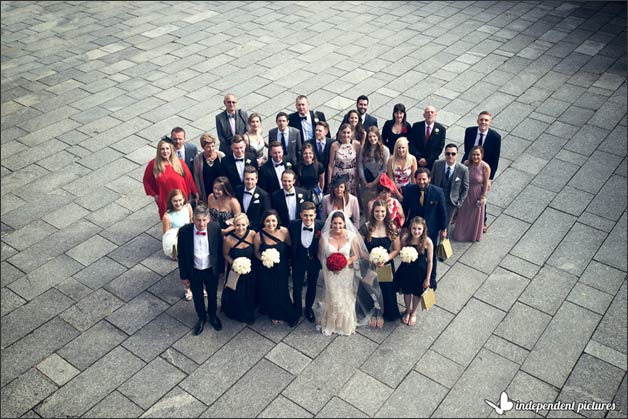 An now it is also our planner Valentina's turn to say something so we let her speak.
I got really moved reading this post written directly by Rosie! This is just amazing and I cannot say thanks enough or as we say in Italian Grazie to Rosie for putting together these amazing words for her romantic wedding in Italy and sending her personal photos too. The final result for me is just great!
Rosie and Sam, you are truly wonderful and your group was really amazing!
Thank you Rosie you are a star!
A very special thanks also to all professionals that helped us to make this event on Lake Orta just gorgeous as per Rosie's words, to our web master for putting together this long post and thanks again to Independent Pictures for the photos they shot in the day here you can have a look to some other official photos of the day.