A wedding is a special and unique day and it deserves a perfect celebration. It could be also fun and very different!
Why don't you think about a mini cruise on Lake Orta as Charlotte and Steven did?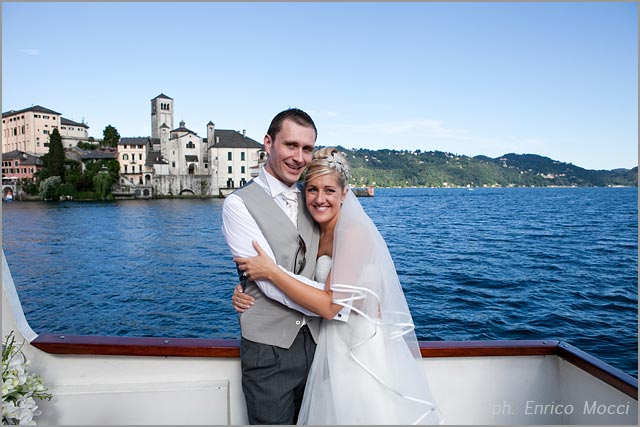 An unconventional wedding for Charlotte and Steve. A real Happy Hour Wedding with touring aperitif on Lake Orta.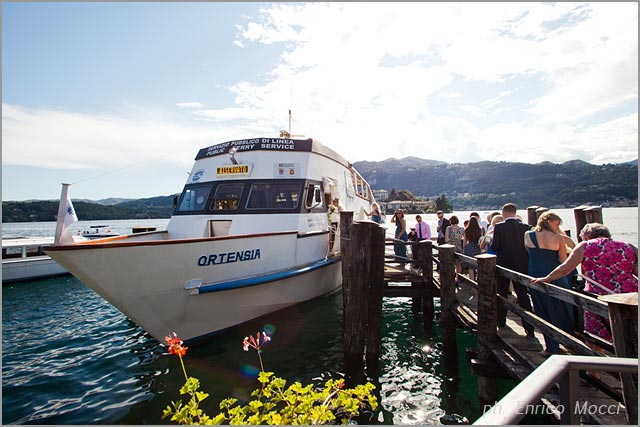 Try to imagine for your wedding a boat on the lake, cruising from Orta to St. Julius Island, Pella and Lido di Gozzano. Then North up to Pettanasco and Omegna.
A mini cruise that could be also a special occasion to let your guests discovering real Lake Orta. You could admire wild nature on North West shores with herons and Acqualba falls, and then historical villas facing the lake surrounded by wonderful wonderful parks.
Cruising reception could be ideal for young and dynamic couples who want to surprise their guests and have fun also breaking the stress of a traditional wedding.
It could more informal and laid down but still very elegant and chic.
Water has a great appeal for sure but a cruising reception could be ideal to make it more private, far away from tourists.

Wedding cruises on Lake Orta with Navigazione Lago d'Orta
Navigazione Lago d'Orta has two ferries that could be wonderful reception venues:
Ferry boat Ortensia is the main boat.
It is 24 meters long and it can host up to 290 people. It has two decks.
A deck is indoors with bar and the other is outdoor. From here you can admire a wonderful view and taking stunning wedding pictures!
It could be the ideal ferry for 100-120 guests maximum.
From this month (March 2012) there will be Ferry Valentina a second boat ideal for smaller events with 40-50 guests maximum.
Valentina is a historical boat that used to be in Torino on Rover Po. Thanks to restyling made by Piero Ravizza, Valentina boat is coming back on waters… this time on Lake Orta!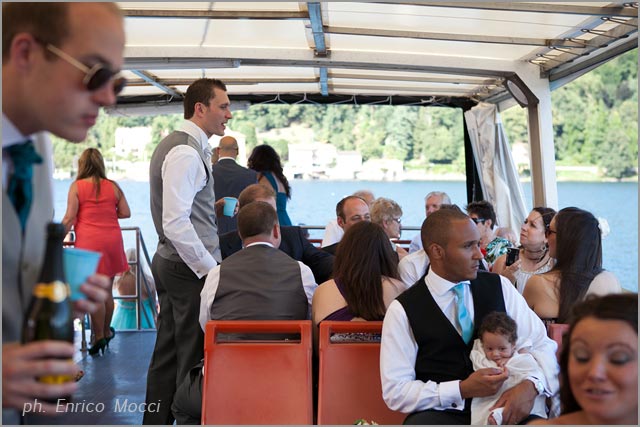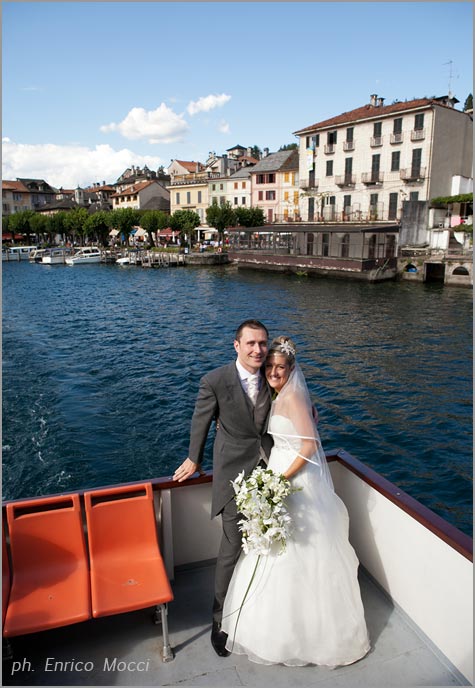 What do you think about a wedding party on a Love Boat of Navigazione del Lago d'Orta as Charlotte and Steven did?
Do you want more details?
You could have all your guests on a single boat with all comforts (toilettes, bar, heating system, tv, microphone for speeches).
Ceremony can be held in Orta or you could even plan a lovely symbolic blessing on board.
Lunch or dinner can be planned on one of the wonderful venues on mainland then you can cut the cake on the boat. Captain will start the party!
You could opt for a romantic dinner on the ferry to enjoy a wonderful sunset on the lake. You and your guests could have a lovely dinner and some dances afterwards. Ferry boat could be like a Dancing Boat in Palma de Majorca, but this time you will be on Lake Orta at Sunset!
Last but not least you could enjoy some live music played by one of the two captains of the ferry…. he is a real musician!
For further information, availability and rates of ferry boats please contact Navigazione del Lago d'Orta using the form below:
NAVIGAZIONE LAGO ORTA – request information and rental rates
My name is Valentina and I work as wedding coordinator on Lake Orta and Lake Maggiore.
Before being a wedding planner and coordinator I worked for an American company planning events. I turned into wedding planning for SposiamoVi group, more than 5 years ago. Since Italian Lakes Wedding was founded I work with them to make bride and groom's dreams come true on this wonderful Lakes of North West Italy and Piemonte region.

l love creating with my couples the perfect event for them following their wishes and needs, helping to find the best solution for their ideas and budget.
I like meeting people talking with them and know more about their cultures and traditions. I do like sharing Italian customs with them and working in team with couples to let them experience a real and dreamy Italian wedding!

I will be pleased to guide couples along lovely traditional and pedestrian roads of Orta village discovering the beauty of this romantic Lake between villas, traditional restaurants wonderful churches and enchanting St. Julius Island.
I will be happy to let couples discover bigger and charming Lake Maggiore with its Borromeo Islands, wonderful hotels and villas overlooking the waters.

I'm sure you would be amazed by the beauty of these special corners of Italy so I'm simply wait for you for a lovely experience to create and live together.

For any information about wedding on Lake Orta or Lake Maggiore please CONTACT ME.
You may also be interested in: