rian and Kristina, a couple from the
USA
! They had never visited
Lake Garda
but the idea of planning their big day in this new destination made everything very exciting. This is their story!
They chose the Scaliger Castle in Malcesine on Lake Garda which appeared to be just the right setting to make their dreams come true! It perfectly matched their idea of a traditional wedding destination with a medieval touch. Castle was very different from bright and hot summer months look it has. Brian and Kristina choose early October for their wedding. Lake Garda offers a special atmosphere for an early autumn wedding, a softer and much more intimate flair we love.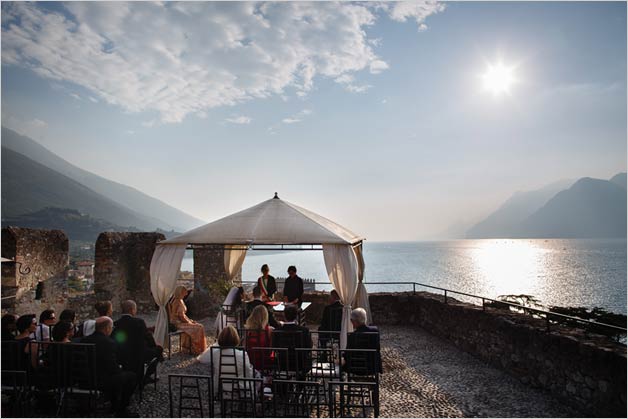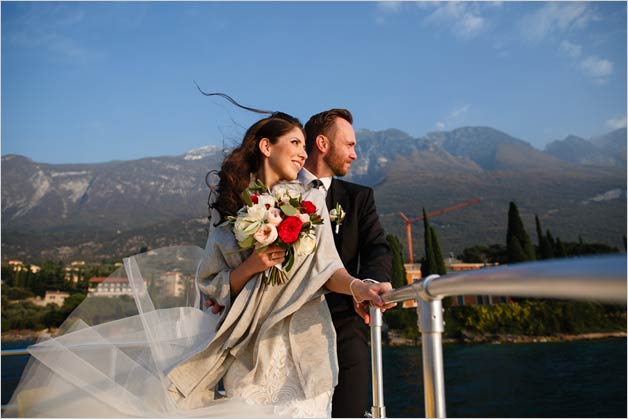 A special thanks to wedding photographer Franco Milani who gave us these wonderful pictures.

GETTING READY IN THE HEART OF MALCESINE VILLAGE
Kristina chose a delicious small flat in the heart of Malcesine medieval village as the place for all her preparations. After getting ready, the bride, her family and her closer friends could easily reach Malcesine Castle by a pleasant walk along the ancient hamlets of Malcesine.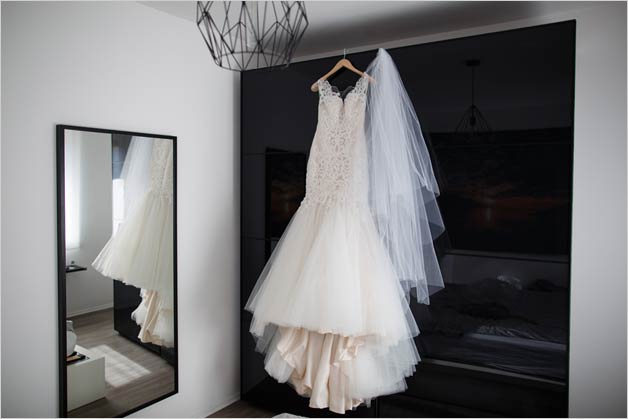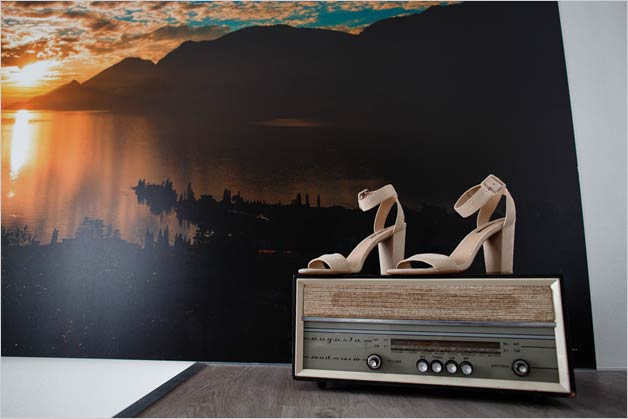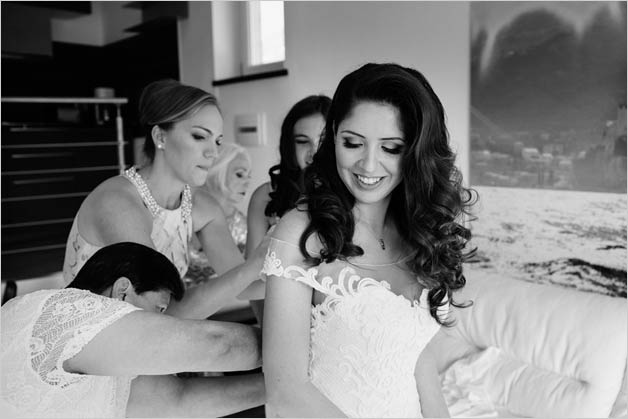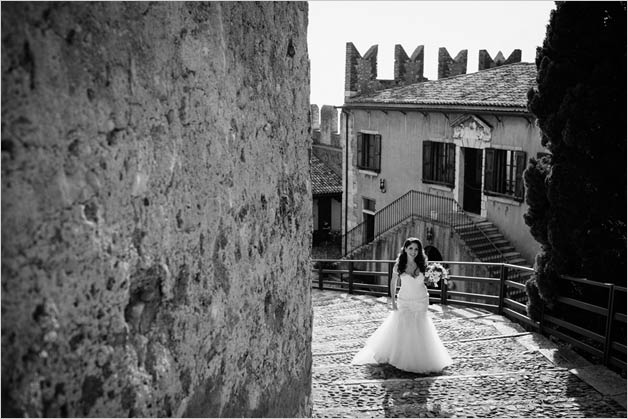 Once she finally got to Malcesine Castle, just a few further steps took her to her wedding ceremony venue: a terrace with a breathtaking view over Lake Garda.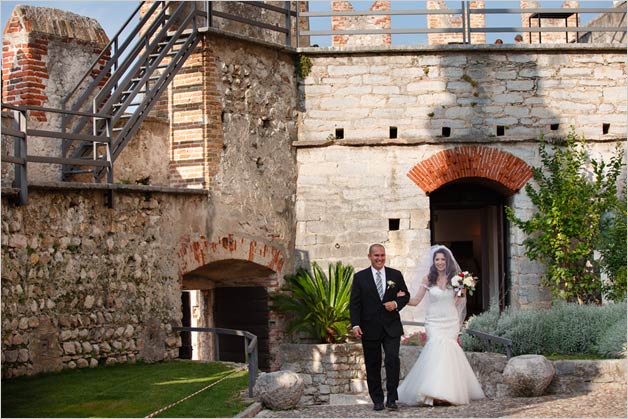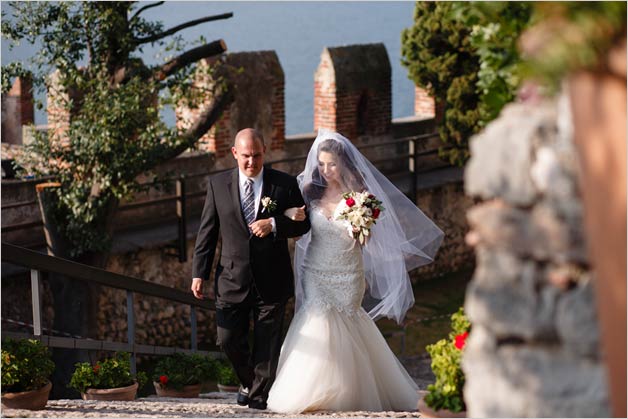 SAYING "I DO" ON THE SOUND OF A HARP OVERLOOKING LAKE GARDA VIEW
Kristina and Brian
met again on the
terrace of Malcesine Castle
and the ceremony got started! Autumn sunlight was soft and intimate. Some musics really helped to enhance the atmosphere and
harp
chosen by Kristina and Brian made it even warmer.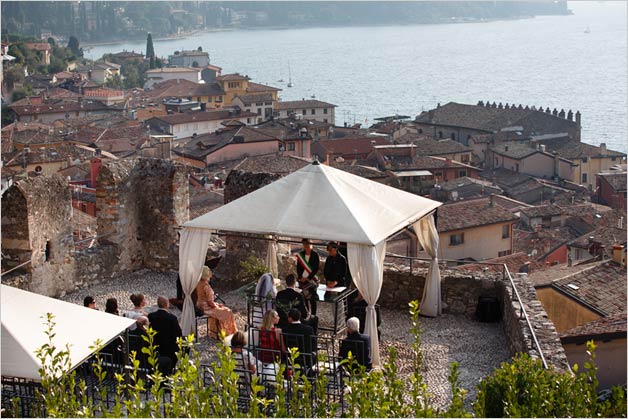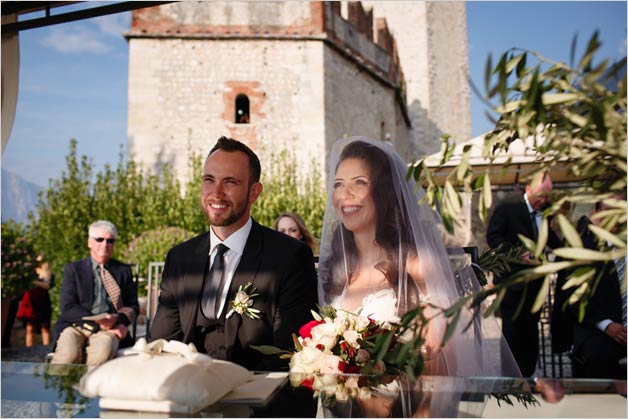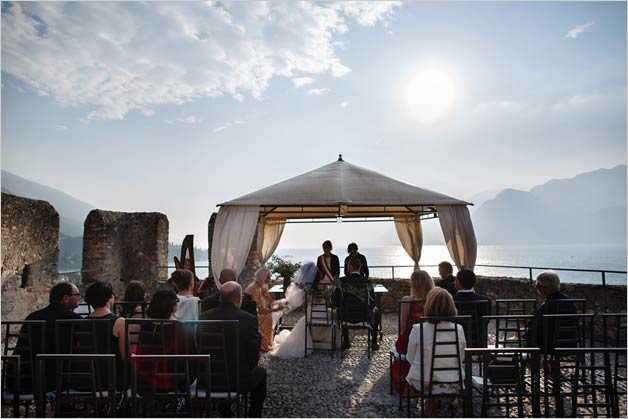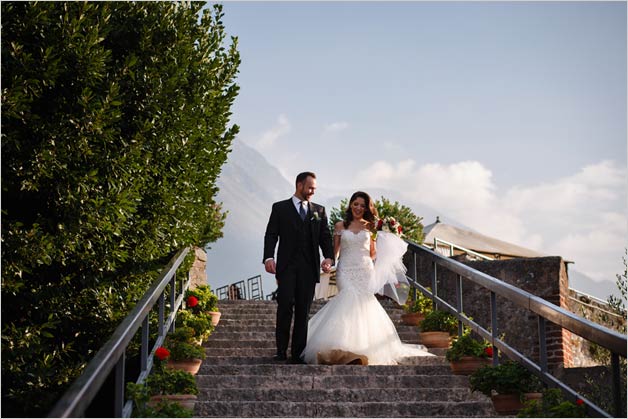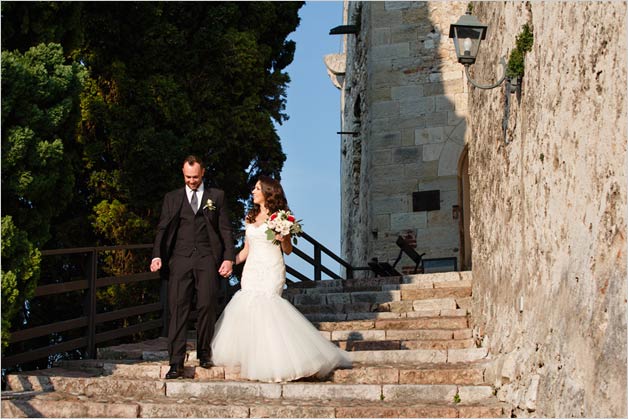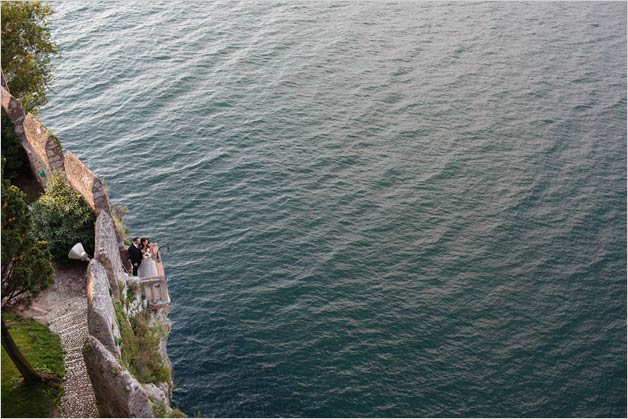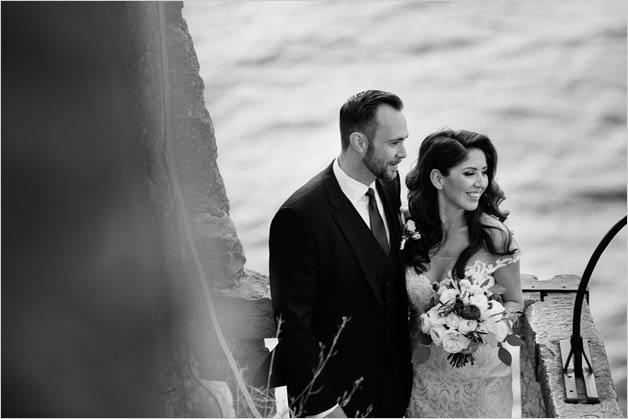 A LITTLE CRUISE OVER THE NORTHERN SIDE OF LAKE GARDA
After the ceremony, Brian, Kristina and all their guests merrily walked to the little dock of Malcesine. A boat was waiting for them ready to take everybody on cruise along the North coast of Lake Garda. A unique perspective over the stunning mountain landscapes, not visible otherwise from the mainland, was just enchanting! Not to mention the spectacular sunset which highlighted the mountain skyline: was it a special tribute to the newlyweds from Lake Garda?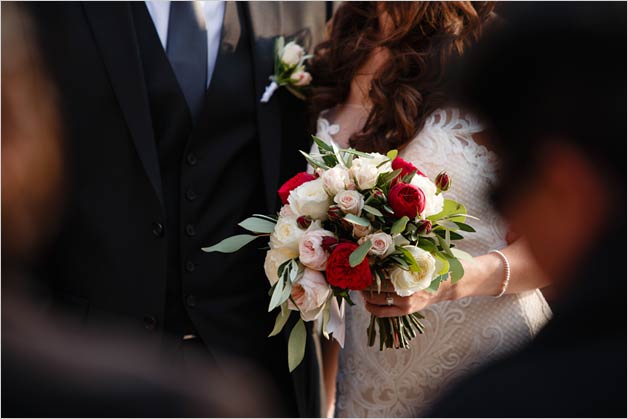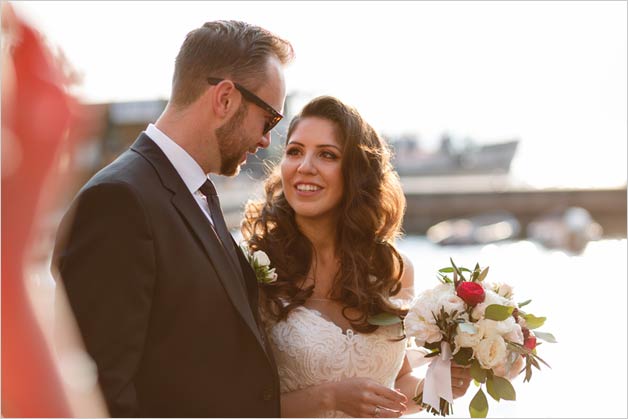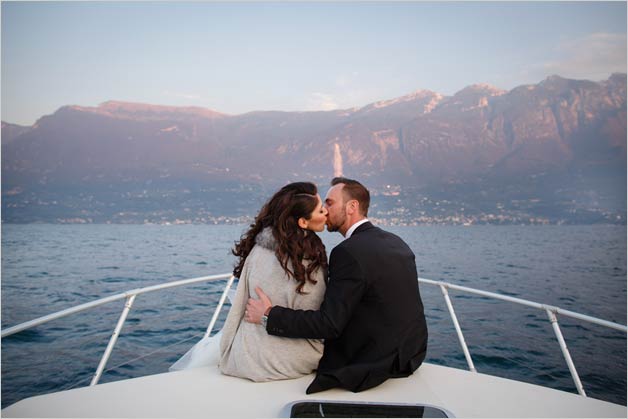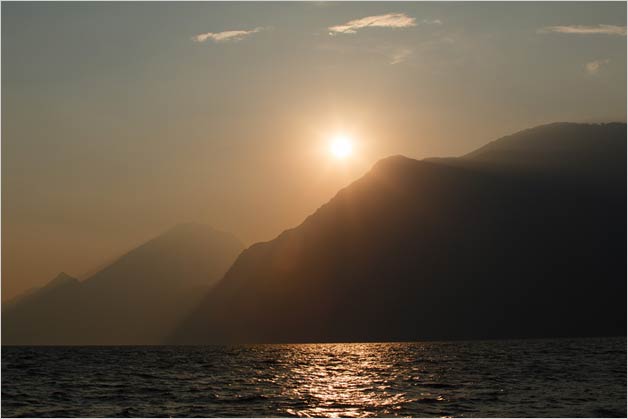 A GOURMET RESTAURANT OVER LAKE GARDA
A beautiful dinner in an Italian gourmet restaurant was just the way to cap it all off and this is what Kristina and Brian had chosen: a unique dining experience.
The restaurant had a small garden surrounded by ancient walls and a wooden roofed terrace with stunning view over Lake Garda.
As a centrepiece, a flowery wreath decorated the imperial table in red, blush pink and white. Among the flowers, candles twinkled from small crystal jars and a nice coordinated wreath adorned the newlyweds' chairs too.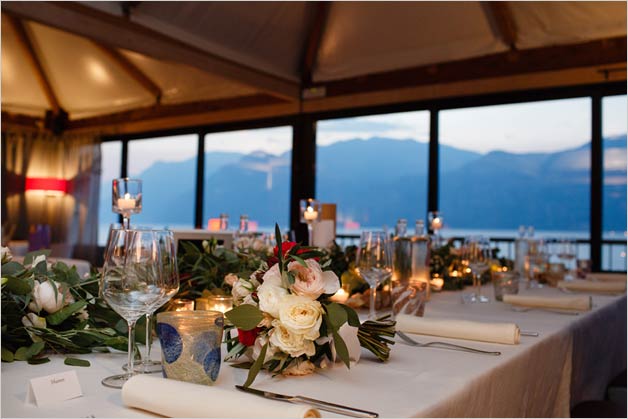 Brian and Kristina wanted a pleasant wedding reception with some amusing moments so I suggested a caricaturist who draw sketches during the welcome aperitif: it was such a lovely experience for all the guests!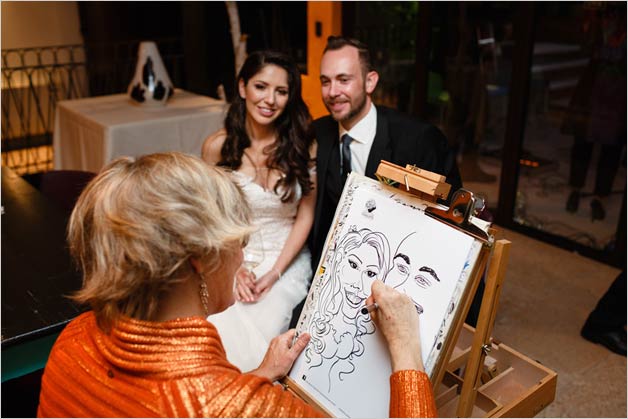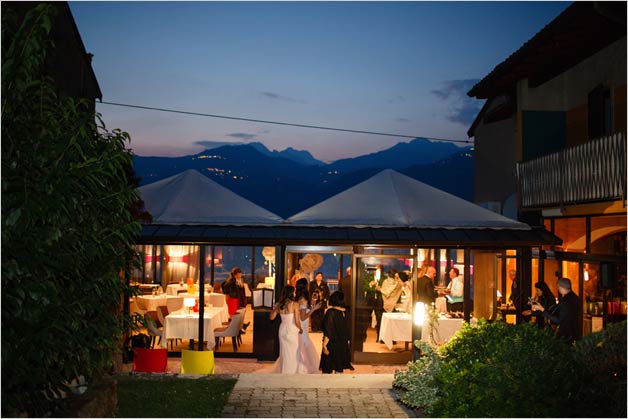 Some ancient olive trees made the garden of the restaurant really precious. Kristina and I enhanced them by hanging small transparent jars to the branches. They were filled with flowers and candles to get the possibility to enjoy the beauty of the garden till late at night.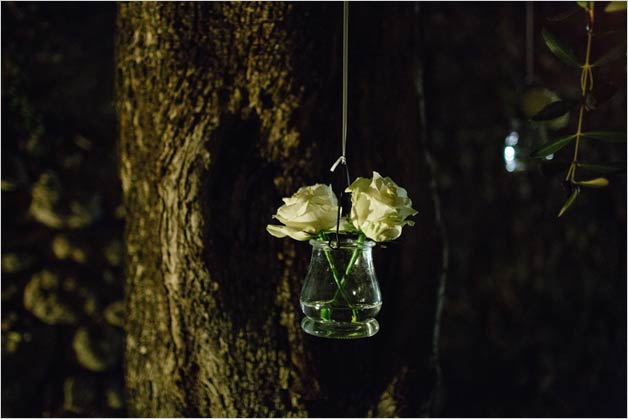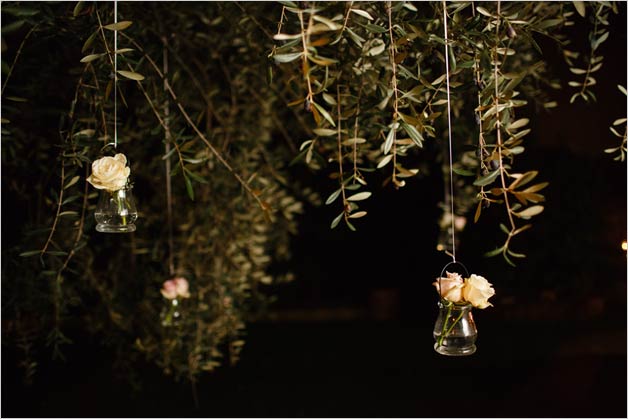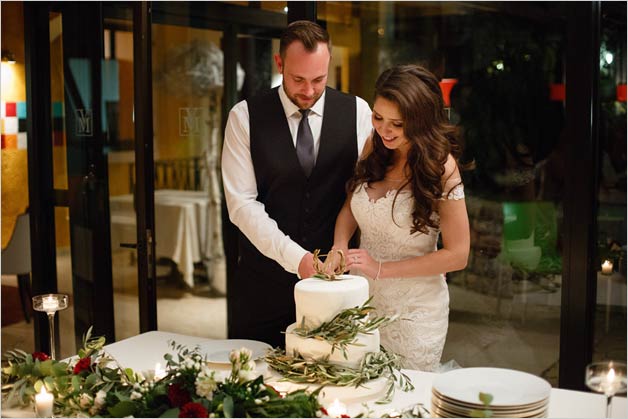 Kristina and Brian, thank you so much for sharing your special day on Lake Garda with us!
We really hope that the memory of it will be forever in your heart.