Lake Maggiore is surely very chic and same were Eimear and Micheal who chose it for their wedding in Italy.
Let's go back to some years ago. Eimear was a guest to the wedding we planned for Nicola and Tom on Lake Orta. Nicola is Eimear's cousin. In that occasion she had the chance to explore the area and see how beautiful it was. So for her big Irish wedding, she and her fiancé Micheal chose Lake Maggiore.
When I first met I knew it was going to be big and very chic and so it was. It was special since the beginning!
We planned the wedding for about one year and a half but the final result was really stunning!
And it was very special also when the wedding was over!
Eimear and Micheal's wedding was awarded in the 10th edition of Belief International Wedding Planner Award in the category Destination Wedding.
It was more than special! Thanks to this award the wedding is now featured in many international blogs and magazines including Arabia Weddings. This was really a blast for us!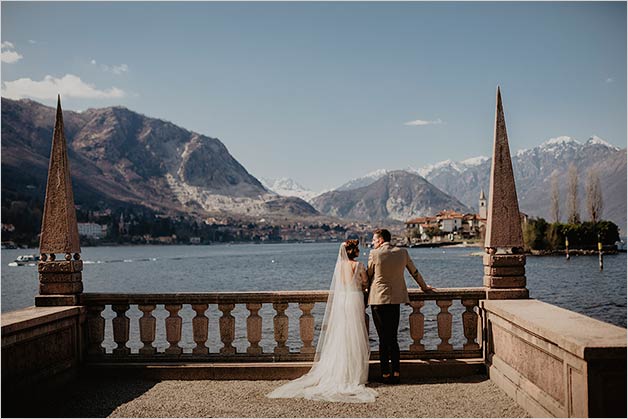 Italian charm for bride's getting ready
When the day arrived Eimear and her bridesmaids chose Grand Hotel Des Iles Borromées to get ready in style overlooking Borromeo Islands and Lake Maggiore in all its beauty.
Eimear and Micheal chose April for their wedding to have more quiet days in Italy and mild weather instead of a more crowded and hot summer.
Eimear and her bridesmaids had a great time getting ready, having their hair and great make up done all together. Bride wore a wonderful and extremely chic wedding dress with deep neck and back lines that suited perfectly Eimear figure. For her bridal bouquet and bridesmaids bouquets Eimear choose the shades of green and burgundy.
Bridesmaids dresses were incredibly chic too! They opted for sage green jumpsuits with high heals sandals. They were simply great!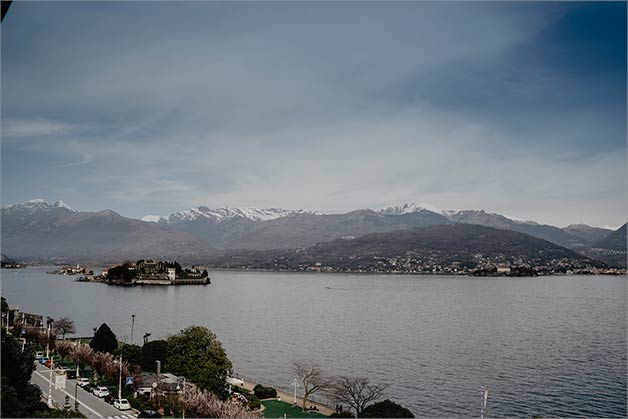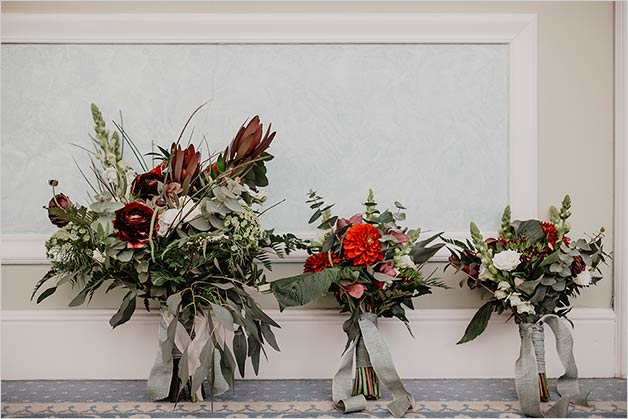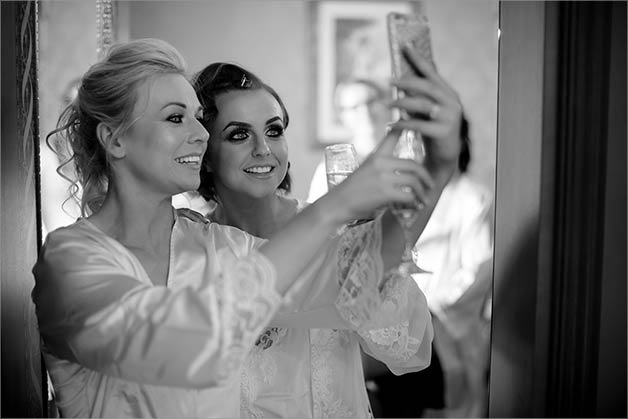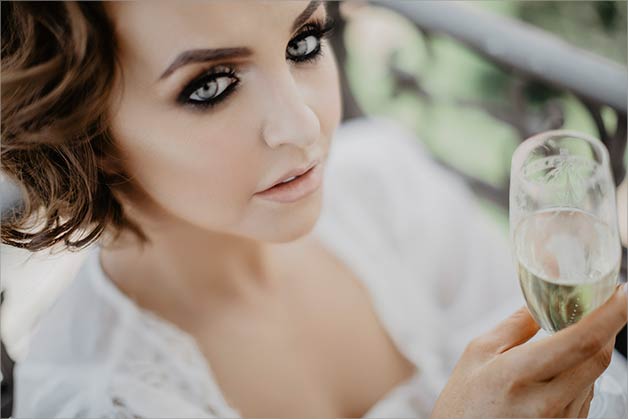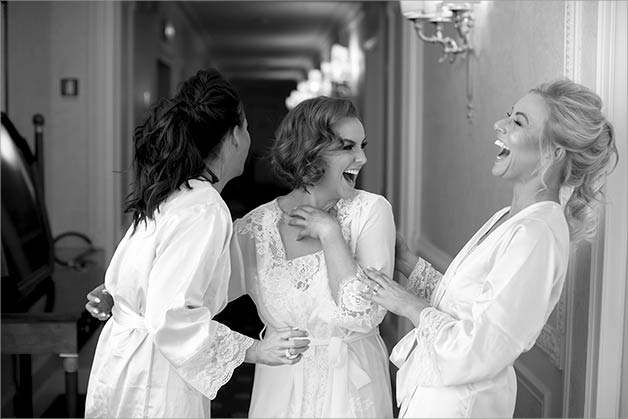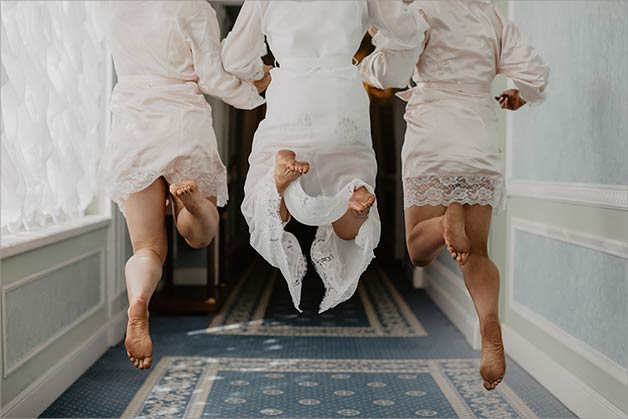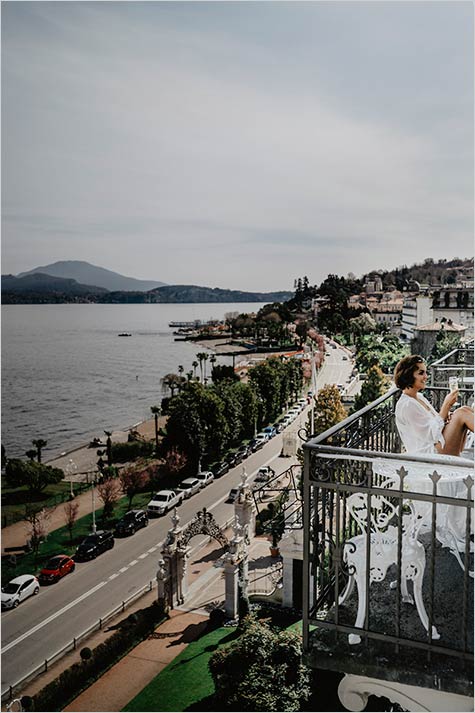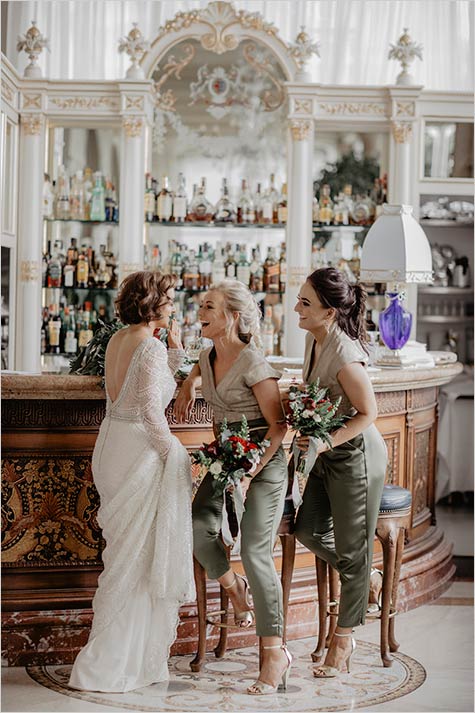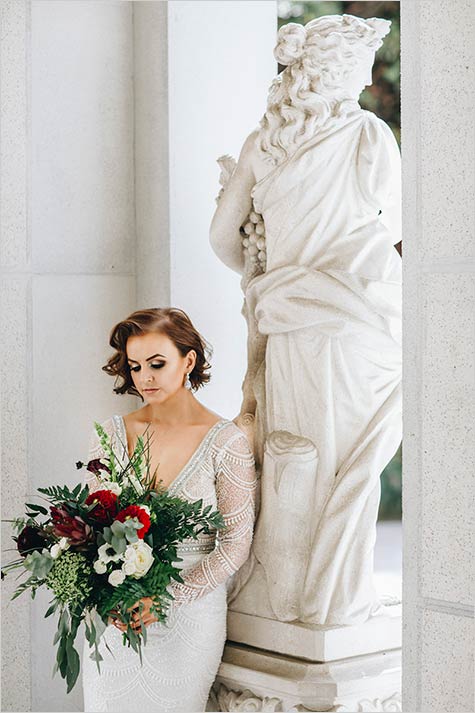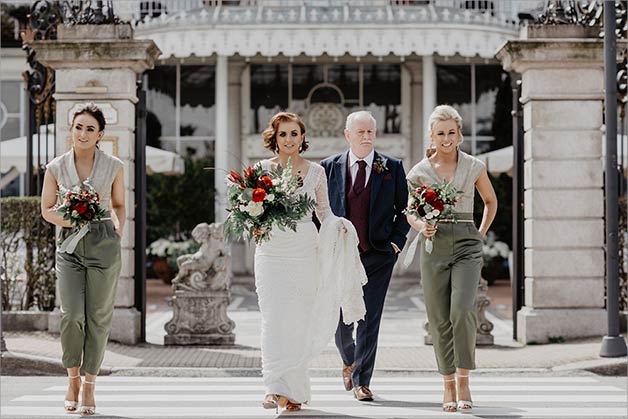 Roman Catholic Ceremony on Isola Bella
Micheal was very handsome too with a modern suit in cream and waistcoat.
He left by boat from lakeside walk in Stresa with all his groomsmen and all guests to reach Isola Bella were we planned the Roman Catholic Ceremony.
Eimear and Micheal chose San Vittore church for their Catholic ceremony. The church is pretty and intimate and even with a big group of 170 guests they could all attend a lovely, romantic and somehow fun ceremony.
Violins accompanied the Catholic service in all its part including the touching moments of unity candles lighting and bride and groom's vows.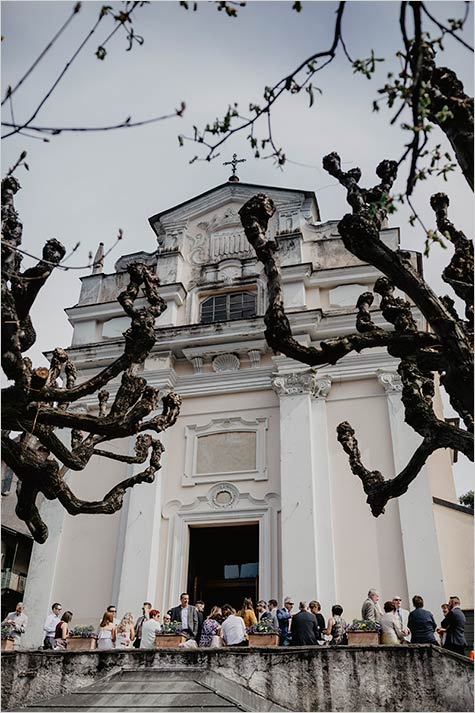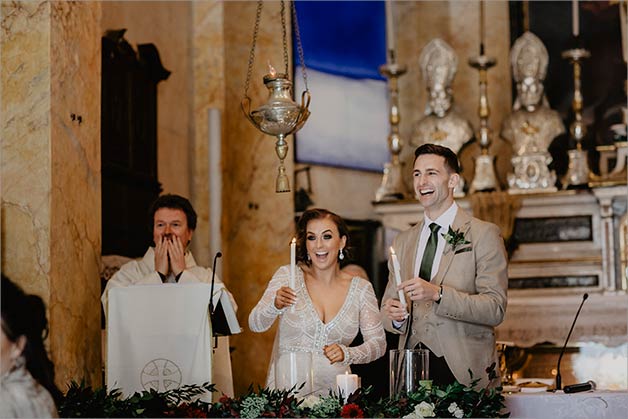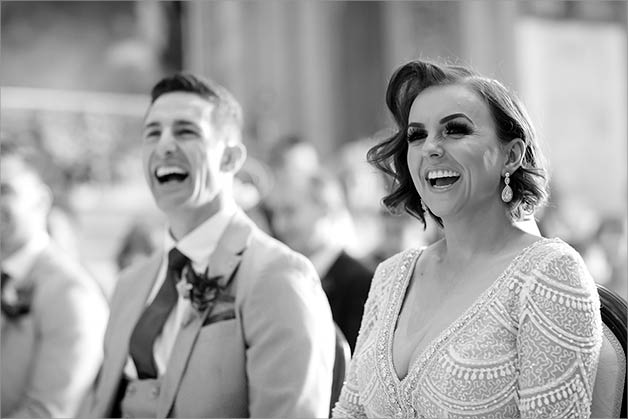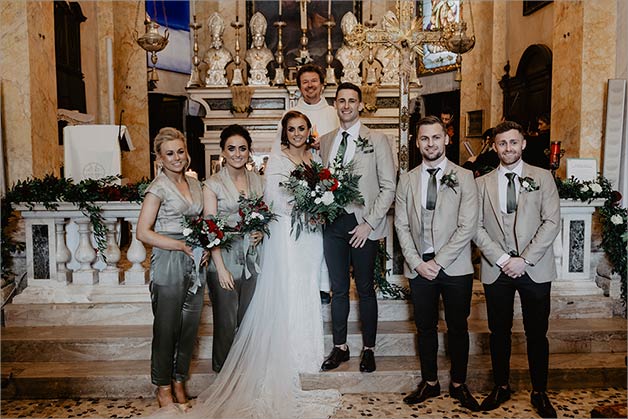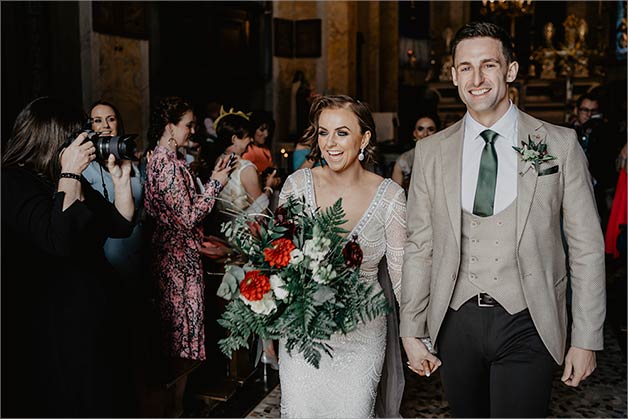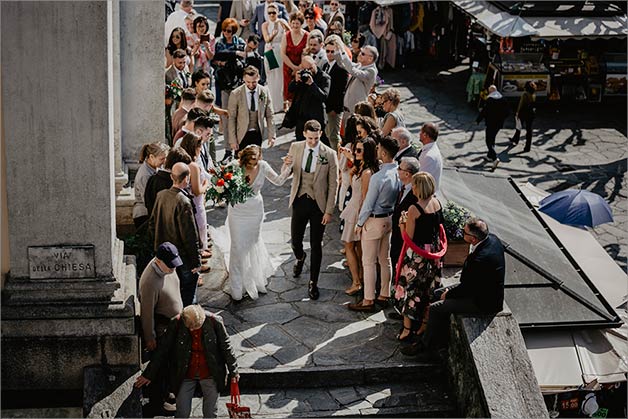 At the end of the ceremony it was already time to party!
All the guests enjoyed some drinks and refreshments on Isola Bella while bride and groom and their bridal party took the chance to get some great wedding photos by Isola Bella Palace and wide terrace. David Bastianoni and his team did a great job. Amazing photos.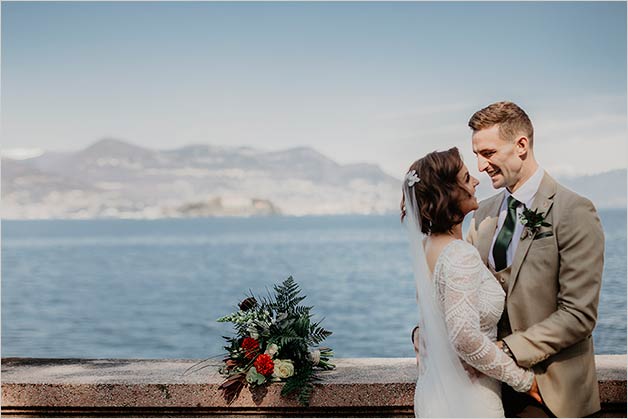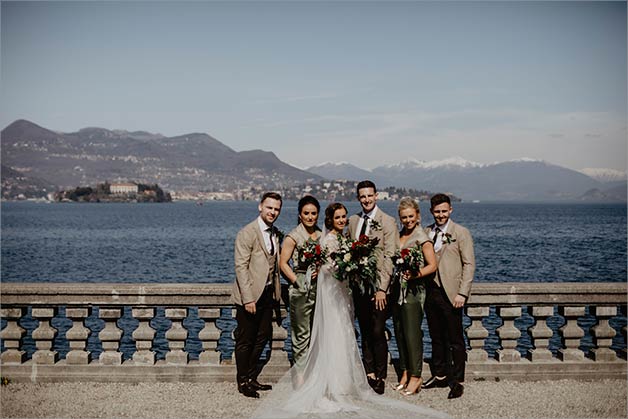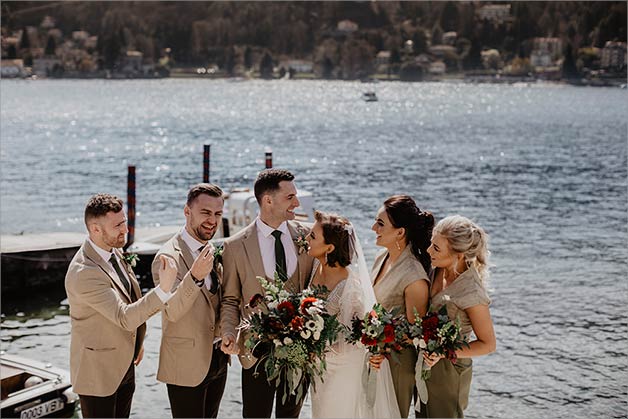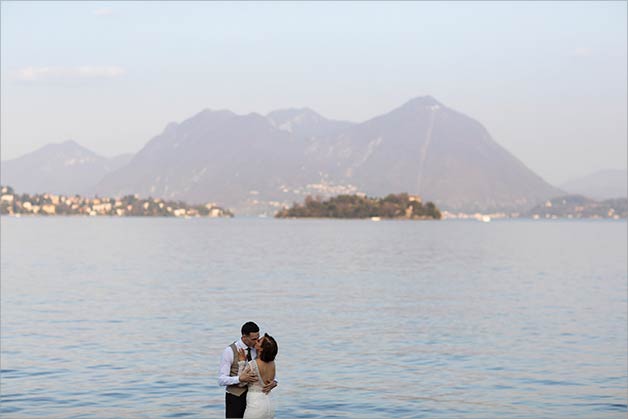 At the wedding Lavezzo Wedding Videos Team also shoot great footage of the day including some great arial shooting you can see in this post.

A fun reception to Grand Hotel Dino for a chic wedding on Lake Maggiore
For their wedding reception Eimear and Micheal chose Grand Hotel Dino one of the few hotels on Lake Maggiore directly on the shores. Planning a wedding at Grand Hotel Dino is a guaranty of success. Great staff and amazing cuisine makes it really special.
Aperitif was served in the garden by the lake shore where we also took some time to take group and family portraits.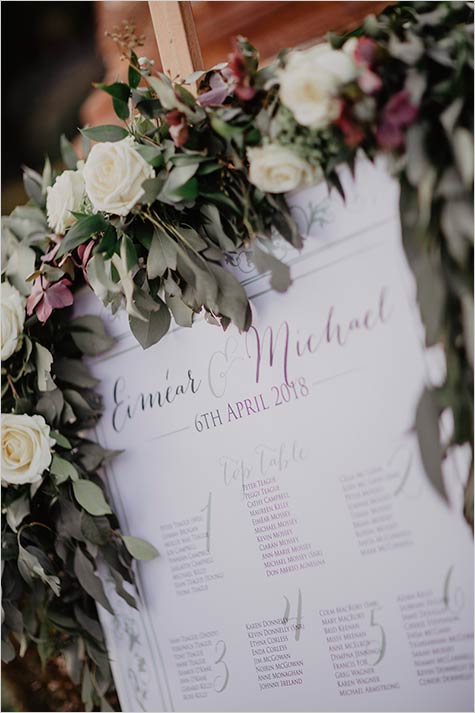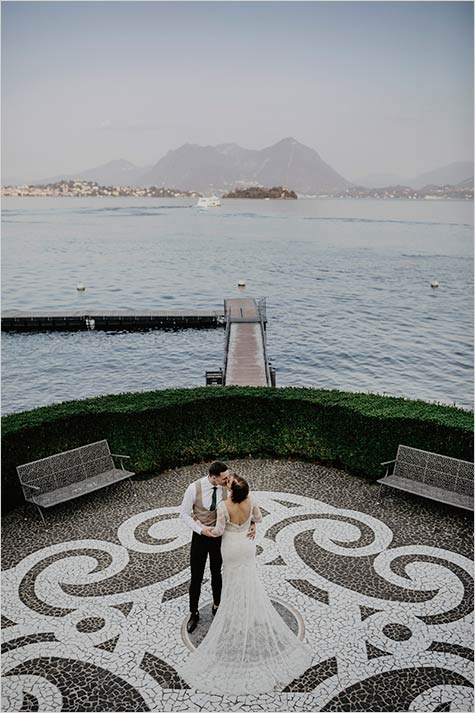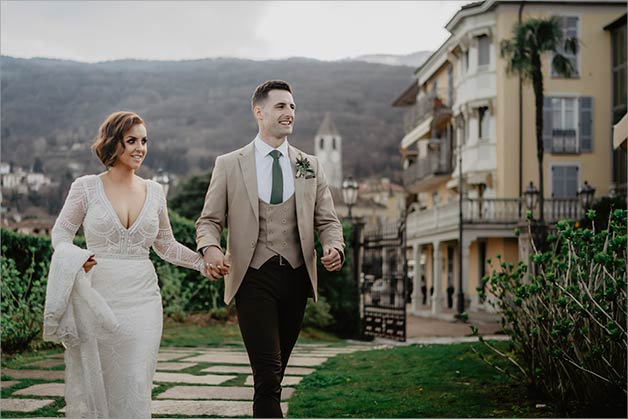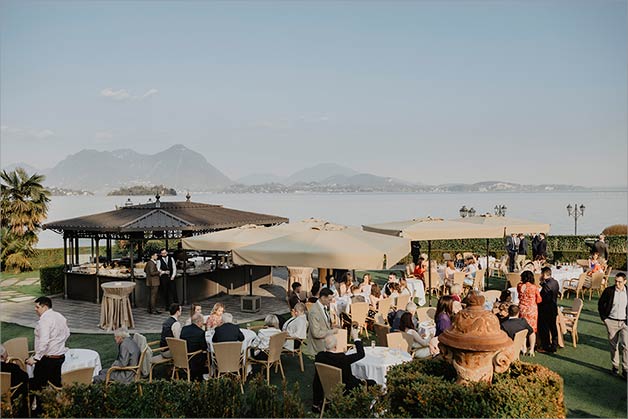 Seated meal was served inside the burgundy room of the Hotel, perfectly matching the style Eimear had in mind: Belle Epoque chic with a touch of vintage style.
The centrepieces followed the theme and colors: greenery and burgundy flowers with burgundy candles too and touches of gold for the wedding stationary.
A swing/Jive band entertained the meal with fun evergreen music up to the cutting of a wonderful tiered cake in the garden. Then group could start to party! They all had fun dancing to swing vintage music. But the party is not over yet!
More dances and fun in the special room of the hotel with a great dj set that danced the night away.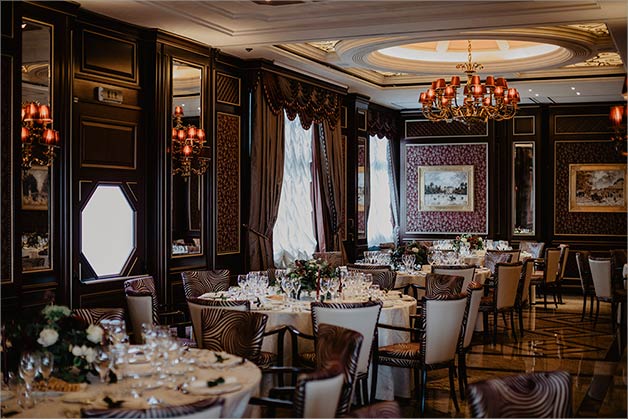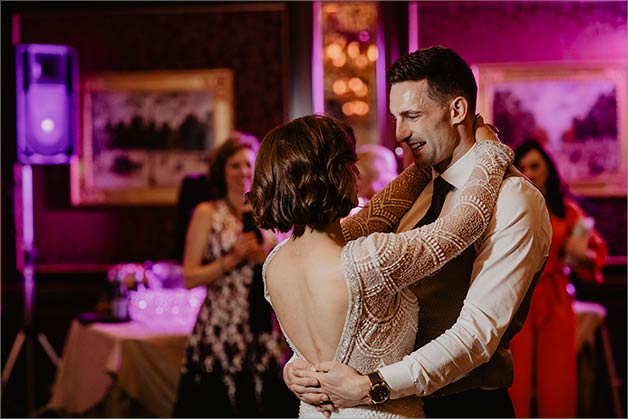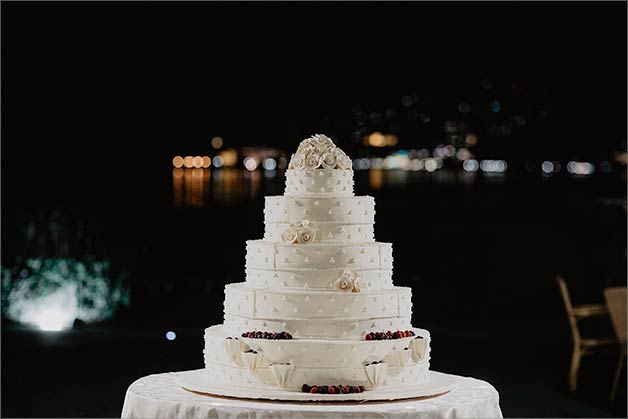 What a great day! What a great fantastic and chic wedding on Lake Maggiore. Eimear and Micheal you surely got style!

Thanks to all to who made it great and to Belief IWP who awarded us once again with one of our best chic wedding on Lake Maggiore.