Today we would love to speak about a wonderful couple coming from US. Donna and Mark.
They decided for an intimate elope on Lake Orta to take place in May 2011 and contacted us to plan all.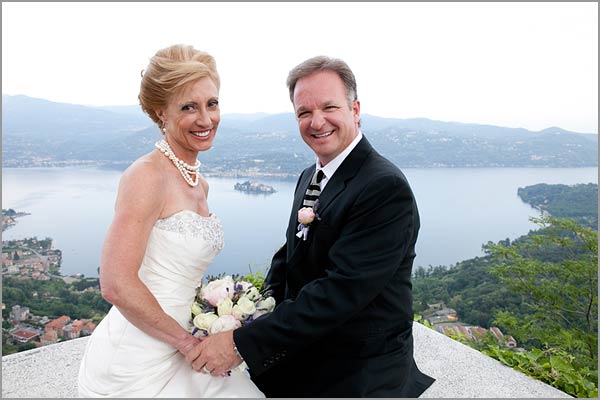 From the very first email I appreciate how sweet and kind Donna was.
Mark and her had in mind a wonderful idea…. getting married outside on a rock overlooking a wonderful undiscovered spot of Italy.
Suggestion that came to my mind immediately was: Madonna del Sasso view!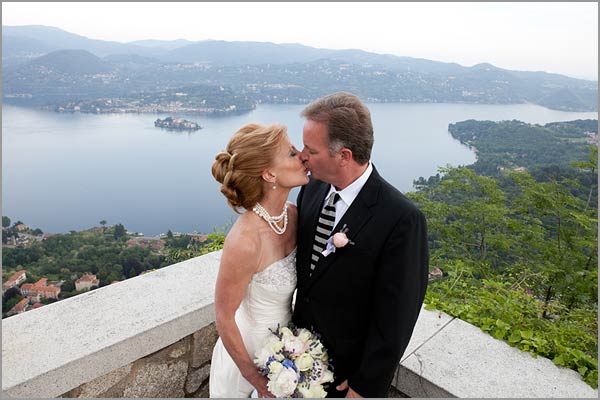 So we decided to arrange all around this.
Donna and Mark arrived in Italy reaching Venice as first destination.
Then they traveled across Lake District, Lake Garda, Lake Como and they finally reached lovely Lake Orta the location they chose for their wedding.
On the day of the wedding the a warm sun of May blessed the day and all was ready for the intimate ceremony on Madonna del Sasso rock.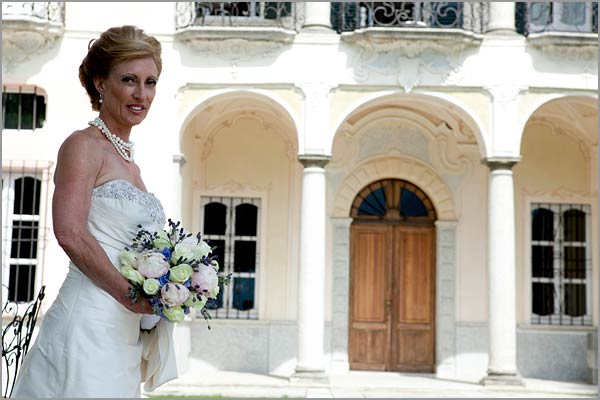 Mark left the hotel before Donna to reach the breathtaking rock of Madonna del Sasso while Donna was still getting ready and have some pictures with her wonderful bouquet created by Monika and Paola from La Piccola Selva.
Wonderful roses, peonies and a touch of blue… scented lavender!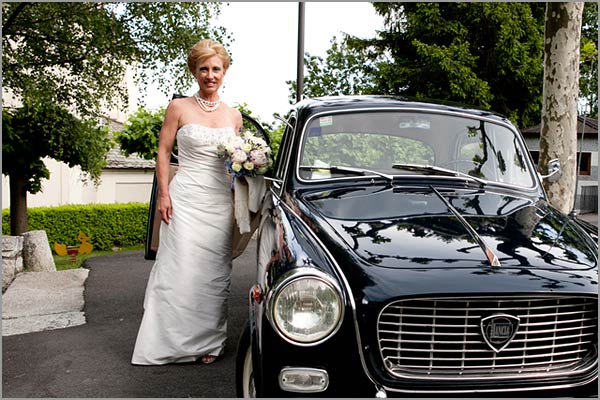 Donna was one of the sweetest bride I ever had but she is a very sporty and firm woman! She is a sport racing driver!
She loves cars and bikes and she wanted a wonderful Italian car to take her to her wedding ceremony. Something vintage… Italian …a wonderful 50s Lancia Appia.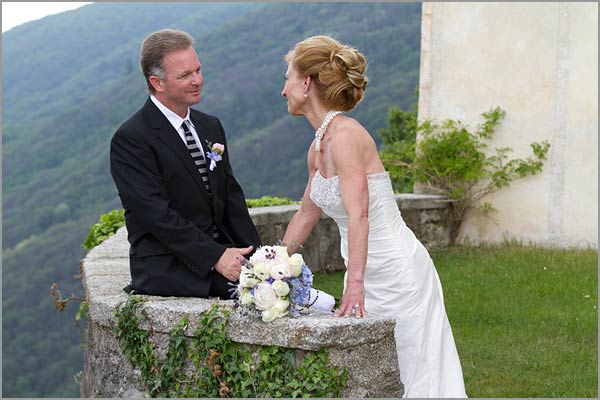 After a pleasant drive through the nature Donna reached Madonna del Sasso Rock. She was wordless….the view was stunning and Mark was waiting for her in the peace of this enchanting place.
Our professional celebrant Giuseppe was waiting for her with Mark just on the edge of the rock to perform a moving and intense ceremony overlooking a magnificent view.
This was exactly what Donna and Mark dreamt for their wedding: a wedding in the nature overlooking a unique and natural show.
After the moving and very intimate ceremony Donna and Mark took some pictures in the little garden in front of the Church of Madonna del Sasso and inside the church. The parish priest came also to congratulate and this was one of the sweetest moment of the day… he offered some sugared almonds to the couple just to wish good luck!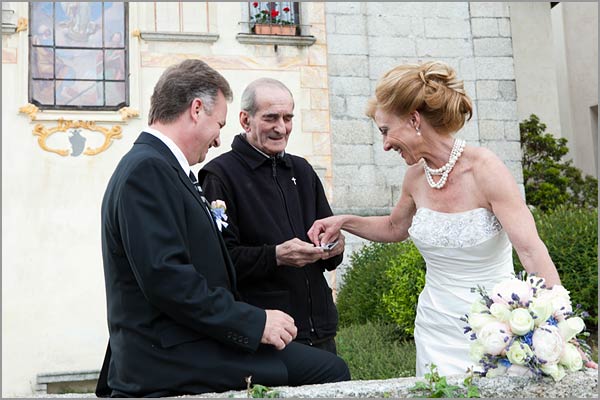 After the ceremony Donna and Mark came back to Orta village for some pictures and some more to St Julius Island.
Being in love with nature they decided to reach it with a rowing boat…..so romantic!
A little walk in the tiny roads of the Island and then back to Orta for a magic dinner to the restaurant of Hotel San Rocco.
Donna and Mark spent some more days in Orta and drove back to Milan to come back to US….they will definitely come back in Italy soon to enjoy some more of our wonderful country!
I hope to meet soon again!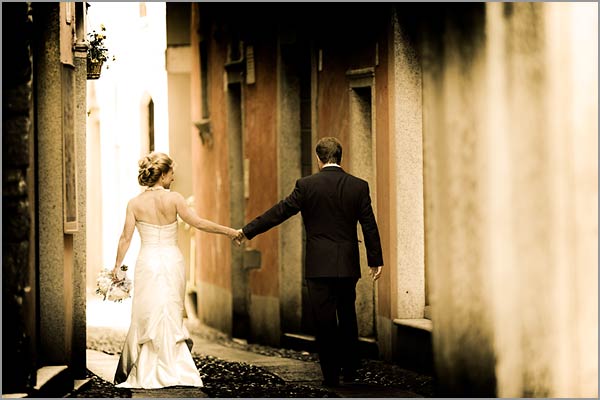 Thanks very much to Enrico Mocci and his team for his pictures of the day!
And most of all congratulations to Donna and Mark, come back to Italy soon guys!
My name is Valentina and I work as wedding coordinator on Lake Orta and Lake Maggiore.
Before being a wedding planner and coordinator I worked for an American company planning events. I turned into wedding planning for SposiamoVi group, more than 5 years ago. Since Italian Lakes Wedding was founded I work with them to make bride and groom's dreams come true on this wonderful Lakes of North West Italy and Piemonte region.

l love creating with my couples the perfect event for them following their wishes and needs, helping to find the best solution for their ideas and budget.
I like meeting people talking with them and know more about their cultures and traditions. I do like sharing Italian customs with them and working in team with couples to let them experience a real and dreamy Italian wedding!

I will be pleased to guide couples along lovely traditional and pedestrian roads of Orta village discovering the beauty of this romantic Lake between villas, traditional restaurants wonderful churches and enchanting St. Julius Island.
I will be happy to let couples discover bigger and charming Lake Maggiore with its Borromeo Islands, wonderful hotels and villas overlooking the waters.

I'm sure you would be amazed by the beauty of these special corners of Italy so I'm simply wait for you for a lovely experience to create and live together.

For any information about wedding on Lake Orta or Lake Maggiore please CONTACT ME.