Today we would love to speak about a lovely couple coming from Belgium: Els and Jurgen. They decided to come over Orta to spend a wonderful one week vacation with their family and friends on the Lake. Most of all they have a sweet intimate wedding over this wonderful spot of Italy.
Such a lovely and intimate event on this romantic Lake.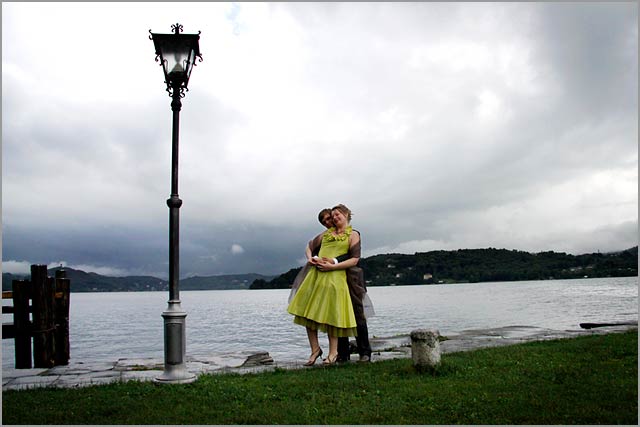 Els is a wonderful happy and smiling person so she decided she wanted a happy wedding with an happy theme based on green and happy sunflowers to match it.
Just have a look to great job Monika from La Piccola Selva did for Els' bouquet. A joyful explosion of sunflowers and cream roses. It was exactly what Els wanted.
The choice Els took for her dress was not common at all…
You can admire her pretty dress in following pictures, it is made with a beautiful light green taffeta.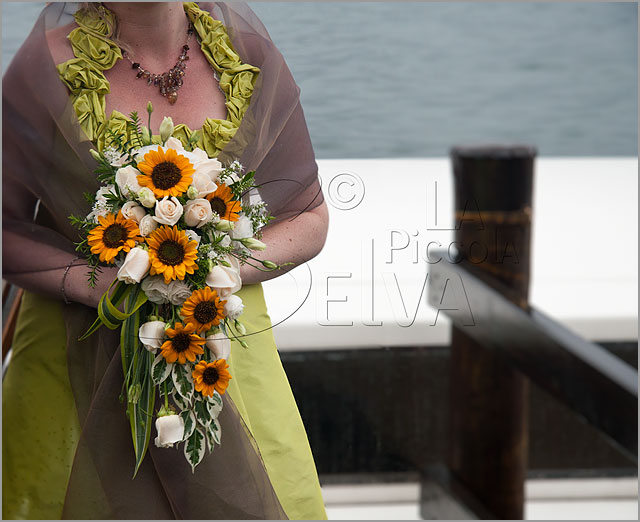 The term taffeta comes from the Persian words for "twisted" and "woven," which suggests that this fabric probably originated around this region, or that it was introduced to Europeans through Persia, a major stop along European and Asian trade routes. This fabric usually has a very tight weave, and the weave is plain. Taffeta is famous for being very stiff and crisp, generating rustling sounds when people move in it. The fabric is also very soft and smooth to the touch, and it has a famously lustrous and glimmery appearance.
This is what Els loved about that and she wanted to add a visible tulle skirt under it to make it even prettier!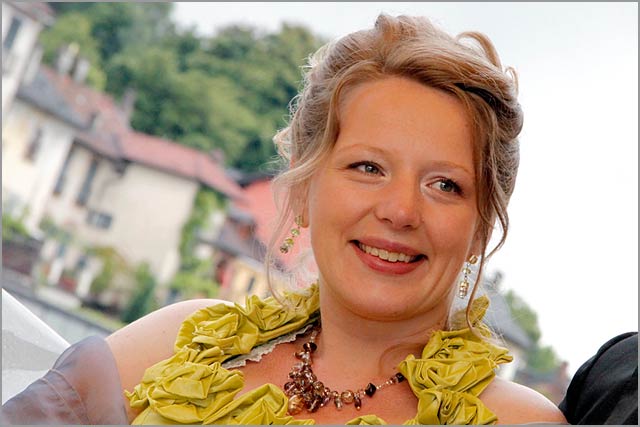 Neckline was decorated with very pretty taffeta roses that somehow matched Els lovely bouquet.
Greenery in the bouquet perfectly matched the shades of the dress and sunflower add a touch of happiness to all.
As final touch of elegance Els enriched the dress with a touch of bronze in her shoes and in the pretty shoes she had on.
After an intimate ceremony to Villa Bossi in the heart of Orta Village the small intimate group had a lovely tour of the lake on a pretty motorboat to reach at the end St Julius Island.
Els an Jurgen chose for their dinner the enchanting rooms of the restaurant with frescoes on the celing and a stunning view on the lake!
Pastel color of Els dress matched perfectly the atmosphere of the restaurant to make the intimate event very Italian and elegant.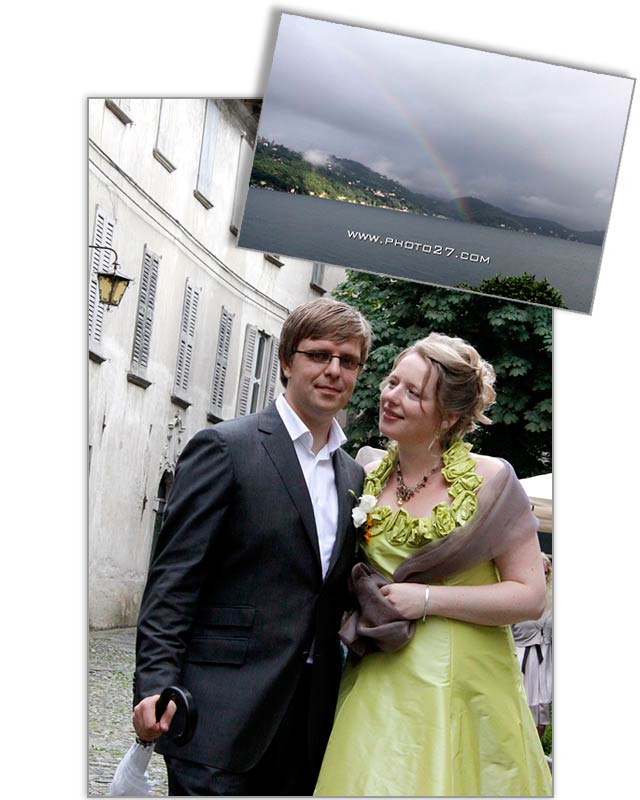 Els and Jurgen had some lovely pictures in quaint roads of St. Julius Island to remember this amazing and day on Lake Orta… and had an extra gift… an extraordinary rainbow on the lake.
A sweet day for a sweet couple…..
Everything we dreamed of.
Everything we hoped for.
Our wedding was more than we could ever wish. It was more than we could ever imagine!

Thank you very much our planners for make our wedding day the fairy tale we dreamed of.

Jurgen & Els
All images © PHOTO27.COM – Milan.
except photo n.2 (sunflowers bouquet) copyright La Piccola Selva © All rights reserved.
Valentina Lombardi is the Italian Lakes Wedding coordinator for Lake Orta and Lake Maggiore area.

She follows Italian and foreign bridegrooms who wish to celebrate their wedding in Piemonte and Italian Lakes area.
Valentina is Italian; she has worked in event organization business for years before becoming a wedding planner.

For any information about wedding on Lake Orta please CONTACT US.