VILLA CLAUDIA DEI MARCHESI DAL POZZO is a unique and exclusive period villa.
This beautiful villa overlooking the Piedmont shore of Lake Maggiore was a wedding gift to Princess Luisa Dal Pozzo della Cisterna in 1827, from her future husband who chose the villa as his lakeside residence and it is still the property of the Marquis Dal Pozzo d'Annone.
This charming, romantic venue is one of the oldest villas on the lake and still preserves all the atmosphere of the Victorian era.
Its furniture, fittings and fine artworks from the 16th - 19th centuries make it a truly unique and authentic setting.
It has stunning views and is surrounded by centuries-old grounds with lush vegetation, rare and precious plant species, waterfalls, azaleas, rhododendrons, camellias, magnolias and hydrangeas.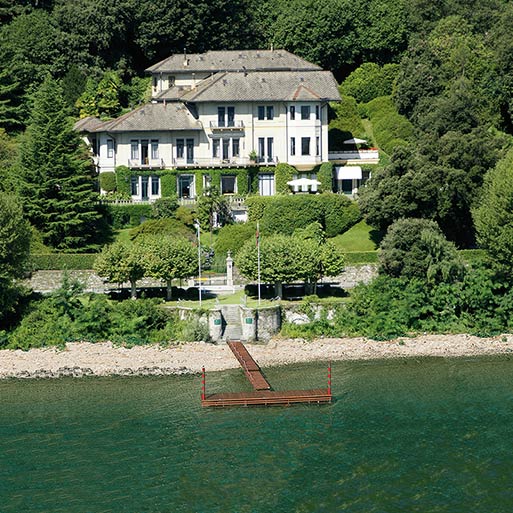 The villa is the perfect location for unforgettable wedding receptions and parties. Its four main rooms, overlooking the terrace with a breathtaking view of Lake Maggiore, can seat up to 156 guests.
The terrace with its English-style lawn can seat up to 230 guests.
The large swimming pool area is ideal for cocktail receptions or after-dinner celebrations.
Guests can reach the villa by boat via the lake, as the villa has its own pier.
Legal civil wedding ceremonies can be performed at Villa Claudia every day of the week. The ceremony can take place inside the villa, outside on the terrace or near the pool. Villa Claudia also offers also three stunning suites with large terraces and lake views.
Follow Villa Claudia Dal Pozzo on Facebook
Strada Statale del Sempione n. 5 - Belgirate (NO)
mobile: +39 349.5269554
landline: +39 0322.772011