Together with Orta San Giulio, Pettenasco is one of the most touristy location on Lake Orta.
Mild weather, pleasant and relaxing atmosphere, charming Medieval House located in the main square, a long and relaxing walk on the shores of the lake among villas, gardens and quiet little beaches… these are the best features of Pettenasco and let's not forget its lovely hotels!
When we speak about hotels in Pettenasco we really need to mention Primatesta family that manage some of the best hotels in the area since 1930.It is a guaranty of courtesy, experience and professionalism.
Hotel Giardinetto is one of Primatesta family pearls.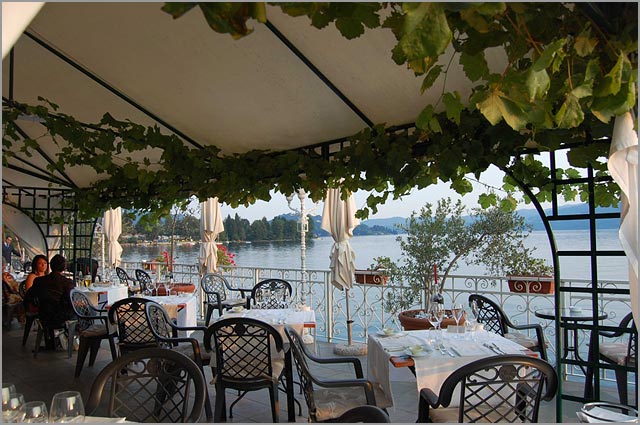 Restaurant has wonderful terraces on the shores and the cuisine that you can taste here is really good and creative. Cellar has more than 450 labels and young smiling and professional staff will welcome you!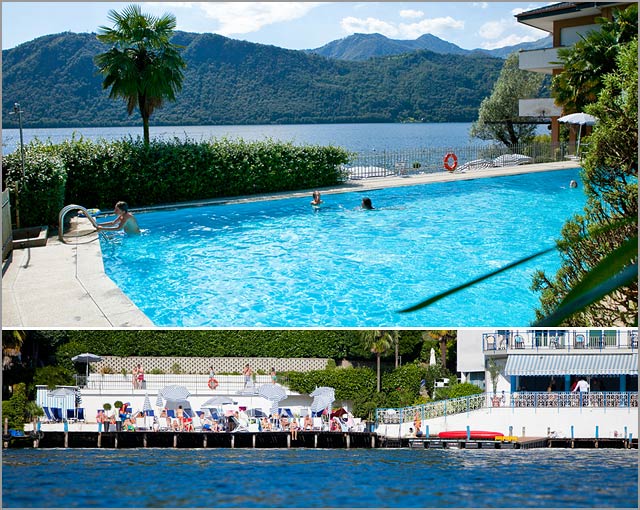 During summer an outdoor gazebo and tables with flowers and candles make it a romantic venue for your dinners and your special moments.
Thanks to this special atmosphere Ristorante Giardinetto is simply perfect for your wedding, anniversary or your special dinners on the lake.
The bigger room can host up to 250 guests, the terrace on the lake and the amazing roof top are there to help you making your day really unique.
If you would like something… more Hotel Ristorante Giardinetto can give you the opportunity to plan a fun BBQ on the beach. It could be in occasion of a day before or a day after event tasting local wines and cheeses.
Ezio and Caterina Primatesta will put at your disposal their professionalim to help you define all details of a day that you will remember forever.
If you would like keep all the memories of a special day to Hotel Ristorante Giardinetto the staff can offer you a wonderful speedboat to reach Orta village and St. Julius Island or even a romantic bay on the lake for unique photos! This is what Luisa and Massimilano did.
Here you can see some of the shots of their lovely wedding on Lake Orta. After a romantic civil ceremony to Villa Bossi in Orta they reached family and friends to Giardinetto by speedboat to celebrate the day with a wonderful dinner.
As wonderful conclusion of a special day Hotel Ristorante Giardinetto can suggest to cut your wedding cake on the wonderful panoramic terrace on the third floor.
And more…why don't you think about spending your first night in one of the lovely rooms of the hotel? Your dream will surely last more than one day!
For further information, availability and proposals please fill the form below and see you soon to Hotel Ristorante Giardinetto!

Hotel Ristorante GIARDINETTO - Request for further information, availability or rates
A Special thanks to Ivana Porta photographer in Torino who gave us these lovely images from Luisa and Massimiliano's wedding at Ristorante Giardinetto in Pettenasco.
My name is Valentina and I work as wedding coordinator on Lake Orta and Lake Maggiore.
Before being a wedding planner and coordinator I worked for an American company planning events. I turned into wedding planning for SposiamoVi group, more than 5 years ago. Since Italian Lakes Wedding was founded I work with them to make bride and groom's dreams come true on this wonderful Lakes of North West Italy and Piemonte region.

l love creating with my couples the perfect event for them following their wishes and needs, helping to find the best solution for their ideas and budget.
I like meeting people talking with them and know more about their cultures and traditions. I do like sharing Italian customs with them and working in team with couples to let them experience a real and dreamy Italian wedding!

I will be pleased to guide couples along lovely traditional and pedestrian roads of Orta village discovering the beauty of this romantic Lake between villas, traditional restaurants wonderful churches and enchanting St. Julius Island.
I will be happy to let couples discover bigger and charming Lake Maggiore with its Borromeo Islands, wonderful hotels and villas overlooking the waters.

I'm sure you would be amazed by the beauty of these special corners of Italy so I'm simply wait for you for a lovely experience to create and live together.

For any information about wedding on Lake Orta or Lake Maggiore please CONTACT ME.