The insider's guide to wedding in Italy

We specialize in customized Italian Lakes Weddings.
Find out why!

Browse our blog
you will find ideas and inspirations from the weddings
we planned on wonderful Italian Lakes

ENTER BLOG

Lake Como

Exclusive and Luxury

Lake Maggiore

great scenery and Belle Epoque appeal

Lake Garda

Stunning Mediterranean panoramas

Lake Orta

intimate and romantic

Lake Bracciano

just few steps from Rome
Your Guide for a Special Wedding in Italy
Italian Lakes Wedding site is part of Italian Wedding Company group. It is the Italy leading website for getting married on Italian Lakes, the ultimate online guide for international couples that are planning to get married in Italy.
You can flick through our pages to find all you need to know about the most renowned lakes in Italy. Our Italian Wedding Planners and Coordinators will help you choose the perfect location, the venue of your dreams and the most reliable suppliers.
Our expert advice will offer you inspiration on music, flowers, video, photography, getting married abroad and every other aspect of your planning.
The Italian Lake district is one of the most romantic settings in Italy.
You can celebrate your big day on Lake Garda, Lake Como, Lake Bracciano (near Rome, the Eternal City), Lake Trasimeno, Lake Maggiore or the more intimate Lake Orta and Iseo Lake. Incredible lakeside villas, secluded castles and panoramic chapels are scattered throughout the region providing ideal venues for breathtaking and stylish Italian weddings.
Wedding on Lake Como
For sure one of the most luxury and exclusive and very VIP wedding destination in Italy. George Clooney chose it too!
Come on Lake Como its stunning Villa del Balbianello and Villa d'Este but also romantic Varenna and Bellagio where to feel real queen and king for a day!
READ MORE
Wedding on Lake Garda
A lovely mediterranean warm weather, lemon scents, amazing views, all this is Lake Garda.
Choose Malcesine village and its castle but also enchanting Garda Island. Closeby Valpolicella countryside, romantic Venice and Verona cities will make it the perfect Italian wedding destination!
READ MORE
Wedding on Lake Maggiore
Belle Epoque flair for a style wedding on Lake Maggiore. Stunning panoramas, blue waters, Alps as backdrop, Borromeo Islands romantic villages such as Stresa, Pallanza and Baveno, Italian gardens for perfect wedding photos, boat rides on stylish motorboats.
The perfect destination for an Italian Lake Wedding.
READ MORE
Wedding on Lake Orta
Lake Orta: a perfect destination for an intimate and romantic wedding by the shores.
Enjoy a quaint and cosy Italian Medieval village, a charming ceremony at Villa Bossi to be reached by rowing boat and a lovely reception by the shores to taste the flair of a real Italian Wedding overlooking romantic St. Julius Island and wonderful lake nature.
READ MORE
Wedding on Lake Bracciano
A natural reserve in a real natural backdrop, a lovely medieval village and famous enchanting Odescalchi Castle just few steps from the Eternal city of Rome.
You cannot miss the beauty of a destination full of charm and history for your Italian wedding.
READ MORE
Other Lakes
Other little pearls are hidden in Italian country. Lake Iseo close to Franciacorta amazing countryside, Lake Albano and Lake Bolsena close to romantic Rome, Lake Trasimeno a country paradise in Umbria close to Tuscany and Mantua Lakes close to famous Milan and its countryside.
Charming off beaten track destinations for a real Italian Wedding.
Read More
Latest posts from our wedding network
Italian Wedding Company network is made of different thematic blogs on the most beautiful wedding destination all over Italian country!
In our post you can discover Italian Lakes beauty but even countryside, mountains and seaside amazing destinations and weddings we planned in amazing cities of art such as Venice, Rome and Verona. Enjoy the reading!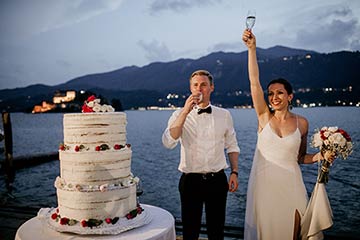 A dream coming true on Lake Orta
Feb 06, 2021
---
It is with great pleasure that I want to introduce a fantastic wedding on Lake Orta. The bride herself is telling us the real story. Her name is Valentina. Have a look at it, and you will discover all the passion and love she feels for Lake Orta. She is Italian living in Singapore, and she really wanted to have an Italian wedding on Lake Orta.
Continue reading